Punish a Muslim Day: New York Braces for Viral Anti-Muslim Violence Campaign
Police patrols are being stepped up at New York mosques and Islamic centers in response to fears that a viral anti-Muslim campaign that originated in the U.K. will spread to the city.
Brooklyn Borough President Eric Adams announced the increased security measures at a meeting Monday at the Pakistani American Youth Society in Ditmas Park, the New York Daily News reported.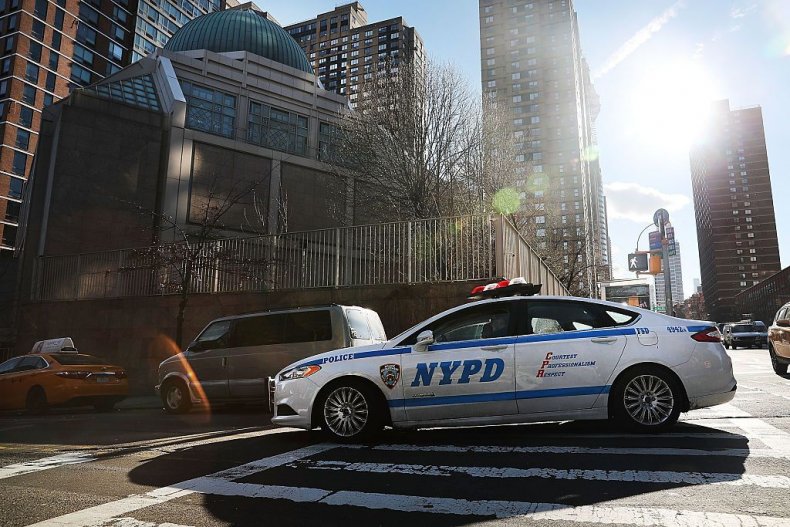 In March, a letter began circulating in the U.K. that said April 3 had been designated Punish a Muslim Day. It laid out a points-based reward system for violence carried out against Muslims, including 50 points to "throw acid in the face of a Muslim" and 1000 points to "burn or bomb a mosque."
As the letter went viral on social media, there were concerns the campaign could spark violence in New York. Adams called for it to be countered by a message of tolerance.
"Our message must be just as loud," Adams said. "Not punish a Muslim, let's embrace a Muslim, let's embrace a Christian, let's embrace a person of Jewish faith, let's embrace the diversity that this city has to offer."
The NYPD's Intelligence Bureau learned of the threat in mid-March after the flyers appeared, Police Department spokesman J. Peter Donald told local news site Patch.
"While we have not seen any evidence of this threat gaining traction here, it has generated understandable concern," Donald said.
In the U.K., Muslims have been urged to "unite" and "carry on as normal" as the day approaches.
A spokesman for London's Metropolitan Police told the Evening Standard that though there was no "credible information" that anti-Muslim attacks were being planned, police officers remained alert for potential incidents.
People from six U.K. communities received the letters, which have been investigated by counterterrorism officials. A number of the letters appeared to have been sent from the northern English city of Sheffield, police said.
"Are you a sheep like the vast majority of the population?" the letter reads. "Sheep follow orders and are easily led. They are allowing the white-majority nations of Europe and north America to become overrun by those who would like nothing more than to do us harm and to turn our democracies into sharia-led police states."
One British Muslim activist has called for April 3 to instead to be designated Love Muslim Day to combat the letter's message of hate, with points to be awarded for acts of kindness and charity towards Muslims. Under activist Shahab Adris's scheme, 25 points would be won for buying Muslims coffee with cake, 500 points for fasting with Muslims during Ramadan, and 1,000 points for raising funds to help victims of conflict in Iraq or Syria.