Marvel's Punisher Trailer: Frank Castle Is Fully Armed With Nothing to Lose
The only Marvel superhero willing to put a bullet in the back of a man's skull is about to star in his own Netflix series.
When Frank Castle appears in The Punisher, set to debut on Netflix in a few months, he'll inspire a few loaded questions among action fans. Primarily, can we root for a ruthless, morally bankrupt assassin if he exists in the same universe as selfless characters like Luke Cage and Jessica Jones? If Punisher draws the line between moral good and moral evil in a different spot than, say, Daredevil would, where exactly are his limits?
Marvel and Netflix's newest trailer for The Punisher, the next chapter in Marvel's Defenders storyline, dropped online Wednesday, teasing a specific, beleagured version of the anti-hero. The release date for the series hasn't been announced, but director Steve Lightfoot's take on Frank Castle, played memorably by Jon Bernthal, is starting to become clear. This Frank, the trailer promises, is an even more vicious version of the character than the man who debuted in Daredevil. He's fully armed, has nothing to lose, and isn't accountable to his superhero ally anymore.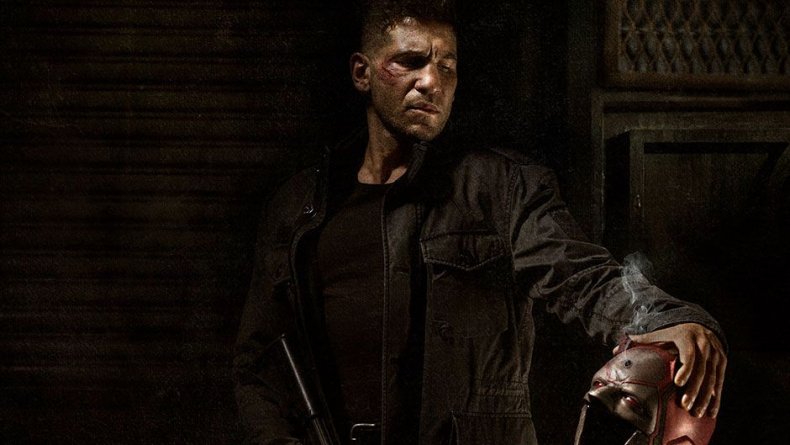 In Marvel comics, amid a fictional New York City crawling with teams of costumed heroes bearing magic abilities, Castle wields only firepower and answers only to himself. He's consumed by his grief, a soulless specter wearing a spray-painted white skull on all-black clothing, and he's always either exhausted or pumping somebody full of lead. Or both.
From Netflix's trailer, we learn what Frank Castle does when Daredevil and the Defenders aren't around. Evidently, he likes to spend his evenings watching video footage of men being tortured by masked soldiers, rubbing his face while sighing, as if to say, "Looks like a job for The Punisher." He also fantasizes in soft focus about his murdered wife and son, and relives their deaths over and over.
As for the plot of this new series, we see several possible villains and allies flash across the screen, including visuals that point to hacking, the police force, Daredevil's buddy Karen Page, and the Department of Homeland Security before the Punisher trailer builds to a crescendo, leaving us not with a premiere date but with one final shot of Punisher murdering someone.
The series will likely have the highest body count of Marvel's Netflix programs, given that all of the other heroes in the Defenders universe refuse to kill.
But why exactly do people watch this story? When Castle first appeared in Netflix's Daredevil, fans were taken in by Bernthal's conflicted version of the dark vigilante, who bought illegal firearms in his first scene and then returned to the seller to kill him once the seller admitted that he also sold child pornography. Castle, who currently appears in several Marvel comic books, tends to work best when he's placed alongside a sunnier hero, because his appeal is being unpredictable. Put in comic book terms, he's the Deadshot or Red Hood to Daredevil's Batman, the Huntress to Batgirl, or what Deathstroke represents to Green Arrow. It's an old superhero tactic, placing a more vicious character next to everyone's favorite hero, and there's not much precedent for a character like Punisher striking out on his own.
So, can we root for a merciless killer? Is it enough to watch soft focus scenes of Frank playing guitar with his wife and son, if the next scene depicts The Punisher mowing down rows of men in uniform with a semi-automatic? Previous creators who have adapted The Punisher to the screen, like director Lexi Alexander, say the character is more complicated than many fans believe. The character's co-creator, Gerry Conway, argued in February that Frank Castle is not to be emulated, especially by police officers, who controversially began putting the character's logo on squad cars earlier this year until people demanded the decals were removed.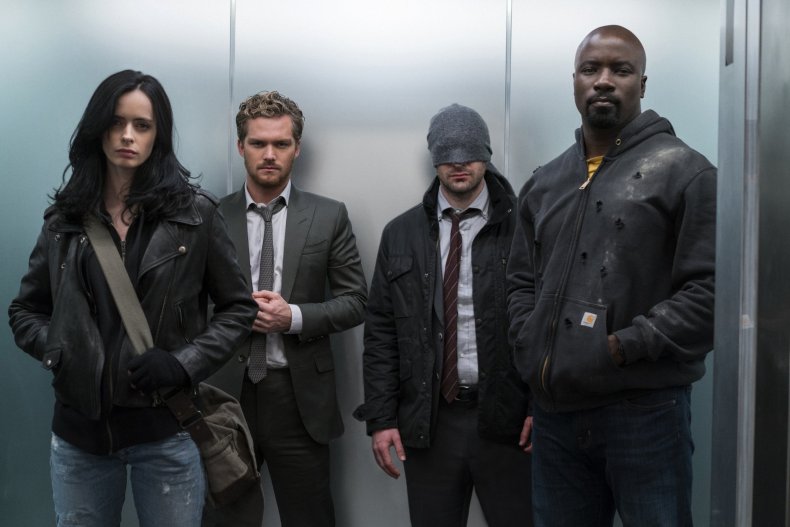 Punisher's creators insist that he isn't supposed to be admirable or inspiring, but Marvel evidently believes he'll make a thrilling protagonist anyway. When fans stream The Punisher, especially if they're hoping for another Defenders-esque series, they'll be surprised by something much darker: a character whose existence says uncomfortable things about cathartic violence on television. The Punisher, despite being acquainted with a few superheroes, isn't anything like one.
The Punisher will be available to stream on Netflix this fall.
Marvel's Punisher Trailer: Frank Castle Is Fully Armed With Nothing to Lose | Culture