Pioneering Punk Guitarist Ivan Julian Back on Stage After Beating Cancer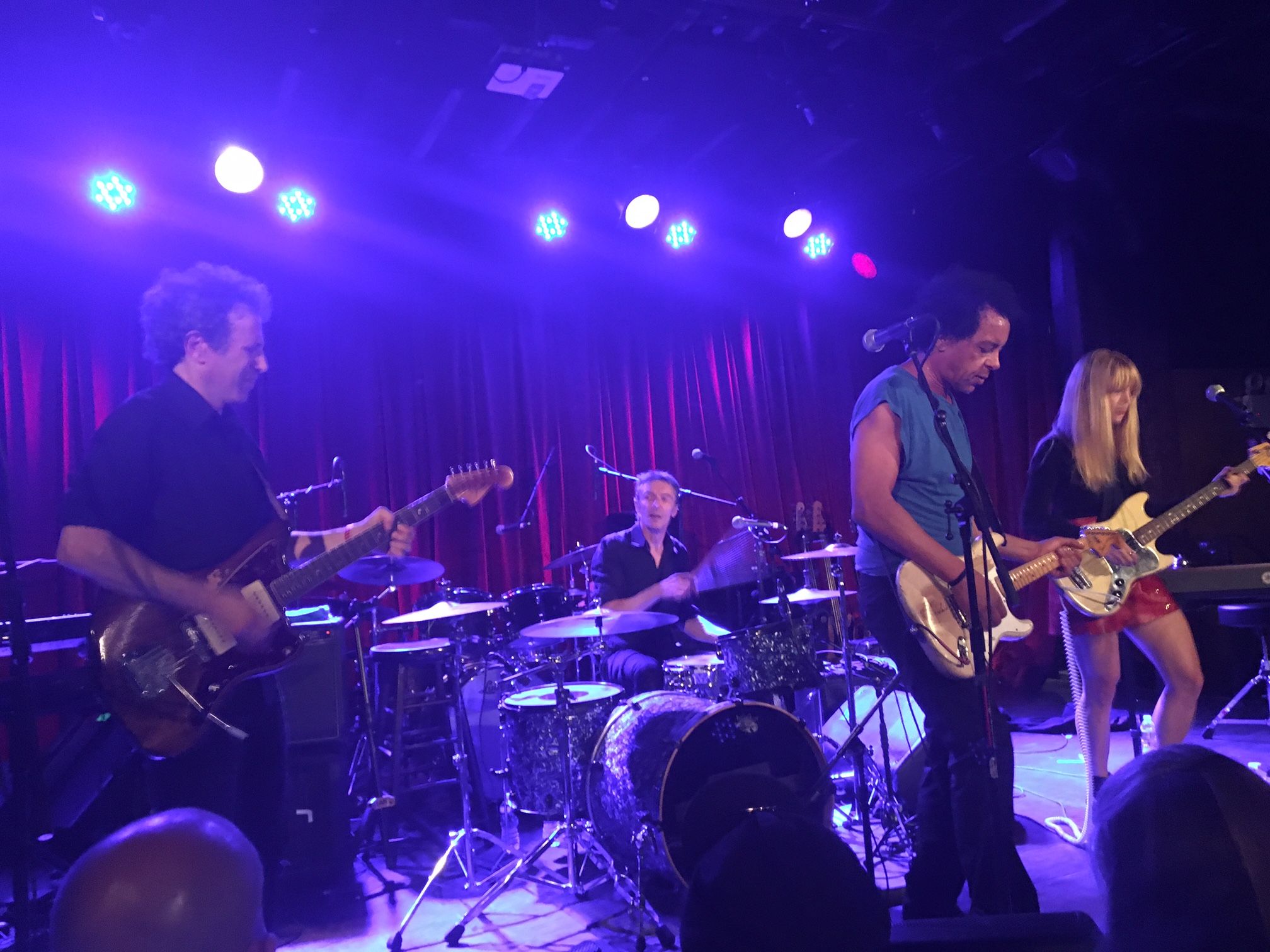 The guitarist Ivan Julian, best known for his role in the short-lived yet influential New York punk band Richard Hell and the Voidoids, is performing again, a year after doctors diagnosed him with Stage III gastrointestinal cancer.
Days after after opening for Ian Hunter and the Rant Band earlier this month at the Bell House in Brooklyn, the 61-year-old spoke with Newsweek in his first interview since he emerged from what he calls "the black hole."
"You really do come near death," said Julian, lean and soft-spoken, seated at a Chinese restaurant in the Chelsea neighborhood of Manhattan. "Your body's in such pain that your mind can't function. You're dying. Everything hurts—your clothes hurt."
Julian recalled a time when he couldn't sit—a tumor the size of a fist in his lower abdomen created such agony that his oncologist remembers Julian barely being able to walk into appointments. His will to tackle the simplest tasks had eroded rapidly: Moving a stack of paper became impossible. Same went for lifting his tennis racket, never mind picking up the guitar. The cancer had eviscerated that crucial space connecting ambition and ability, and obstructed his power to play and produce music for months.
"You know it's there," Julian said, smiling through gently piercing eyes. "But you can't do it."
The treatments between November and February drained him. When he wasn't taking the L train to Manhattan five days a week for either chemo or radiation, Julian spent most of his time at home in bed. He'd kept the diagnosis relatively quiet; few knew other than his wife of two years, Sam, and his 26-year-old son, Austin. Julian asked friends not to text, not to call, to just give him time.
Punk Roots
Julian had otherwise lived well, kept healthy and grown up fast. Born in 1955 in Washington, D.C., he spent most of his childhood in Haiti and Cuba. He didn't pursue the guitar until he was a teenager, but at 19 landed a touring gig in London, with the Foundations, the soul group behind the hit singalong "Build Me Up, Buttercup."
A few years later, in 1976, Julian moved from Yugoslavia to Manhattan in search of a new band, a fresh opportunity. That first month, he found singer-bassist Richard Hell, guitarist Robert Quine and drummer Marc Bell. In November, the Voidoids performed for the first time, at CBGB's, churning through much of what would comprise their only album, 1977's acclaimed Blank Generation. The lineup didn't last long: Bell soon joined the Ramones, Quine later worked with Lou Reed, and Hell retired from music in 1984. (The four reunited to record a song in 2001; Quine died in 2004.)
After the Voidoids dissolved, Julian also stayed busy, forming two bands (the Outsets and the Lovelies), recording with the Clash and Afrika Bambaataa, and producing a string of groups in his underground Lower East Side studio. In 2012, he worked with Vernon Reid of Living Colour on an as-yet-unreleased David Bowie covers collection by the group Burnt Sugar Arkestra. "To me, he was like a beacon," Reid told Newsweek. "I learned from him the power of perseverance: Sticking to your guns, hanging in there, defining what blackness is for yourself."
Though Julian kept to himself most of last year, he couldn't keep his friends away for long. In May, a sold-out, two-day benefit at City Winery raised more than $17,000 via GoFundMe. Hell even emerged from his 30-year retirement, albeit briefly, to arrange the event and honor his friend.
"I didn't want to break my promise to myself that I wasn't going to do any more gigging, and I kept trying to figure out how I could contribute without actually doing any music," Hell told Newsweek in a phone interview. "And then I realized the premise of the thing was to show support for Ivan, and it's ridiculous to have my pride get in the way of that. So I said, 'Get real, fuck it.'"
Others who rallied included Debbie Harry, Thurston Moore, and Julian's longtime collaborator Matthew Sweet. "It will be great for his music that he's gone through this, because it rekindles that fire to live," Sweet told Newsweek from his home in Nebraska. "And he is a guy more alive as anybody I've ever met."
Revisiting the 'Horror'
A month later, on June 20—six days before his birthday—Julian had reason to celebrate early: he was told the cancer was gone. By then Julian had gradually regained the strength to walk the 10 or so blocks from the hospital to the studio. Now, progress was within reach, he said, because his doctor "yanked me from a nameless and faceless system to save my life." He added, " Given my age and having a pre-existing condition, without 'Obamacare' I would be dead."
Today, four months in remission, Julian tells Newsweek he's readying two records for 2017 to help capture the dark experience that ultimately released him. "When I was in the black hole, I swore I would document everything, to be able to tell people about the horror of this thing," Julian said. "I just have to get the courage to go back and revisit it."
His albums will coincide with the 40th anniversary of Blank Generation, the classic that gave Julian his start in New York.
"The thing that most strikes me about him at this point," Hell said of Julian's legacy, "is how he's continuously improved as a guitar player. He just astonishes me with his range and his inspiration. He hasn't gotten stale at all."
Weeks ago, during his first show in more than a year, Julian proved as much, leading his band through a severe set of R&B and punk jams reminiscent of the Bowery's late '70s heyday.
"Inherently, it comes back to being here," Julian said, "and someone asking me to go onstage or make a record. And that's what I want to continue to do."
Pioneering Punk Guitarist Ivan Julian Back on Stage After Beating Cancer | Culture