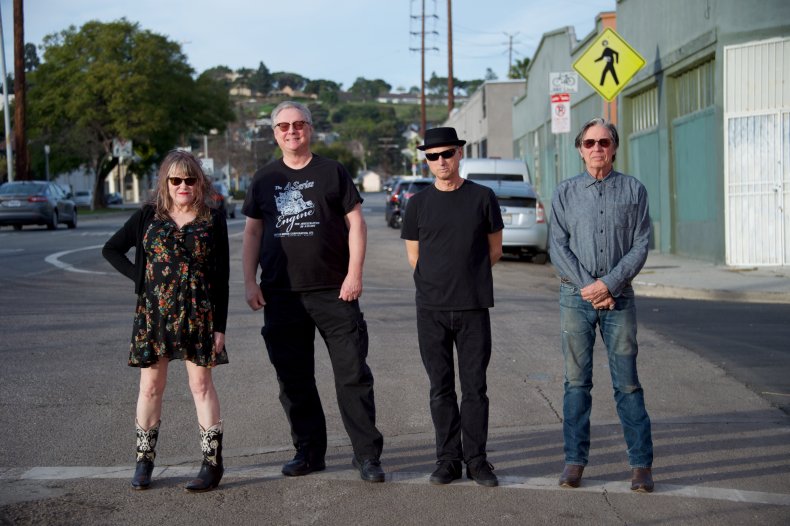 At first, it appeared the legendary Los Angeles punk band X had their 2020 all mapped out—first with an upcoming summer tour and then a brand-new album Alphabetland scheduled for release later in the year. But when the coronavirus pandemic put their touring plans in limbo, X did something that delighted their fans: they surprise-dropped Alphabetland in late April, a few months ahead of schedule. Quite fittingly, the arrival of the new record fell on the same week that X's classic debut album, Los Angeles, was first released exactly 40 years ago.
"The way that we released it and the response has been surprising and gratifying," X's bassist and singer John Doe tells Newsweek. "It's a constant desire for artists to share something as soon as it's finished. Normally it's a 4-to-6-month wait after you finish mastering, depending on how quickly you get the artwork together, etc. What a relief, and the fact that it gives people who might be interested in something energetic and thoughtful.
A glorious return to form, Alphabetland is X's first new studio album recorded by the original lineup—Doe, singer Exene, guitarist Billy Zoom and drummer D.J. Bonebrake— in 35 years. It's a 12-song collection full of brash and focused punk that recalls the band's triumphant albums from the early '80s such as Los Angeles and Wild Gift. "That's been our thing [with our music]: something with depth, but on the surface it's rock and roll and accessible," Doe says.
Though X had been a consistent live touring act since 2004, they hadn't really recorded new original music since 1993's Hey Zeus, which featured a slightly different band lineup. As Doe explains it, the process of writing and recording new material didn't initially come easy.
"A band is like a family, and families are complicated. Exene and I had wanted to write songs for X. On occasion she would give me some lyrics, I would write songs for a solo record. At a certain point in your career, you don't want to put a lot of time and effort into something that won't see the light of day—if there are problems with rehearsing new material or where are we gonna record, who's gonna put it out, all these different unknowns. You're not really inspired to put the initial work into it.
"As those questions got answered, we had a clearer path," Doe continues. "Once [our label] Fat Possum was on the scene, once we started working with [producer] Rob Schnapf, the path was clearer. That was when Exene and I in April last year we started getting serious about it,exchanging lyrics, exchanging ideas to start the songwriting process. Billy and D.J. contributed so much during the rehearsals, that we ended up just sharing the songwriting credit."
Like with their previous albums, the songs on Alphabetland reference the state of society and the human condition, which now seems to take on a greater significance during the pandemic: from the raucous-sounding "Water and Wine" to the jazzy spoken-word closer "All The Time in the World" (the latter features a guest appearance by Doors guitarist Robby Krieger).
"These lyrical themes are things that we've talked about before," Doe says. "It's people or the world on the brink of something, in the midst of crisis. On Los Angeles, there is "The World's a Mess"; on More Fun in the New World, there's "I Must Not Think Bad Thoughts," which is about political unrest and trying to remain positive in the midst of a crisis. On "Water and Wine," we're talking about access through money—but not overtly because that's not our thing."
For this album, X also delved back into their archives and re-recorded two older songs dating back from the '80s. One of them was the explosive rocker "Delta 88 Nightmare," which was recorded during the Los Angeles sessions from 40 years ago but didn't appear on the debut album upon its release. "I think that was going to be our first single, but we didn't like the recording. It sounded too herky-jerky, but we liked the song. It was nostalgic for Exene and I about us taking a trip up to Monterey with a couple of friends."
The second song was the funky and soulful "Cyrano de Berger's Back," which originally appeared on 1985's See How We Are, the last studio album that featured the original band lineup until Alphabetland. "We never really liked that version," Doe says of the earlier recording. "It had gotten too far away from the '50s doo-wop vibe. Billy really pushed for it because it was one of his favorite songs. He got to play saxophone on it, which was cool."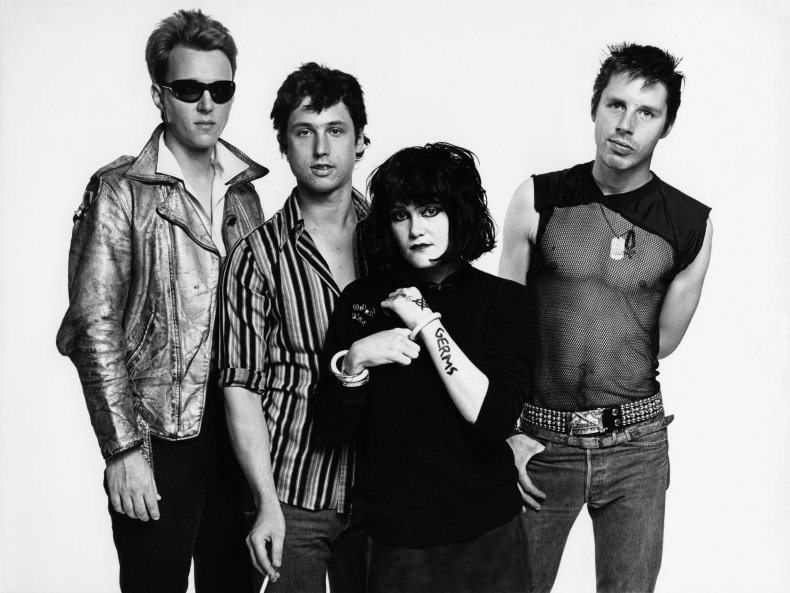 Alphabetland put things in full circle for X, who emerged as one of the leading punk rock bands in Los Angeles during the late '70s and early '80s along with the Go-Go's, Black Flag and Germs (Doe recalled that era in two recent books he co-wrote, Under the Big Black Sun and More Fun in the New World). In 1980, X released their debut record Los Angeles, which was produced by the late Doors' keyboardist Ray Manzarek. With memorable songs like the title track, "Sex and Dying in High Society," "Your Phone's Off the Hook, But You're Not" and "Johnny Hit and Run Paulene," the edgy Los Angeles remains a document of the City of Angels' exciting punk rock scene.
"Good God! Really?" Doe reacts when told of the album's special milestone. "That's what comes to mind. I still miss Ray Manzarek. He really talked the talk and walked the walk. You got to feel a little validated because people still know the record, they still recognize it. That's nice. We don't have any gold records, we're not in the Rock and Roll Hall of Fame, but we have a history. Los Angeles put a stake in the ground, saying punk rock isn't New York and London."
Since its release 40 years ago, Los Angeles has garnered critical raves as one of the best albums of all time. "It resonates because it's good," says Doe. "We didn't use recording techniques or sounds that were brand new for that year. That keeps it from sounding dated, I give Ray a lot of credit for that. He also helped us choose what songs should go on it. We had already written "Adult Books," "Year 1," "We're Desperate" and several other songs, but we did not put them on that record because we wanted it to be tight and lean and mean. There are certain things if you hold true to them, then that's part of your ethos. And [that's what] we held true to, is to be economical."
At the moment, the members of X are waiting for when things will resume as far as touring goes. "I'm hopeful that our tour in late August and early September is gonna happen," Doe say. "We don't know. Is the place gonna be half full? I can't [picture] a theater with 1,500 people all jammed together. I'm saying listen to the doctors, don't listen to the politicians."
Despite changing musical trends and styles, X's legacy continues go grow, first with a 2017 Grammy Museum exhibit devoted to them, and now with the Alphabetland record. On maintaining that electric chemistry within the band after all these years, Doe says: "You release people from your expectations. You try not to sweat the small stuff. Underneath some of the conflicts we've had, we still like each other. This is what we do. It would be sad and maybe shortsighted to not work with people that you shared so much with. That happens, and I understand it. I think we all felt with each other, 'F--- this, I'm done, I can't take it anymore.' That's a passing feel, and you realize there's more."