U.K. Faces Major Puppy Shortage As Animal Theft Rockets
The U.K. is facing a major puppy shortage during the COVID-19 pandemic fueling a rise in the illegal puppy trade, animal charities have warned.
People have increasingly turned to animals during the nationwide lockdown to provide them with comfort and support, with the Royal Society for the Prevention of Cruelty to Animals (RSPCA), which operates in England and Wales, noticing a 650 percent rise in searches on its website for "puppies near me."
Not only has that sent puppy prices soaring, with some breeders demanding up to £10,000 ($13,000) for a single puppy, it has also meant a sharp rise in the number of animals being imported into the country from abroad. As a result, the number of dogs with illnesses coming into the country has also increased at a time when a second nationwide lockdown has been imposed to stop the spread of the virus.
Wayne May, coordinator for DogsLost, a lost and found dog service in the U.K., tells Newsweek that the situation is getting worse every day.
"They're not the only animal being used but they are high on the list that's driven the price up of dogs," he says. "We are selling out and what we're experiencing now is illegal puppy breeders bringing in puppies from abroad with various diseases and also a high rise in people's dogs being stolen and they are being stolen for breeding."
May says his charity has noticed a 70 percent rise in the number of dogs being reported as stolen this year compared to last year and among the most in-demand dogs are Cocker Spaniels and Labradors. Not only has there been a rise in thefts but, for May, it has also meant breeders and sellers demanding sums of money for dogs previously unheard of.
"The prices I've actually seen are £5000 to £7000 ($6,500 to $9,200) but I have heard up to £11,000 ($14,492) being paid for a puppy."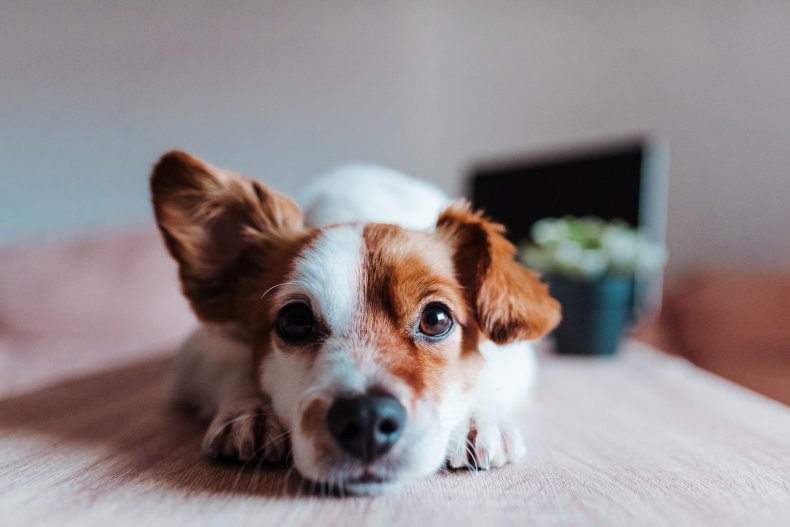 Although the price of dogs varies depending on their breed, age and other factors, according to the RSPCA, French bulldogs which normally cost between £1,500 and £2,000 ($2,000 and $2,600) are now being sold for £7,000 ($9,200).
A BBC freedom of information request showed that five policing areas in England saw a double-digit increase in the number of dog thefts reported between January and July 2020, compared with the previous year. According to the latest figures from the Kennel Club, the U.K.'s largest organization devoted to dog health, welfare and training, only 22 percent of stolen dogs are reunited with their owners.
May warned not only of a proliferating network of smuggling routes across Europe to satisfy record demand but also of dogs bringing in diseases such as canine parvovirus, concerns that the RSPCA agrees with.
Dr. Sam Gaines, head of companion animals at the RSPCA told Newsweek: "There are not enough puppies in the UK to meet this demand, we're now seeing a worrying trend in dogs being bred and imported from outside of the U.K." She says that 3.7 million people visited the charity's website between March and August, looking for pets to rehome, compared to 1.7 million over the same period last year.
The number of puppy import licenses have also doubled during the lockdown period, according to Dr. Gaines. According to the latest figures from PDSA, the U.K.'s leading vet charity, 26 percent of the UK adult population have a dog with an estimated population of 9.9 million pet dogs
"We are very concerned about the importation of puppies or dogs that are coming in from other countries," she says. "The main reason being is that we just don't know what conditions those dogs are being bred in and what they're then having to endure with the very long journey to actually get into the U.K.
"You end up sadly with quite a few puppies that are coming in who have got fleas already but also because of the stress of the environment that they've been bred in and raised in and because of the journey they are more likely to be susceptible to behavior problems when they grow up as well."
Both Dr. Gaines and May also fear that when lockdown restrictions are eased and when people return to work, many will be unable to look after their new pets, raising the likelihood of them being abandoned. May says: "They're now coming in daily. Before, we'd only get one or two a month, we're now getting calls daily. People who've gone back to work don't want the animal and inevitably it's going to happen with dogs."
People need to think long and hard about whether they can take on the responsibility of looking after a dog beyond just a pandemic, warns Dr. Gaines. She says: "What they really need to make sure is that they can actually provide for a puppy and they have to think beyond lockdown and the pandemic.
"Six-to eight months ago, people would probably never have thought of getting a puppy but circumstances have changed now with people staying at home. It might seem like a really good idea to bring one into your home and, in some cases, it probably is providing they can actually fulfill the responsibility and commitment of having a dog over a period of 12 years. If people really are thinking of buying one now, they have to be super, super careful to make sure that they don't get caught out by someone who is acting irresponsibly or illegally."
In the meantime, May thinks the solution to the rising number of dog thefts and trade in illegal puppies is for stiffer fines and harsher penalties to be imposed to deter those willing to break the law. The RSPCA also called on people to be extra cautious when buying puppies to make sure they are not being taken advantage of by those who had imported puppies illegally or have been running illegal puppy farms.
"As the RSPCA, we always advocate rehoming rather than buying a puppy or dog but if people do want to buy then we would really strongly recommend that use a tool called the Puppy Contract and this is a tool that you can get online, it's free gives you a whole set of questions you need to ask a breeder and checks that you need to make," said Dr. Gaines.