The internet is in stitches over two puppies' escape, after a video showing a husband falling asleep while watching his pets—and leaving them unsupervised—went viral on social media.
In a pet-cam video shared on TikTok by the man's wife, Dawn Byrne, who is known on the platform by the username poodlecrazylady, the puppies can be seen crawling out of their bed and running toward the other room, until the owners' bigger dog woke up and helped get them back to where they belonged.
All of this happened while the husband, who was supposed to be watching them all night, fell asleep. The video came with a caption that read: "When the husband's on puppy night duty and I'm woken at 4.40 am Sunday morning to find puppies have escaped."
In 2022, 70 percent of U.S. households reported owning at least one pet, which equates to 90.5 million homes, according to the latest report by the American Pet Products Association. Of these, 45.3 million are cats and 69 million are dogs.
The generation that owns most pets is the millennials generation, at 32 percent, followed by baby boomers with 27 percent, Gen X with 24 percent and Gen Z with just 14 percent.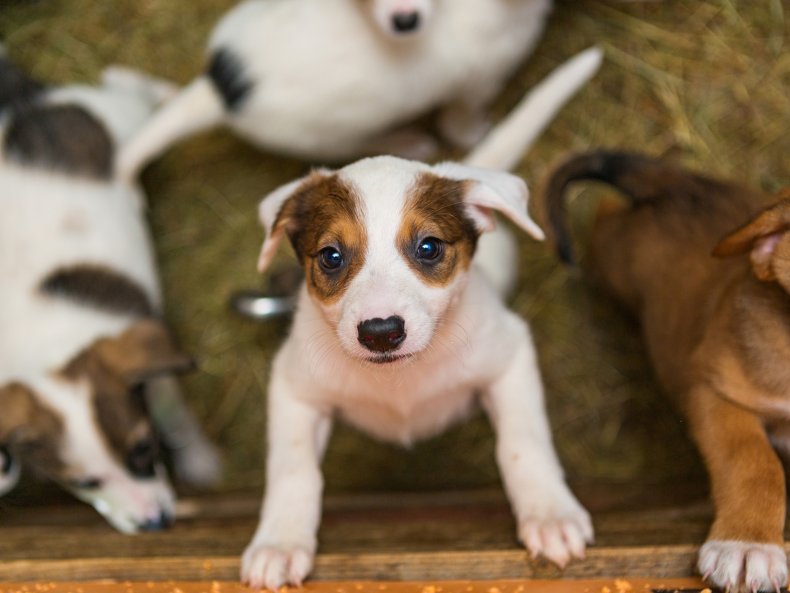 The video, which was first shared on the social media platform earlier in June, has gone viral, gaining over 36,000 likes, 160 comments and 603 re-shares.
One user, MJ, commented: "Their mummy was so confused." Katie.Bailey sympathized with the man, writing, "The way the second one rolls out and he's asleep oblivious."
Kobe the Springer Spaniel said: "The way it flipped out."
Justacockermum said: "You can literally see the confusion on mumma dog." And Keesh1212 joked: "That second one screamed "NO FEAR" and just DOVE." Harriet Brass said: "This is hilarious typical Daddy. The Music makes it even more funnier."
Zoe Louise said: "Mama like hmm what the hell how you got out." And user540146057826 wrote: "Awww the way Mummy was straight in to them & checked on the others, so cute." Millieliza said: "Your older dog was like "umm..how do I get you back in there."
Another user, Charlotte Musha, wondered: "How did he not wake up with the puppy squeals?! I swear I only got to sleep in 10min chunks when we had pups cos of all the noise." And H Arper said: "I lost two who crawled under the sofa when I was on night duty and the sheer PANIC to find them - silently!"
User2159980201941 said: "The mum trying to figure out what has happened and you can see her piecing it all together." And Sophie joked that the dad was "busy inspecting his eyelids. He's trying his best leave him alone."
Do you have funny and adorable videos or pictures of your pet you want to share? We want to see the best ones! Send them in to life@newsweek.com and they could appear on our site.