Puppies Hug Each Other in Heartwarming Viral Photo
An adorable photo of two puppies hugging has gone viral as WeRateDogs joke that they have been reunited after receiving their vaccines against COVID-19.
WeRateDogs shared the photo on Twitter and said: "This is Simba and Cooper. They're finally fully vaccinated. Hugging for the first time in over a year. Both 14/10 heartwarming as h*ck."
However, all is not as it seems. Though the photo has been used by WeRateDogs to demonstrate the feeling that many people are experiencing as the COVID-19 vaccine rolls out and people are reunited, that is not the case here.
Firstly, dogs do not receive vaccines against COVID-19, but secondly (and adorably), the puppies in question actually hang out a lot.
Simba the dog belongs to Roberto Couto, of Dartmouth, MA, who shared the photo with the popular Facebook group Dogspotting in January, where it also attracted a huge amount of attention.
Couto told Newsweek that the photo of Simba, a mini Goldendoodle, and Cooper, a Havanese, was taken more than a year ago. Both dogs turned one in December.
Although WeRateDogs captioned the photo as their first reunion in a year after being kept apart because of the pandemic, the dogs see each other a lot more frequently—if Simba has anything to do with it.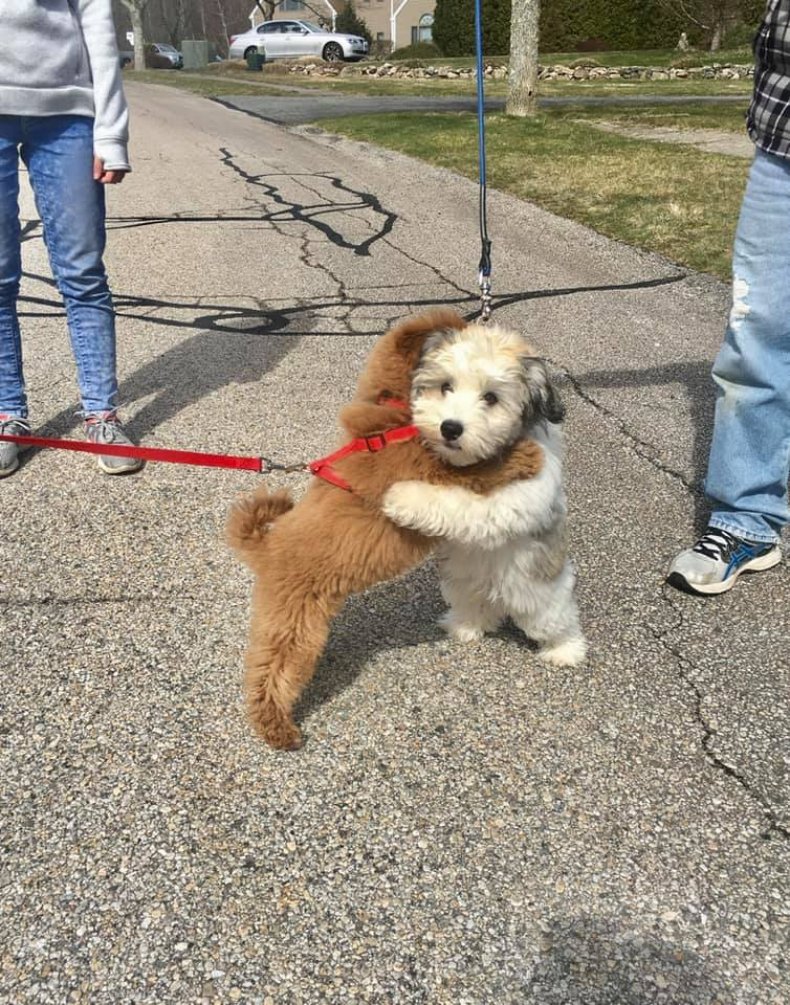 Simba and Cooper are actually neighbors and are often taken on walks together by the families' children, and Couto said that: "They see each other on weekends or if Simba escapes my yard," adding that Simba runs out of the yard to visit his friend.
Couto said that the dogs met when they were young puppies as the families got them around the same time, and said: "They love each other, and my daughter and friend's daughter are friends too."
The photo of Simba and Cooper has gone viral on Twitter, amassing more than 240,000 likes at the time of writing. However, despite describing the photo going viral as "kind of cool," Couto was not surprised, and said that the photo always gets a lot of attention—it was liked more than 11,000 times when it was posted to Facebook a few months ago.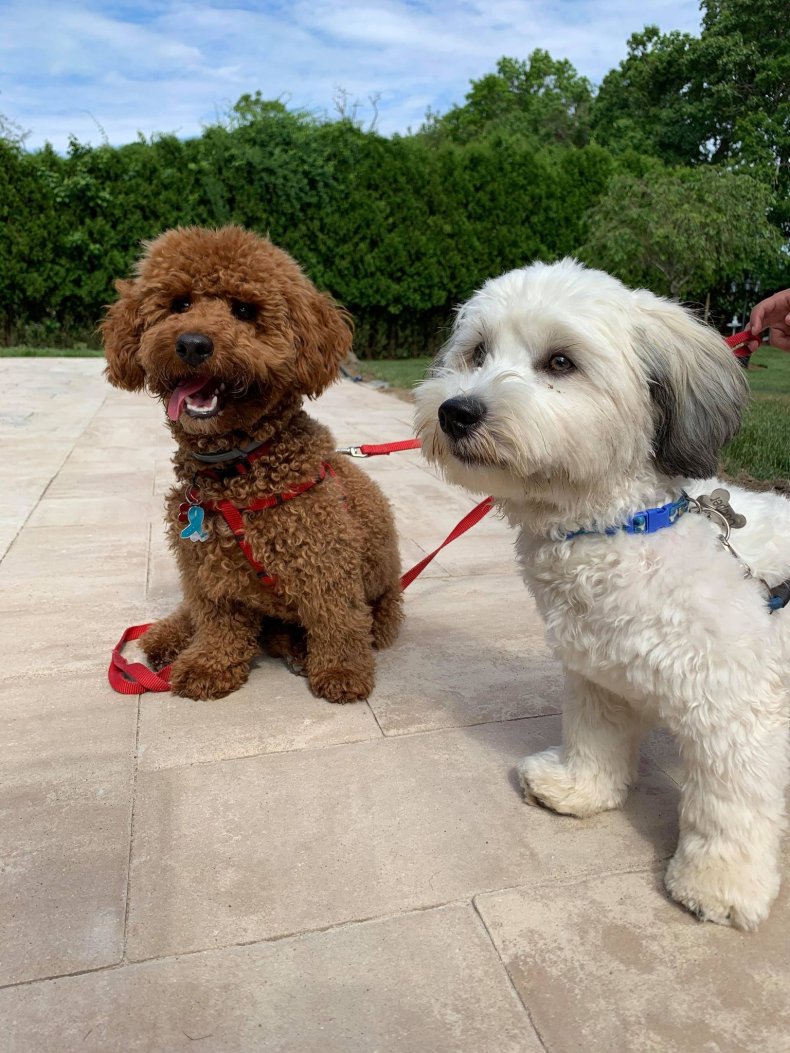 The cute photo has inspired other dog owners to share photos of their own pets hugging, like Twitter user @Dabadoyta1983 who said: "My pup Stella Blue and best pup friend Izzy!"
Twitter user @UnderhillOSCC said: "We witnessed a similar reunion last week."
Claudia on Twitter shared a photo of her aunt's dog hugging a stranger's dog.
Finally, @Paulaloorules shared a photo that will sum up a lot of reunions this year, adding: "M SO HAPI TO SEE U, MAAATE!!!"