Six Puppies Dumped in a Bag in Massachusetts River Expected to Survive, Say Police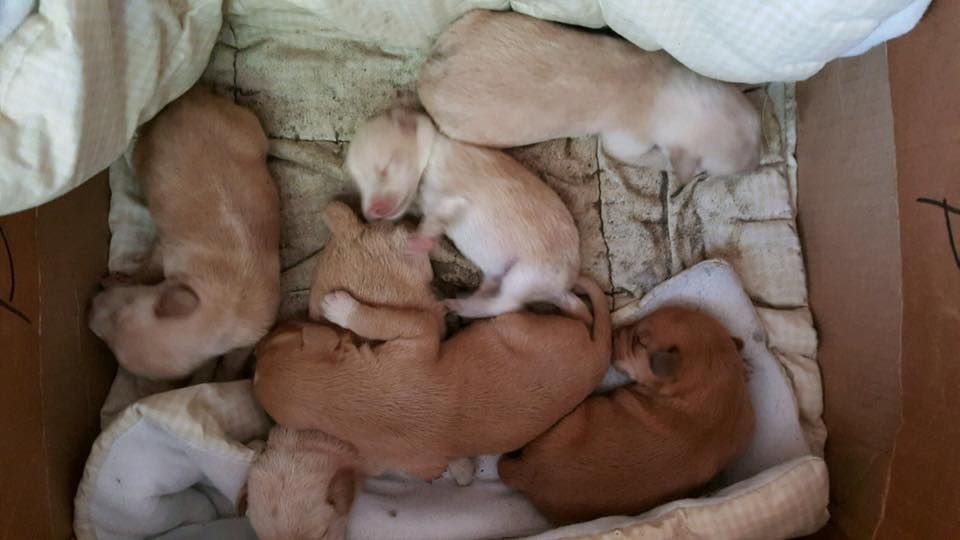 Six one-week-old puppies found by kayakers in a river in southern Massachusetts are likely to survive their ordeal, police say.
The puppies were discovered "tied up in a grain bag and left for dead" after being dumped into the Blackstone River, the Uxbridge Police Department said on Sunday, requesting information from the public that could lead to finding the "low life" who did it.
"They are doing well, considering the circumstances, and we believe they will all survive," said the statement. Police said the dogs were being kept together until they were old enough to be adopted.
Uxbridge Police Chief Jeffrey Lourie told CBS Crimesider that the puppies were likely dumped in the river between 11:30 a.m. and 1:30 p.m. on Sunday. Two kayakers who were passing by on the river heard whimpering from the sack and contacted authorities, according to Lourie.
The police chief said the sack was stuck on the side of the river and not totally submerged when the kayakers found it. But the runt of the litter, at the bottom of the sack, had begun to take water and mud into its lungs after being partially submerged in the river.
"It was only a matter of time before they were all submerged and perished," said Lourie.
Read more: Dog video at Guggenheim Museum sparks "torture is not art" campaign
The litter contains three male and three female puppies, all about a week old and "very, very small," Uxbridge police spokeswoman Melanie Blodgett-O'Toole told The Boston Globe. She said she could not recall a similar incident during her 15 years with the police. "It's pretty awful," she said.
Police said on Monday they had been "overwhelmed" by responses from the public concerning the puppies. Many people apparently asked to adopt the animals, prompting police to state that they were "not available for adoption at this time" but that the public would be notified if that changes.
"We would like to remind everyone to please consider the many many dogs looking for loving homes in the many area shelters here locally and beyond," said the police statement.
Police said that the lab-mix puppies are now in the care of Uxbridge Animal Control and that they are expected to be adopted in eight or nine weeks.
Animal cruelty can carry a seven-year prison sentence and/or a $5,000 fine under Massachusetts state law. In 2016, the FBI announced it had added animal cruelty to its list of felony crimes, such as burglary, assault and homicide.