Puppy Bowl 2020 Live Stream: How to Watch, Adopt Puppies and More
For animal lovers, Super Bowl Sunday isn't all about football. Each year, Animal Planet hosts its annual Puppy Bowl and presents viewers with a room full of adorable, adoptable puppies.
The Puppy Bowl is a mock Super Bowl where a handful of dogs are allowed to play in, sniff and explore their own football field. Though there is nothing at stake, the show celebrates when a dog brings their toy into either end zone. A kitten halftime show is also presented each year.
The appeal for viewers is the cute puppies, their wholesome interactions and added features, such as the show's famous Water Bowl Cam that provides a humorous, under-chin angle during each pup's water break.
There are a few ways that viewers can live stream Puppy Bowl XVI, which airs at 3 p.m. ET on Sunday. First, it will air on Animal Planet, so anyone with a cable subscription can tune in as they would any other television show.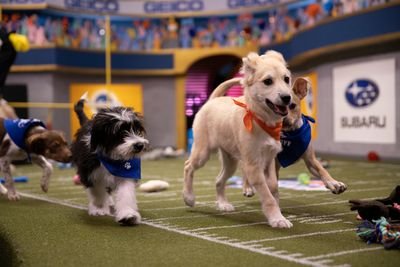 The 2020 Puppy Bowl will air on Animal Planet ahead of the Super Bowl.
Animal Planet
An online live stream is also available. The entire Puppy Bowl can be streamed through Animal Planet's app, Animal Planet Go. If viewers can't watch it while it first airs, it will become available to play anytime on the app starting at 5 p.m. ET, according to Fox.
There are already a handful of teasers for Puppy Bowl XVI. Animal Planet released a pre-game special on its website earlier in the week. The 40-minute episode introduces some of this year's puppy players.
A group of five special needs puppies will take the field this year. Rooster, Paprika, Kismet, Filbert and Ferris bring a handful of unique qualities to the game. Ferris only has three legs, while Kismet, Paprika and Filbert are hearing impaired, according to News 4 Jax.
Ninety-six puppies currently housed in 61 different shelters will play in the 2020 game. If viewers see a dog they love, they're encouraged to visit Animal Planet's website to see if the puppy needs a home. Many may not be available, though.
While all puppies are up for adoption during filming, by the time the Puppy Bowl airs on television, they may have found a home. The Puppy Bowl films in October to provide time for editing before the February game.
"By the time the Puppy Bowl actually airs, most of these puppies have already found their forever homes," the show's sideline assistant, Dan Schachner, explained to Mental Floss in 2019. "We encourage everyone to go on to AnimalPlanet.com during the airing and if you see a puppy that you fall in love with, check him out. They may be adoptable. And if not that shelter will have other puppies who are equally adorable, maybe even from the same litter."