Before football fans watch the Kansas City Chiefs and Tampa Bay Buccaneers compete in Super Bowl LV on Sunday, a few furry players will hit the field for Animal Planet's annual Puppy Bowl.
The adorable members of Team Ruff and Team Fluff will face off for the coveted prize: the Chewy Lombarky trophy. Although the game is mostly comprised of clips of the cute little furballs playing with each other and toys scattered across the tiny football field, the big moments of the Puppy Bowl come when the players—decked out in their Team Ruff Tail Mary Tangerine and Team Fluff Bark Blue bandanas—carry any of the toys across a goal line on either side of the field. The team with the most points at the end of the game wins, and the most valuable player is awarded the Lombarky trophy.
Team Ruff will seek to reclaim their position as Puppy Bowl champions after losing to Team Fluff last year. And while all of the cute and cuddly little players are vying for 2021 bragging (barking?) rights as Puppy Bowl winners, the real prize, as always, is adoption.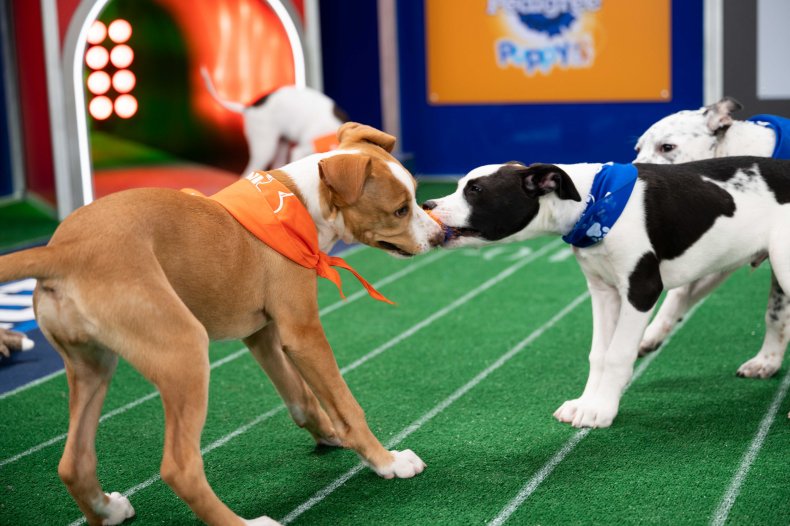 Fortunately for the puppies expected to participate in the 2021 Puppy Bowl, Animal Planet is 16 for 16 when it comes to placing every pup in a forever home. Since the game's 2005 origin, the network has maintained a 100 percent adoption rate for all dogs featured on the show. The 100 percent adoption rate also extends to the kittens, who usually take the spotlight during the Arm & Hammer Slide Cat Litter Kitty Halftime Show.
Animal adoption skyrocketed across the U.S. amid the coronavirus pandemic. However, Dan Schachner, Puppy Bowl's official referee of the last 10 years, said there was still much work to be done in regards to overpopulation in animal shelters and rescue centers. That's where Puppy Bowl comes into play.
"By all accounts, 2020 will go down as a record year for dog adoption especially since pandemic puppies are a real thing. Yet while this year led to so many animal adoptions, the overpopulation problem continues in this country," Schachner told Newsweek in an email. "What better way to keep the conversation of animal adoption going as it has over the past several years than with Puppy Bowl, especially because it has the impact of leading to a 100 percent adoption rate and it continues to highlight the amazing shelters and rescues across the country."
Schachner added: "The mission has to continue, and this year we have supersized Puppy Bowl to celebrate the love that dogs brought us in 2020 while reminding everyone to support our local rescues."
This year's Puppy Bowl will feature 70 dogs—including six special needs star players—from 22 shelters and rescues from nine Northeastern states, and like every other year, Animal Planet is expecting all of the doggos and kitty cats to find a home.
Since the Puppy Bowl is filmed months in advance and all of the animals get publicity across Animal Planet's programming and website well before the game, some of the puppies and kittens participating in the Puppy Bowl have already found homes, like Team Fluff player Sasha, who was sheltering at the Danbury Animal Welfare Society in Connecticut before she was featured on Animal Planet's website as a part of Puppy Bowl.
As for those who aren't placed before game day, they usually get adopted either during or quickly after the Puppy Bowl as Schahner explained in a 2015 Reddit AMA.
"Literally, it takes MINUTES. As soon as people start watching Puppy Bowl, they can go to AnimalPlanet.com and look up the puppy profile, which will connect you with the shelter or rescue center that has them! And you can be sure that within 5 minutes—you have to act quickly. So what we like to say is 'Don't worry if the dog or cat you fell in love with is no longer available—because they are part of litters, and they will probably have brothers or sisters that you can adopt, even if that one star puppy isn't there!'" he wrote.
The 2021 Puppy Bowl kicks off on Animal Planet on Sunday at 2 p.m. ET.