Puppy Who Is Desperate To Be a 'Big Dog' Like Her Brothers Melts Hearts
A puppy convinced she's a "big dog" like her husky brothers is making the internet chuckle.
In the adorable footage shared by Jace (@pippathecav), Pippa—a King Charles Cavalier spaniel—can be seen reaching up on her hind legs to drink from a raised water bowl.
As the bowl belongs to her brothers Moose and Max—both adult Siberian huskies—the dish is resting on a stand, making it quite a challenge for the tiny spaniel.
However, the additional height seems to make the raised bowl more appealing, with the 4-month-old puppy ignoring her own smaller water dish underneath.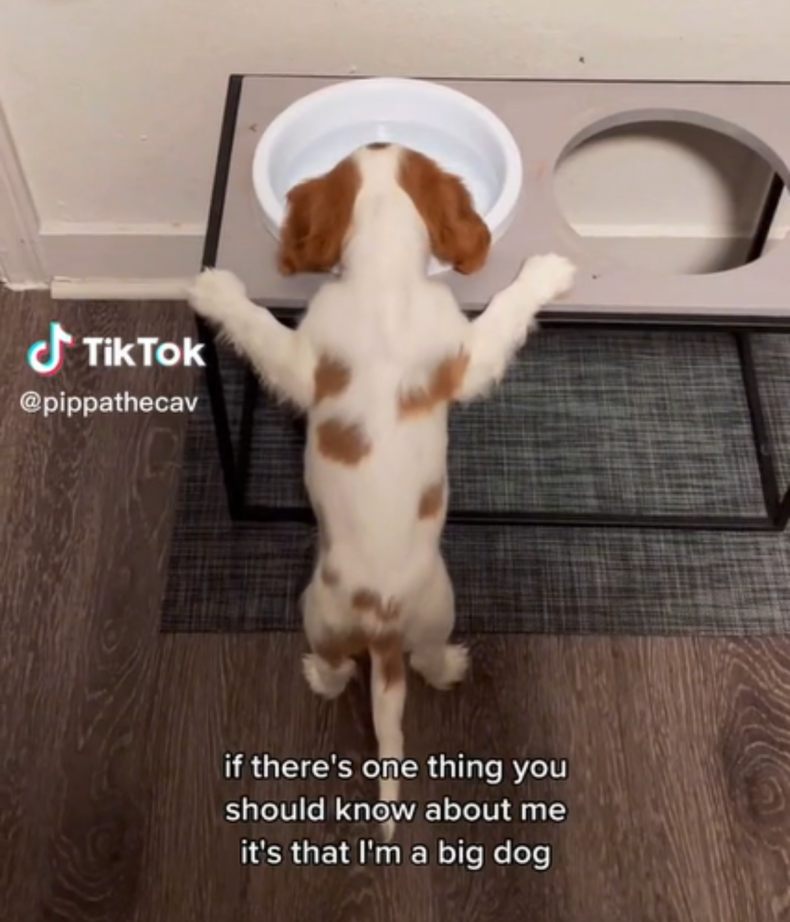 Narrating Pippa's thoughts in the video, Jace said: "I'm big just like Max and Moose, and I was like 'no, that won't work.'"
Jace and her partner Swethal decided to take Pippa to their local pet store in Denver so she could choose her own bowl.
"[Mom] says I'll never be quite as tall as [Moose and Max], and while I don't believe her, I went along with the plan anyway," "Pippa" continued.
Pippa immediately turned her nose up at the first bowl, as it was "too cold, while the second offering was "too deep."
"I'm in my Goldilocks era," "Pippa" said.
Nevertheless, the third container was "fine," despite not being the color Pippa wanted.
As a reward for investigating the bowls, Jace and Swethal took Pippa to see the birds, which she "loves." This was followed by treats in the car ride home.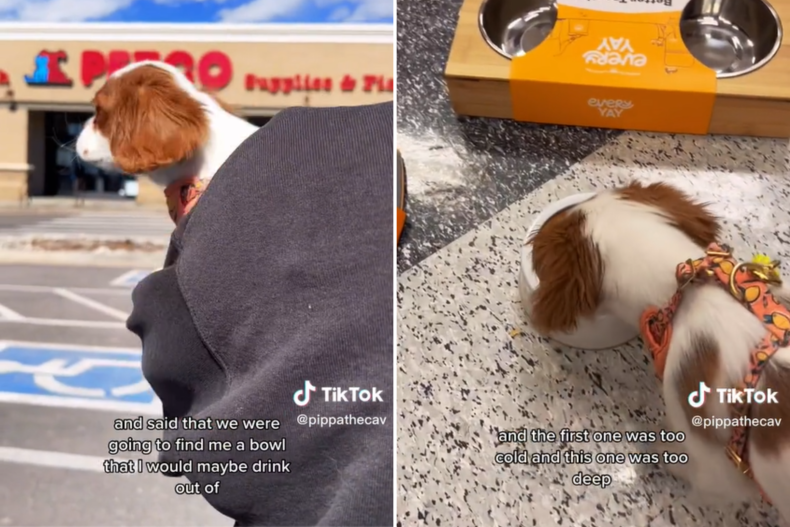 The next day, a package arrived for the spaniel—a set of elevated cat bowls.
"This can't be for me," the captions continued. "I'm a big dog."
After some convincing, mostly using treats, Pippa started to warm up to her new bowls.
"Ok, I could get down with this," she said. "Thank you."
TikTok users adored the sassy spaniel and her demands, with the cute clip receiving almost 15 million views and 3.6 million likes.
'She Just Knows What She Wants'
According to American Veterinary Association, dogs of all shapes and sizes are America's favorite pet, with almost 40 percent of U.S. households owning one.
So it's no surprise that dog lovers are willing to spend to keep their furbabies content. In 2022, the global pet care market was worth a colossal $261 billion—and it's still growing, with the US market expected to reach $93.1 billion by 2025 alone.
Data collated by Zippia found that the average pet owner spends $111 a month on their pet, with food, veterinarian trips and kennel boarding being the highest expenses for dog owners.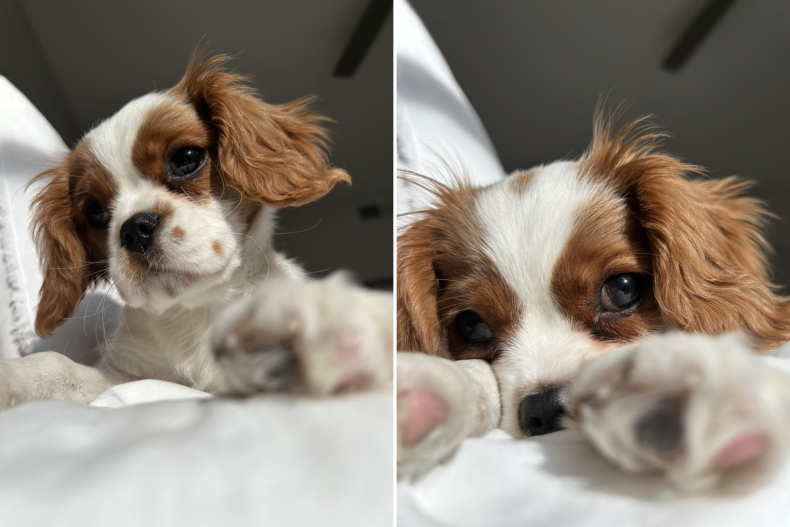 Pippa clearly knows how to wrap her owners around her little finger, with her small stature in no way denting her confidence. The demanding pup actually turned down five bowls at the pet store, before Jace gave up and ordered her the elevated cat dishes.
"She has rejected every bowl we've given her until her newest bowls," Jace told Newsweek.
"The total was probably somewhere around six or seven bowls that didn't make the cut.
"She is still a bit suspicious of the new bowl, but she uses it about 70 percent of the time.
"If the water isn't filled to the brim, she goes to her brother's bowl and drinks from there instead. Some say she's picky, but we think she just knows what she wants."
Until Pippa, Jace and Swethal had only ever owned large dogs. While driving one day, Jace spotted a Blenheim Cavalier on the street, and was so taken with the pooch that they pulled over to find out what breed it was.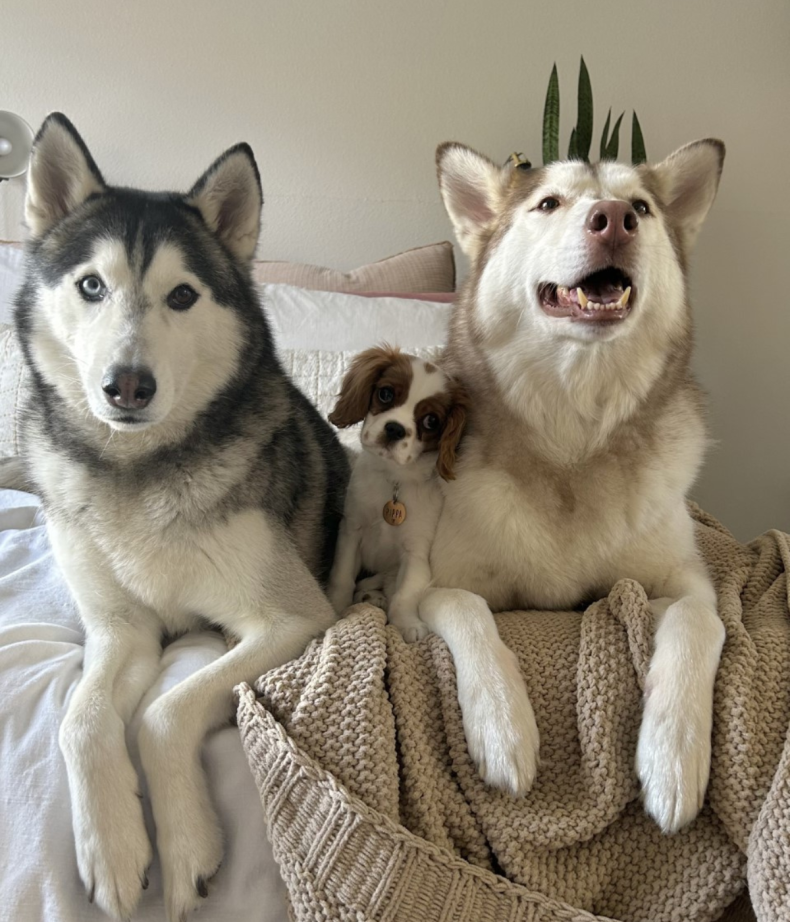 "I think we scared her owner a bit, but we absolutely had to know what kind of dog
she was holding," Jace said. "As soon as we saw her Cavalier we knew we had to have one."
After doing some research to ensure the breed would get along with the couple's two huskies—Max aged 8 and Moose aged 7—they decided that a King Charles Cavalier would be a perfect fit for their family.
As he's the younger dog, the couple were expecting Pippa to instantly bond with Moose. However, he was confused by the new addition.
"He's the sweetest guy you'll ever meet, but I don't think Moose understood that Pippa was a dog and he was actually quite afraid of her," Jace said.
Instead, Pippa bonded with Max, despite the husky's grumpy and independent demeanor.
"It was the cutest thing to witness," Jace said. "He lets her take naps on his tail, protects her when we're out in public, and really just 'took her under his paw.'"
Nevertheless, growing up with two large canines has given Pippa unrealistic expectations about her own size.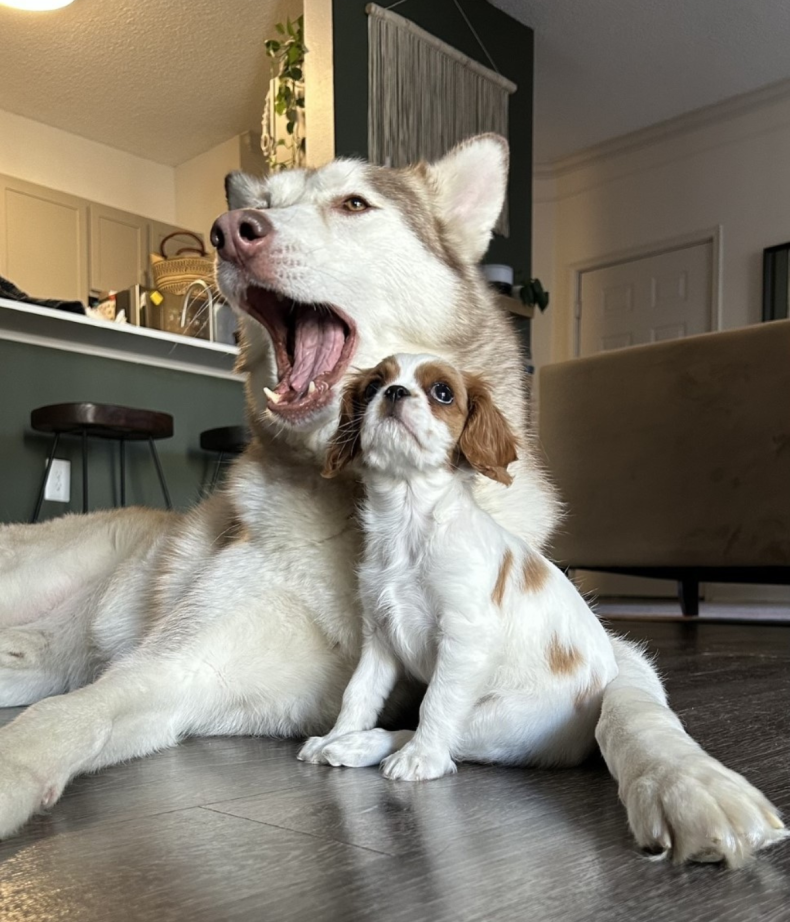 "I think being raised around 2 dogs who outweigh her by 40-60 pounds gave her a lot of confidence," Jace said.
"She hasn't ever been scared of them and will curl right up next to them in bed. She trains with them, plays with them, and spends all day long with her big brothers."
'The Journey We Didn't Know We Needed'
TikTokers couldn't get enough of the high-maintenance pup and her big dreams, with jas calling Pippa "an icon."
"Not to be dramatic but I'm in love with pippa," said brooklynn.
"I was so invested in this," wrote greta.
"The absolute disrespect of a small bowl," said Lauren.
"I swear all cavaliers are the same they act like they are so big," commented Dixiethecav.
Jace's hilarious voiceover also got plenty of compliments, with Jiminswiftu calling the video "perfect."
"Why am i fully convinced the dog recorded this," asked nic.
"We all know if she could actually talk this would be her voice lol," said Caileigh shinall.
"Im in my Goldilocks era," quoted Ron.
While Madelyn Chase commented: "The journey we didn't know we needed, but we're so glad it happened."
Do you have funny and adorable videos or pictures of your pet you want to share? We want to see the best ones! Send them in to life@newsweek.com and they could appear on our site.