A puppy has been euthanized in Nebraska after contracting rabies, according to a local animal shelter. The Nebraska Humane Society (NHS) said the young dog was bitten by a bat in the backyard of its owner's house in Douglas County, KETV reported.
After the incident, tests were conducted on the bat revealing that it was infected with rabies—a fatal but preventable viral disease that infects the central nervous system of mammals.
"The puppy had been vaccinated for the rabies virus before this exposure incident but sadly, the vaccine had just recently been given, and was not yet effective enough to prevent the virus," a statement from the NHS read.
"On Tuesday morning, the puppy began displaying early symptoms of rabies, and was humanely euthanized following a decision made between the vet and owner."
The Douglas County Health Department said it is now trying to inform everyone who had recently been in contact with the puppy about the incident.
With bat season approaching in Nebraska, the NHS is urging people not to approach or touch any bats that they may encounter while ensuring that pets are kept away. The NHS also said that owners should ensure their pets' rabies vaccinations are up to date.
Bat season in Nebraska runs from late August until mid-September, and during this time bats may try and enter homes for shelter. As a result, officials from the Nebraska Department of Health and Human Services (DHHS) are reminding residents that encounters with rabid bats may be more likely.
"August is the peak month for testing bats for rabies," Dr. Tom Safranek, state epidemiologist for DHHS, told KETV.
"It's important for people to be careful around bats and other wild animals, like skunks, foxes, coyotes and raccoons, or domestic stray animals like cats and dogs, which are less likely to be vaccinated. These animals could potentially have rabies and transmit it to people."
In the United States, bats are one of the wild animals that are most commonly found to have rabies, alongside raccoons, skunks and foxes. However, it is important to remember that less than 0.5 percent of bats are infected with rabies, and only around two people die every year in the country as a result of being bitten by rabid bats, according to the University of Nebraska–Lincoln.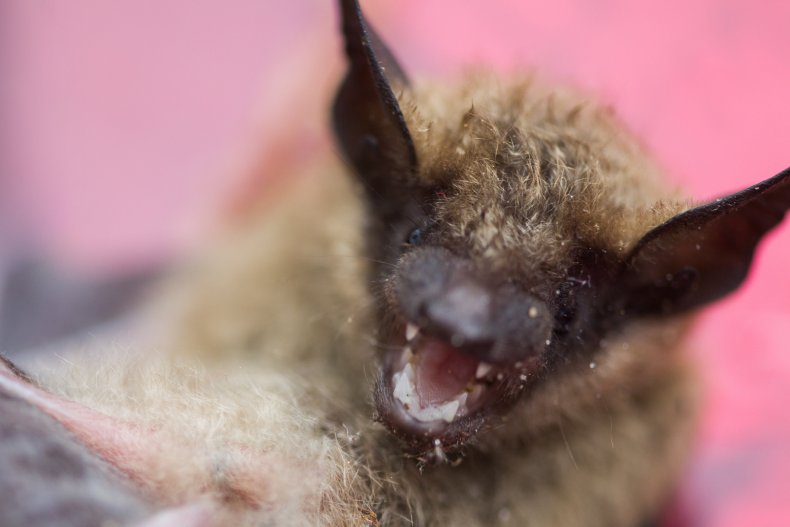 In fact, bats tend to avoid humans and those infected with rabies do not become aggressive, unlike rabid dogs.
Nevertheless, care must be taken if you find a bat because they may bite in self-defense. It is best to contact local wildlife officials to have a bat removed, although if you decide to pick it up, make sure to use thick leather gloves.
Because many bats have very small teeth, a sound sleeper may not even notice if they are bitten by one during the night. Therefore, an individual should assume they have been bitten if they awake to find a bat in the room, even if there is no evidence of injury.
Furthermore, the presumption should also apply to situations where a bat is found in a room with someone who is unable to communicate well, such as a child, an intoxicated person or a mentally impaired individual, or if a bat has made contact with a person.
Rabies usually spreads via the bites or scratches of infected animals. If a person becomes infected and does not receive the appropriate care promptly after the incident, the virus will eventually reach the brain, causing a disease that is almost always fatal.
Uncommon Knowledge
Newsweek is committed to challenging conventional wisdom and finding connections in the search for common ground.
Newsweek is committed to challenging conventional wisdom and finding connections in the search for common ground.
About the writer
Aristos is a Newsweek science reporter with the London, U.K., bureau. He reports on science and health topics, including; animal, mental health, and psychology-related stories. Aristos joined Newsweek in 2018 from IBTimes UK and had previously worked at The World Weekly. He is a graduate of the University of Nottingham and City University, London. Languages: English. You can get in touch with Aristos by emailing a.georgiou@newsweek.com.