Puppy Mill Owner Cursed out Judge After State Seized 24 Dogs, Ordered to Pay $84,000 Fine
A puppy mill owner in Michigan was found in contempt of court and ordered to pay a large fine after cursing out a judge during a Zoom court hearing just 10 months after authorities seized 24 dogs from his residence.
The civil bench trial and forfeiture hearing regarding complaints made against Joe L. Horne Jr., 38, took place remotely Tuesday and via Zoom. Horne, who was out of jail on a bond, joined the call on his cellphone, WJRT-TV reported.
The prosecution alleged that Horne did not provide proper care for the dogs and called Carrollton Township Police Sergeant Christopher J. Kellett to the witness stand.
Kellett said during the proceedings that he executed a search warrant on Horne's residence on March 15. That morning, police also arrested Horne on a domestic violence charge.
Kellett explained that as soon as he entered the house he was hit with an "overwhelming" smell of urine and dog feces. He also said there was a "large amount of dog feces in the backyard" and that the conditions were unsafe for the animals.
Kellett said that Animal Control was then contacted and seized 24 dogs from the residence. He explained that the dogs were found in cages around the house and inside a detached garage. He said there were rows of caged dogs, some triple-stacked on top of each other.
Horne had been breeding pitbull and American bully mixes and sold them on the Facebook page "BullyTreatz Home of Canelon." On the Facebook page, Horne described the dog mixes as "mini monsters" and "microbullies."
According to the Humane Society, any "high-volume breeding facility that churns out puppies for profit" and disregards the animals' health in order to maximize profits is considered a puppy mill.
The Animal Welfare Act, which passed in 1966, ensures that breeders meet specific standards for the care of animals bred for resale. In Michigan, state law requires some licensing but does not require inspections.
Horne, who represented himself during Tuesday's proceedings, began arguing with Saginaw County Circuit Judge Manvel Trice III after repeatedly being asked not to testify during his cross-examination questioning.
Horne then became agitated and began interrupting Trice who attempted to explain that he needed to listen and not speak over him. Eventually, Trice warned that if Horne interrupted again he would hold him in contempt of court.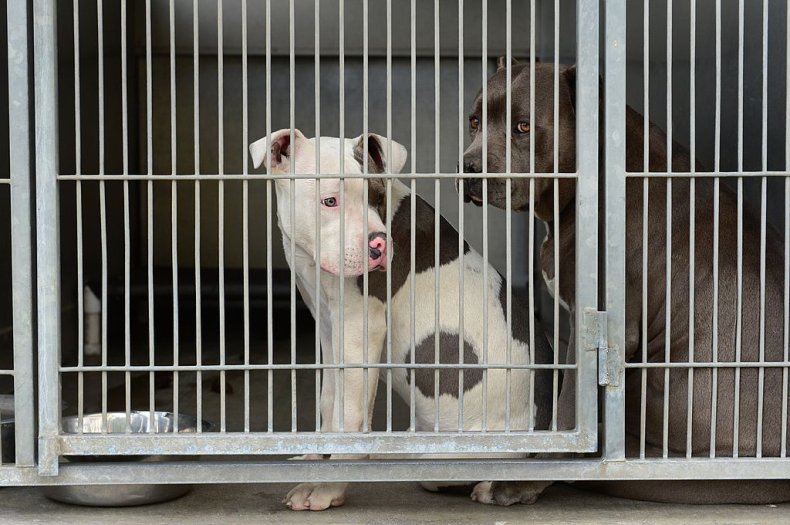 That's when Horne shouted expletives at Trice, including "f**k you" and telling Trice to "kiss my a**," WJRT-TV reported. Following the argument, Trice ordered that Horne spend 93 days in jail and rescheduled the remainder of the hearing.
"In light of his failure to voluntarily participate in this proceeding, the court is going to enter a default judgment," Trice announced after Saginaw County Assistant Prosecutor Daniel Straka requested that the hearing continue so they could ensure the animals would find "better homes."
According to Saginaw County Animal Care and Control Director Bonnie Kanicki, 17 of the 24 dogs are still in the shelter and two were euthanized.
The total cost of housing the dogs and their veterinary care came out to $84,678, which Horne now owes the county. Trice said he had 72 hours to pay the fine and he was arrested Wednesday for contempt of court.
Horne also lost ownership of all 24 dogs and he also faces an animal cruelty charge, WJRT-TV reported.