Puppy Paralyzed After Spine Broken Becomes Inspirational Therapy Dog
A West Highland terrier left paralyzed is now bringing joy to others as a therapy dog. Pumpkin has been spreading her "Pumpkin power" around her hometown of Lincoln in England by visiting retirement homes and care facilities.
Nail technician Tammie Fox, 41, began fostering Pumpkin in October 2021, when the puppy was eight weeks old. At the time, she didn't realize how serious Pumpkin's injuries were.
She told Newsweek: "She couldn't use her back legs, and we realized quite quickly that she was also incontinent."
Despite this Fox "fell instantly in love with her" and decided to adopt the Westie.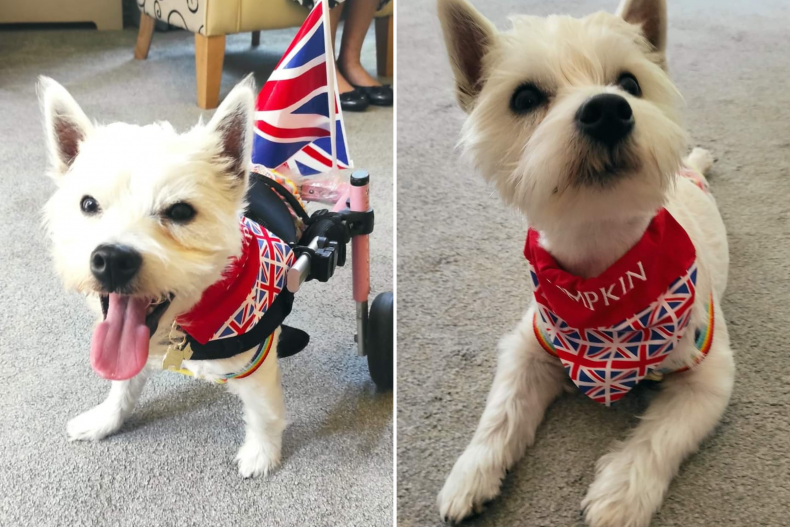 Tammie started a fundraising campaign to pay for X-rays and an MRI scan for Pumpkin, so she could gain a better understanding of her condition and how best to help her.
Tammie said: "I thought maybe we'd get a little bit towards the scan, but in a week we'd raised £8,000 for her, which was crazy."
Sadly, the MRI scan revealed that at some point in Pumpkin's short life, her spine had been broken.
"[The vet] said it was caused by extreme trauma, but he wouldn't like to say what extreme trauma," she explained.
As Pumpkin has no feeling from the waist down, Tammie has invested in a wheelchair and takes Pumpkin to physio and hydrotherapy classes. People all over the world have been touched by Pumpkin's story, sending donations and buying her toys and gifts.
"It's been a whirlwind," she said.
After receiving so much support, Tammie decided she wanted to give something back and decided to train Pumpkin as a therapy dog. The pair began visiting nursing homes earlier this year, starting with Brantley Manor Care Home in Lincoln.
She said: "I thought 'what a great way to [raise awareness] of dogs with disabilities, make people smile and do something good for the community.'"
"They were so happy to see her. Their faces when they realized Pumpkin was there, they just came alive."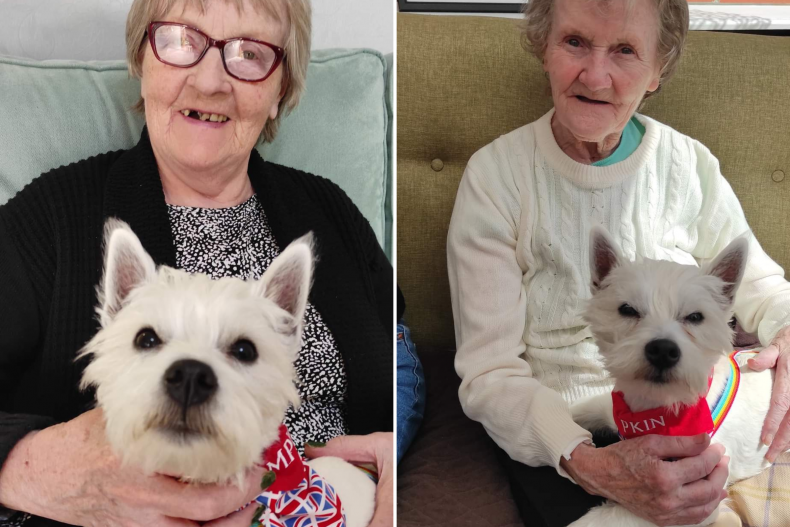 As well as retirement homes, Tammie and Pumpkin plan to start visiting schools to educate children about disabilities. Tammie is also working on a children's book called Pumpkin Power, which will accompany the classroom visits.
"The book is about having a disability but still living a happy life," she explained.
"Every month we'll release a new book about a friend of Pumpkin who has a disability. It's going to be amazing."
Tammie also runs the Pumpkin and Friends Charity, which helps families with disabled pets financially and emotionally.
Pumpkin isn't the only dog to make a difference. In March, a service dog went viral after its owner demonstrated his skills in a TikTok video. In May, a service-dog-in-training melted hearts online after being filmed "guarding" her owner while they went to the toilet.