Adorable Puppy Rescued After Almost Drowning in Shipwreck Off Alaska
A puppy has been saved from drowning in a shipwreck off the coast of Alaska by the U.S. Coast Guard. The eight-month-old puppy, Grace, was thrown overboard when her owner's fishing vessel capsized near Sitkalidak Island at around 7 a.m. on Monday.
The four crew members escaped the wreck, boarding a life raft, but there was no sign of Grace. The U.S. Coast Guard from Air Station Kodiak swept an area spanning five miles without success. At this point, the puppy—a black Labrador-pitbull cross—was presumed lost at sea.
However, the following day another helicopter crew was flying over the area looking for evidence of a fuel spill from the wrecked fishing vessel, according to local radio station KMXT. It was then they spotted Grace on a nearby beach.
Rescue swimmer Rafael Aguero, a petty officer 1st class with the U.S. Coast Guard, headed to the area to collect her. He told KMXT that Grace was on a narrow stretch of beach, surrounded by cliffs reaching 20 to 40 feet. "I was able to find a way to sort of scramble down that cliff to grab her," Aguero said.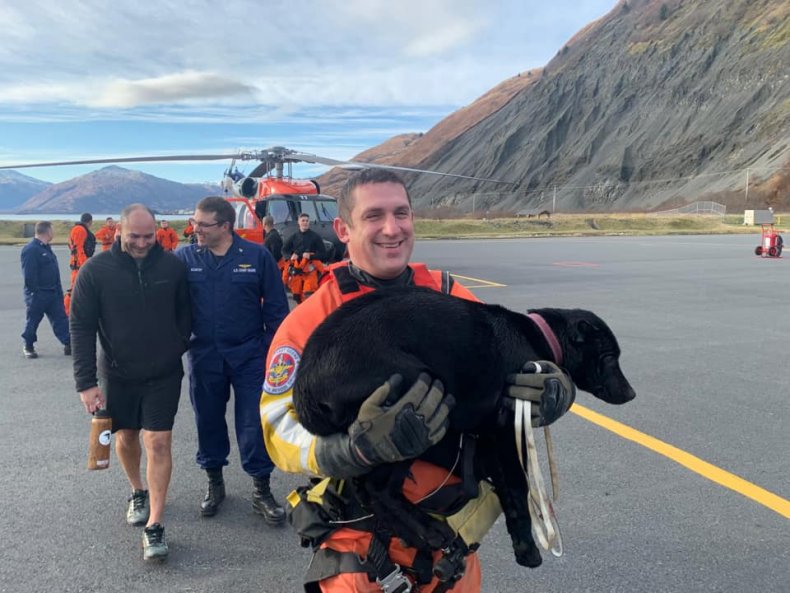 "She was definitely in a little bit of a shock. Definitely hypothermic. So I looked up to her and I knew she was going to be OK. She wagged her tail a little bit. And then I went, picked her up and scrambled back up the cliffs back to the helicopter."
Grace had spent 36 hours alone on a freezing cold beach. Aguero said it was amazing she had survived in those conditions. "It's absolutely incredible that we found that dog," he added.
Photos posted by the U.S. Coast Guard show Grace being rescued from the base of the cliffs and being carried to safety. She was reunited with her owners at Air Station Kodiak that afternoon.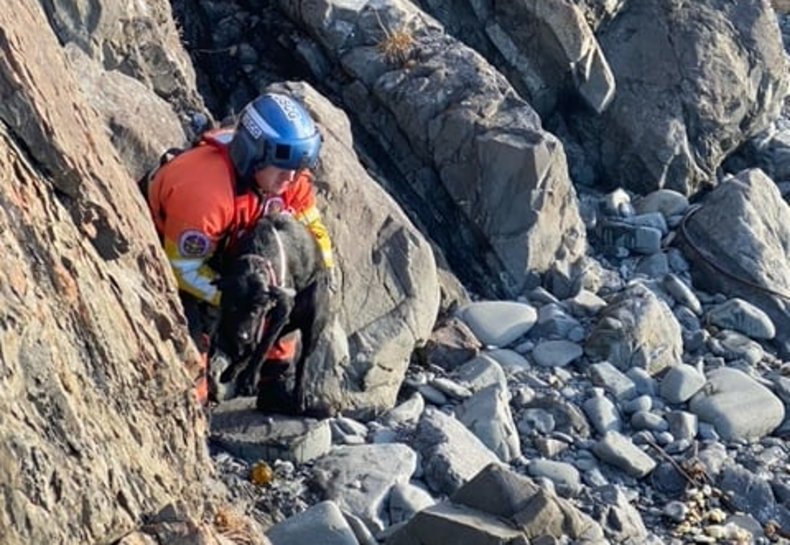 "Everybody loves a happy ending, especially when it involves a rescued puppy!" the U.S. Coast Guard Alaska wrote in its Facebook post.
Dog rescues are rare for the U.S. Coast Guard, but not unheard of. In December 2019, the U.S. Coast Guard Station at Fort Myers Beach, Florida, was called to action after a dog was spotted swimming for its life. In a Facebook post, the station said it had been informed of a dog in distress swimming off Fort Myers Beach/Bowditch Point.
A video of the rescue was released by the coast guard. As the dog is pulled from the water, a crew member can be heard saying: "How are you doing, buddy? You're the best person I've ever rescued."