Purdue Professor Accused of Locking Son in Crate, Hitting Wife With Chair Leg
John Froiland, a Purdue University professor, has been arrested after allegedly assaulting his wife and locking his 10-year-old son in a dog crate.
Denice Froiland claimed her husband assaulted her when she returned to their home at 5039 Gardenia Court in West Lafayette.
She told the police she had been out shopping. When she returned home her husband shoved her up against the wall and questioned where she had been.
She said the row continued in another room, with John Froiland then locking his son in a dog crate.
He proceeded to break a leg chair and struck his wife with it, according to the police. Denice Froiland reportedly suffered welts and bruises to her arms.
Police have said Denice Froiland's cell phone was taken by her husband to prevent her from calling 911 during the altercation. However, she was successfully able to grab her son and drive away to the university.
While at the campus, she called the police at around 8.40 p.m.
After meeting her, police drove back to Denice Froiland's home, where they arrested her husband.
When contacted, the Tippecanoe County Jail told Newsweek that John Froiland was booked at West Lafayette.
They said he had been booked for Interference with the reporting of a crime, criminal confinement, neglect of a dependent, intimidation, and domestic battery. They added that he had posted bond at $500. No official charges have been made against John Froiland as of yet.
Purdue University has also been contacted by comment by Newsweek.
Purdue University spokesperson Tim Doty told local media John Froiland has been placed on administrative leave.
Police added John Froiland to the persona non grata list on Monday, which prevents him from entering the campus for a year.
This comes after a teacher in Florida was arrested for hitting a student in the face late last month.
Caroline Melanie Lee, aged 60 years taught English at Darnell-Cookman Middle/High school in Jacksonville.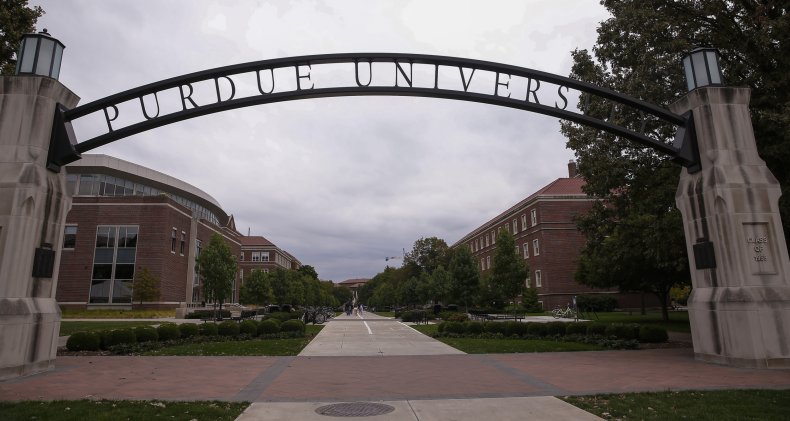 She had previously won a "Teacher of the Year" award at the school and was arrested on October 29th.
The Duval Public School District honored Lee only two days before the incident happened.
The Duval County Public Schools Instagram account praised Lee and highlighted the award with some comments questioning why she had received it.
According to the police report, Lee asked one of the students who had commented to speak with her in the classroom.
Lee then reached across the table and struck the student several times in the face, resulting in a nose bleed.
Lee later denied the assault and told police officers that she wanted to talk to the student, whose message she perceived as a "threat to kill her."
She added that she was "not afraid" therefore did not feel the need to report the message to staff.