Ahead of Chick-fil-A Opening, Purdue Faculty Pushes University to Require Businesses to Uphold School's Values
Purdue University administrators and the student government are standing behind plans to open a Chick-fil-A on campus, but on Monday, faculty members pushed for the university to make it clear that all on-campus businesses must fall in line with school values.
On Monday, the Purdue University Senate, the faculty's governing body, passed an inclusion resolution requiring all commercial entities on campus to uphold university values and promote inclusivity with their policies, hiring practices and actions. The resolution was proposed in September, on the same day the university released a statement saying it would welcome Chick-fil-A to the campus.
Equity and Diversity Committee Chair Audrey Ruple told The Exponent, an independent student newspaper at Purdue, that the resolution didn't specifically name Chick-fil-A because the committee wanted it to be "bigger than just about Chick-fil-A." However, The Exponent reported that Ruple pointed to donations Chick-fil-A had made to anti-LGBTQ organizations during a presentation at Monday's meeting.
Chick-fil-A has taken flak for supporting organizations that are against same-sex marriage, and its presence on college campuses hasn't always been welcome. In 2018, Rider University President Gregory G. Dell'Omo and Vice President for Student Affairs Leanna Fenneberg removed Chick-fil-A as an option on an updated student survey about bringing a new restaurant to campus.
Purdue's Chick-fil-A is scheduled to open in fall 2020 at a newly constructed residence hall and will be run by a Purdue graduate as a franchise. John Gates, vice provost for diversity and inclusion, said in a September statement that the franchisee was bound by Purdue's nondiscrimination policy statement, as is the case with all on-campus businesses.
Newsweek reached out to Purdue and the Senate for comment but did not receive a response in time for publication.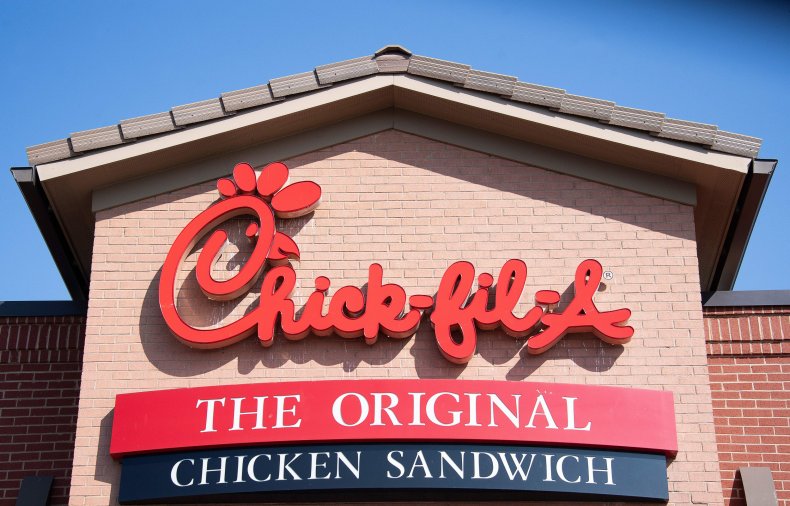 Like the students at Rider, whom CBS News said selected Chick-fil-A as their top choice in 2017, students at Purdue are looking to "eat more chicken," despite the company's opposition to LGBTQ rights.
In September, Purdue Student Government Senators Zach Stewart and Joshua David released a statement that said Chick-fil-A had support from students, faculty, staff and alumni. They cited a student government survey of 4,300 people that said 93 percent wanted a Chick-fil-A on campus. The student government also passed a resolution affirming its support of efforts to bring the restaurant to Purdue.
In September, the university affirmed that Chick-fil-A was welcome and pointed to the "overwhelming demand" for the restaurant. Barring a "completely legitimate business" from campus would be counter to the practice of inclusivity, Purdue said.
"We would not be promoting choice and freedom by depriving thousands of people in our community of a choice they have long sought and are already taking advantage of in large numbers," the university said.
Purdue Student Government President Jo Boileau, a member of the LGBTQ community, spoke at the Monday meeting in favor of the Senate resolution. According to The Exponent, Boileau said the prospect of entities similar to Chick-fil-A coming to Purdue was "destructive" to him. The target of a hateful backlash for opposing a Chick-fil-A on campus, Boileau said it's been difficult to be a student at Purdue for the past six weeks.
Alexander Francis, a member of the University Senate, told the Journal & Courier that he considers the resolution to be a way to close a "loophole" in a campus policy that mentions university "community members" but not specifically businesses.
"The only reason I can see to vote against this resolution is if you believe commercial entities should be given the special privilege of being part of our community without being held to the same standards that we hold everyone else to," Francis told the Journal & Courier.
Regardless of the Senate resolution and pushback from some students, the university's plans to open the restaurant are moving forward. Chick-fil-A released a statement in September expressing its pride in partnering with universities and its excitement at "serving everyone in our restaurants."