The Best Deals on Purell Hand Sanitizer Gel, Wipes, Foam Right Now
While many stores initially sold out of hand sanitizer and some stores inflated their prices at the beginning of the coronavirus pandemic, some stores like Target, Duane Reade, and Office Depot currently have Purell gel, wipes, and foam in stock, as well as some deals.
Target
Target has a deal for customers who buy $20 worth of products, including Purell hand sanitizing gel and wipes, which gifts them $5 on beauty and personal care.
The Purell Advanced Hand Sanitizer Soothing Gel with Aloe and Vitamin E (8 fl oz) is selling for $2.99, the Purell Advanced Hand Sanitizer Refreshing Gel Pump Bottle (33.8 fl oz) is selling for $5.49, and the Purell Hand Sanitizing Wipes Clean Refreshing Scent (15ct) is selling to $1.49 at Target.
Duane Reade by Walgreens
Duane Reade is giving its customers 10 percent off purchases of $35 or more with the discount code TAKE10. Additionally, Beauty Enthusiast members at Duane Reade can get a sample bag worth approximately $48 with a purchase of $25 in the beauty section, which includes Purell products.
Duane Reade is selling Purell Cottony Soft Sanitizing Wipes (40 pack) for $3.99 and the Purell Advanced Hand Sanitizer Pump Original (8 oz) for $2.99. There is also a deal at Duane Reade where customers can get one Purell Advanced Hand Sanitizer, Pump Ocean Kiss (2 fl oz) for $1.99 or two for $3.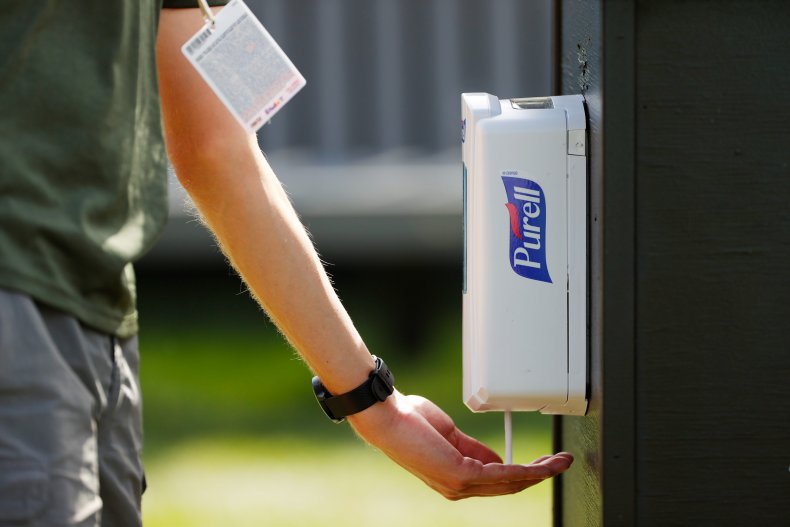 Office Depot
Office Depot is currently offering customers free next-business-day shipping on qualifying orders of $60 or more and free store pickup.
Office Depot is selling Purell Healthy Soap Hand Soap, Clean And Fresh Scent, 12.9 Oz for $3.99 in-store, and is selling Purell Healthcare CRT HEALTHY SOAP High-Performance Foam Hand Soap Refill, (40.58 Oz), for $16.49 with next day business delivery available.
CDC Advice on Using Hand Sanitizer
The Centers for Disease Control and Prevention (CDC) says that they recommend: "washing hands with soap and water whenever possible because handwashing reduces the amounts of all types of germs and chemicals on hands.
"But if soap and water are not available, using a hand sanitizer with at least 60 percent alcohol can help you avoid getting sick and spreading germs to others. The guidance for effective handwashing and use of hand sanitizer in community settings was developed based on data from a number of studies."
However, the CDC also says: "Alcohol-based hand sanitizers can quickly reduce the number of microbes on hands in some situations, but sanitizers do not eliminate all types of germs."
The CDC recommends using hand sanitizer with more than 60 percent alcohol, as: "Many studies have found that sanitizers with an alcohol concentration between 60–95 percent are more effective at killing germs than those with a lower alcohol concentration or non-alcohol-based hand sanitizers.
"Hand sanitizers without 60-95 percent alcohol 1) may not work equally well for many types of germs, and 2) merely reduce the growth of germs rather than kill them outright."
Newsweek has affiliate partnerships. If you make a purchase using our links, we may earn a share of the sale.