Purim 2019: When Is Purim? Why Do People Wear Costumes?
In contrast to the traditionally somber nature of many Jewish holidays, Purim is a time to let loose and the custom of donning outrageous costumes has left some wondering, is Purim just Jewish Halloween?
For everyone out there who hasn't had the enjoyment of celebrating Purim, the answer is no, it's not Jewish Halloween. Outside of both holidays featuring costumes, Rabbi Menachem Posner, a senior member of Chabad.org's Ask-the-Rabbi team, told Newsweek he doesn't see the comparison.
"Purim is a day of giving, sharing, celebrating, and bringing joy to others," Posner said. "While kids on Halloween go from home to home to take, on Purim we go from home to give."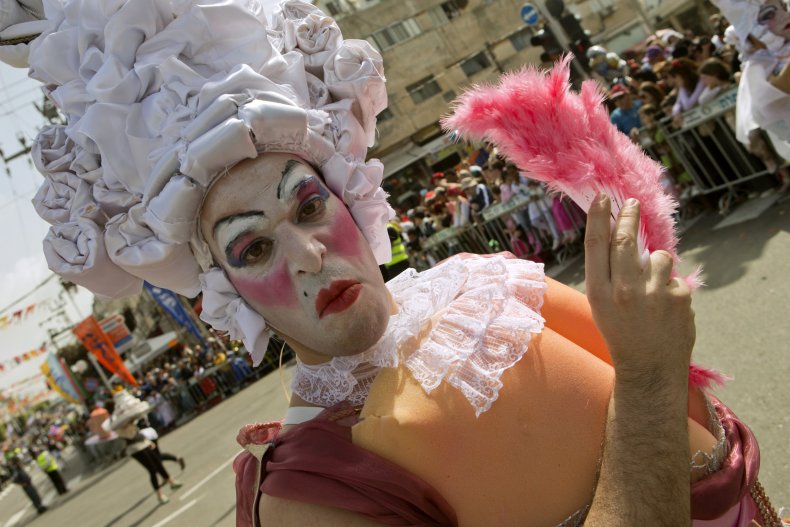 Celebrated on the 14th of the Hebrew month Adar, Purim is the most joyous day on the Jewish calendar, according to Posner. This year, it will begin on Wednesday evening and continue through Thursday, celebrating the miraculous salvation of the Jewish people against Haman, who wished to have them killed.
Long story short, in the 4th Century B.C., King Ahasuerus, who ruled over the Persian Empire, had his wife Queen Vashti, executed. In need of a new wife, he held a beauty pageant and Esther, who unbeknownst to Ahasuerus was Jewish, became the new queen.
After becoming queen, Mordechai, the Jewish leader, refused to bow to Haman, who was appointed the prime minister. As a result, Ahasuerus issued a decree calling for all Jews to be killed on the 13th of Adar, a date chosen by Haman through a lottery.
While Mordechai rallied the Jewish people for prayer, repentance and fasting for Esther, she gathered up her courage and told the King about her Jewish identity. Ultimately, the king ordered Haman to be hanged. Ahasuerus issued a new decree giving the Jewish people permission to defend themselves against their enemies, who were set to exterminate them.
Mordechai, who was also Esther's cousin, was appointed to the position of prime minister to succeed Haman.
"The key here was the utter reversal of fortunes. Things were bleaker than bleak," Posner told Newsweek. "The most powerful person in the empire wanted all the Jews dead, and then in a matter of days, he was dead, the queen was Jewish; and Mordechai, leader of the Jews, replaced the evil Haman and was promoted to being the king's chief advisor."
Okay, but again, where do the costumes come into play? Posner explained that the custom of dressing up to celebrate Purim has been around since the Renaissance and plays into the overall joy of the holiday. He added that many people believe concealing identities behind a costume or mask reflects how God acted behind "a cloak of the natural order."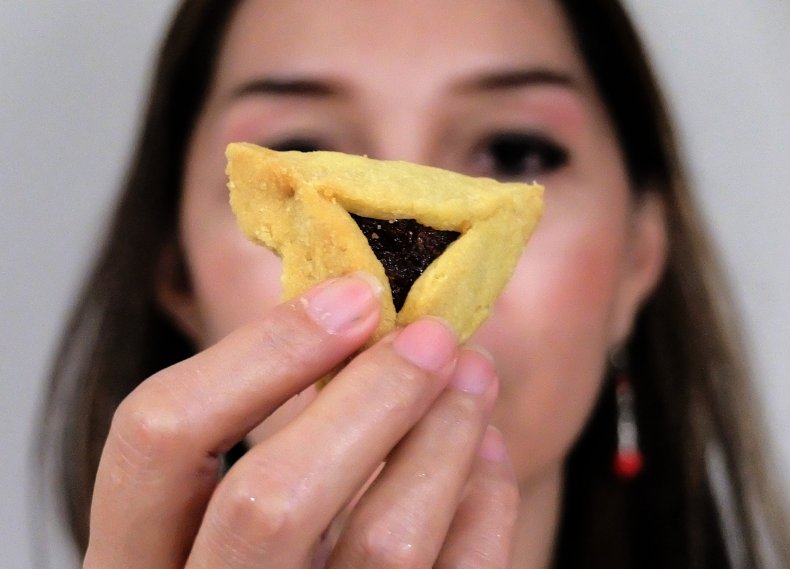 Along with parades and costumes, people celebrate Purim by listening to the Book of Esther, engaging in charitable acts and sending gifts of food to family and friends. As is customary for most Jewish holidays, there's also a special dinner, often including hamantaschen, a sweet three-cornered pastry filled with poppy seeds or jam and meat-filled kreplach, which is similar to a dumpling. The two items, which both have a delicious filling hidden inside the dough, are eaten as a reminder that God's involvement in the Purim miracle was hidden.
Over the years, there have been other instances when the Jewish people faced practically certain death only to be saved at what could be seen as the final hour. In 1952, many Jewish doctors in Moscow were arrested for allegedly plotting to assassinate Soviet leaders. Those who were arrested were interrogated and tortured, until, on Purim in 1953, Stalin died. The cases were dismissed and the doctors were exonerated.
Then, in 1991, as Israel faced a barrage of missiles, the First Gulf War ended on Purim.
"Purim is unique in that it was declared in a time of exile, when we were at a low point, socially and spiritually," Posner said. "As such, it is particularly treasured as relatable to everyone in every situation. Its message is that there is always hope."
This article has been updated to include Rabbi Posner's position with Chabad.