The Pursuit of Happiness, Bhutan-Style
This article first appeared on the Riding The Elephant site.
When Bhutan's King Jigme Singye Wangchuck first started talking about "Gross National Happiness" (GNH) being the guiding principle for development of his tiny, remote Himalayan kingdom, people elsewhere thought the idea rather quaint and unreal.
Now the idea of GNH is being embraced in various parts of the world in a search for a better and more sustainable way to manage affairs ranging from the protection of the environment to worker participation in companies and from organic farming and corporate social responsibility to government purchasing policies.
This became evident at a GNH conference held at Paro in Bhutan earlier this month that was organized by Dasho Karma Ura, president of the Centre for Bhutan Studies and GNH Research, and attended by around 750 international delegates.
At the conference, I made a speech based on a rare interview given to me in 1987 for The Financial Times by King Jigme Singye Wangchuck, which formed part of an FT article on Bhutan published on May 2 that year. Inevitably, the article only contained a few quotes from the king and I have reported those on this blog before, initially in 2008.
I have recently found my old 1987 notebook and have transcribed the full interview, which lasted for more than 90 minutes. Below are extracts that I delivered at the conference, shortly after Tshering Tobgay, the prime minister, echoed the king's thoughts of approaching 30 years ago and told the delegates: "We need to understand that the notion of progress goes well beyond lack of income or consumption to include non-monetary aspects such as weak social connections, the psychological costs of alienation and isolation, the exposure to risks and the experience of vulnerability."
I began by explaining that the king, who announced in 2006 that he was abdicating in favor of his son, had talked at length to me about his worries and dreams and his hopes for GNH.
As he spoke, I quickly realized these were the concerns of a 32-year-old who had a few years earlier realized the enormous challenge of being in charge of this small, secluded nation at a time of great international change—and an awareness of how some other countries had got it wrong.
I said that my interview was the first time that the king had spoken at length about this with any reporter.
As I had discovered when I came back again to Bhutan in 2011 on my first return visit after 1987, my FT article is regarded in the country as a significant piece of historical record.
"We are convinced that we must aim for contentment and happiness," His Majesty told me. "Whether we take five or 10 years to raise per capita income and increase prosperity is not going to guarantee that happiness—a lot of things go into it including political stability and social harmony, and the Bhutanese way of life, as well as economic development."
Later he said, "We have seen many countries which have done economically very well, but none which has a modern society and kept a strong tradition and culture. We have seen examples of cultures being eroded with extreme modernization."
"We want to continue both as a modern trading nation with the best modern technology, but we would like to blend that with our system and culture.
"I think we can do it. We have to do it if we are to have GNH and a quality of life that is good for Bhutanese persons…. We can do it because we have a small population, endowed with great mineral and other national resources, and we have water resources—the fastest, cleanest rivers in the world."
The first time the king had mentioned GNH to foreign journalists was in Bombay in 1979, though he is reported to have talked first about it in Bhutan in 1972. He was in Bombay, on his way back from a Non-Aligned Movement conference in Havana, when an Indian journalist asked him, standing at the airport, about Bhutan being a poor country. Bhutan had just voted differently from India at the conference over the admission of Cambodia's Khmer Rouge, so maybe that provoked the somewhat abrasive question.
The king replied that instead of just focusing on GNP, it might be more useful to measure Gross National Happiness.
The next recorded time he spoke about it was to a New York Times correspondent, Michael T. Kaufman, who visited Bhutan and whose report appeared on April 29, 1980 (and again with a brief mention in a November 1980 article).
The king was reported saying, "There is a gross national product but there is also gross national happiness." He wanted to improve the standard of living while not endangering other standards of contentment.
I met the king when I was The Financial Times's South Asia correspondent based in New Delhi. I succeeded in obtaining what was, for a foreign correspondent, an extremely rare invitation to visit the country from the then foreign minister, Lynopo Dawa Tsering, who held the post from 1972 to 1998.
As we began our discussion, I felt I was listening to a young man who realized what a huge task he had, as he almost worried his way around the subject of opening up yet protecting Bhutan. Twice in my notebook I made margin notes saying I felt it was time as a reporter politely literally to bow out and let the king get on with other things, but twice he continued talking around the basic theme, adding to my impression that he was exploring a way forward as he spoke.
"The priority is not so much development as creating very efficient, very strong, very clean dynamic government—that is the most important factor now" he said,
"For the past 25 years we gave priority to development work—now we have to be very cautious because if we chart our course carefully, we can get economic prosperity and political stability and social harmony."
Bhutan needed a smaller government—there were 13,889 civil servants and he was thinking of reducing them by a minimum of 2,000 that year and maybe later a total of 3,000. Retrench people who are not productive, he said, but with bonuses for relocation, he said, explaining how he would increase the budget. This was "a very painful job and also sensitive."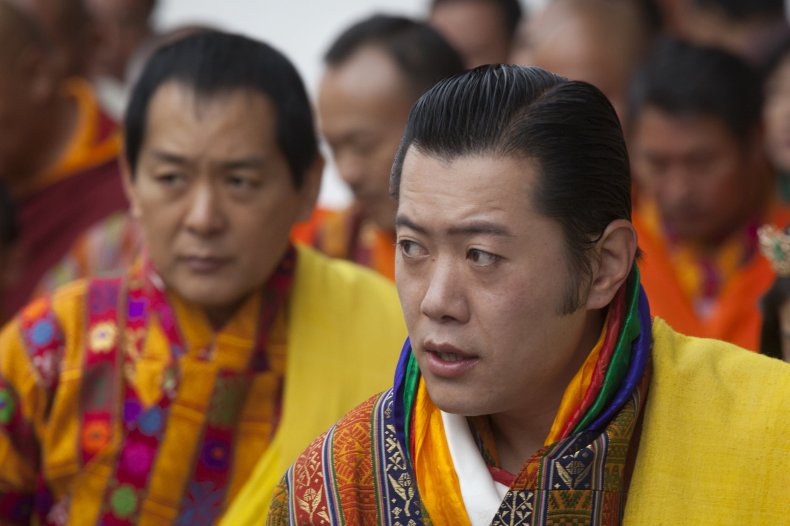 Clamping down on corruption
He was "clamping down very hard on corruption" and wanted to make the Civil Service Commission "very strong, moral, and ethical." Corruption had started when development started in 1961. "The level compared with developing countries elsewhere is not serious, but is serious for our standards. It was rare before development, but now it is right from the government to the [local] government level. It has to be curbed immediately."
The biggest problem had been lack of education and skilled manpower, with a problem of too much development work and a lack of ability. "Biting off more than one can chew," said the King. "The pace of development work and our ability to provide manpower—the gap was widening—so we were compromising on quality."
In formulating the country sixth (the latest) economic plan "we stress culture more—it was always there but, in the last 26 years of development work, we never took any serious step on it because we felt no need to take any initiative."
Development over 26 years had affected Bhutanese way of life. "We took it for granted that no special attention was needed."
Bhutan people were very carefree—that was a social factor. So special action was needed where there was a problem when development work had harmed the way of life. Stressing the need for culture and tradition within the civil service, the king said that there was now a government department to look into that—no one had been responsible before.
A new problem in the last 14 years had been that "our own people started stealing gold tankas and ransacking and selling in Darjeeling and Nepal." That was "unthinkable 10 to 14 years ago" because it was sacrilegious. Also numerous monasteries had been ransacked and antiques had been stolen from village homes. Villagers started selling their valuables and handicrafts so much that some of the best religious items had been lost.
The king talked about tourism and how people were complaining about tourists climbing sacred mountains, and that some monasteries were being closed.
Foreign influence
On foreign investment he said, "If we unilaterally opened up, a lot of [money from] tax shelters would be misused and would not use our national resources." So Bhutan was deciding on each case individually. That was, he said, "nothing to do with keeping foreign influence out, but making sure it will be used well and be repaid."
"Generally it is not so much outside influence we worry about, but every Bhutanese individual has to be very productive, confident, patriotic and nationalistic. We have opened up in a big way for 26 years. Don't want a policy of isolation…. For the future, our prosperity and well-being will be to produce goods and trade. So we can't afford isolation, and we need to trade in South Asia and beyond."
This was before the king began to change the political system, introducing a form of parliamentary democracy and reducing the power of the monarchy, but he indicated he envisaged change. In the '50s, people had not wanted a national assembly—till then, people just said yes to what government officials said.
The king's "role has been changing in the last 20 years," he stated. "We are looking for the right system—we have no hang-ups or restrictions. We have today in the palms of our hands the chance to mould any system which will help us face challenges. We are searching for the best sort of system—the main thing is that the system must work".
GNH and GDP could not just be centred around prosperity.
"We have to make people happy and include the Bhutanese traditional culture…. We will have to modernise, open up, but it has to be clearly blended with our tradition and culture…. All a question of using educational institutions to mould the characters of students and how they behave. We have 12 years to instil whatever we want to mould the ideal Bhutanese citizen…. Every individual must be nationalistic, patriotic, skilled."
On India, the king praised Rajiv Gandhi, then the Indian prime minister and 10 years older than him, as "the best prime minister India and neighbours can have." But he then added on India, and this is even more relevant today than it was then: "One thing we don't like is that the Opposition in India's aim is solely to pull the Government down, and to obstruct the Government from doing well, even if it realises the aim of the Government is good for the country.
"We have no objection to political parties. The problem of democracy in the third world is it only operates if all the people are literate and can know what the government does—in the third world most people are not aware of what government does, so participation of people is not so great." The literacy level in Bhutan was 25 percent and the aim was to get to 35-40 percent quite quickly.
There was a need to "study the advantages and mistakes of countries that have gone through our stage of development 30-40 years ago…. Knowing is one thing, but using that experience is important…. How efficient, capable our government and leadership is will determine success and failure for the future and the well-being of our people—so long as a small government.
"A big government compromises on facilities—that is a problem in third world countries. The problem is not a lack of aid or money but not having a very efficient strong government, so a lot of money has been squandered. If most developing countries had a stronger more efficient government, they would not have such problems…. If we have capable government, there is nothing we cannot achieve.
"Being a very small country, we can't afford failures or problems not overcome—but we have no choice but to have a very clear view…. Today we have a major advantage of time and opportunity which we can either use or waste it…. We are at a crossroad where we can achieve any objective—social harmony, political stability, economic development.
"Otherwise we can dig a very deep hole for ourselves which would create very serious problems for our country," said the king.
The king's drive for GNH is now continued by his son, King Jigme Khesar Namgyel Wangchuck, who was crowned in 2008, and by the government. Inevitably, the pressures of modernization have created fresh stresses and challenges.
A recent survey, for example, conducted by the Bhutan Studies center found that people in remote villages were less happy than those who had moved to cities because they felt they were missing out on what was available in urban areas and were also suffering from a lack of labor to work the land.
Bhutan would, however, have far more problems now if it had not started the GNH trend that has successfully influenced at least part of the approach to development and governance.
If King Jigme Singye Wangchuck were to be talking to me now (he rarely appears in public and never gives interviews), he would no doubt say that not enough had been achieved and would repeat his remark that "if we chart our course carefully, we can get economic prosperity and political stability and social harmony."
John Elliott's latest book is IMPLOSION: India's Tryst With Reality (HarperCollins, India).