The Push to Execute Tariq Aziz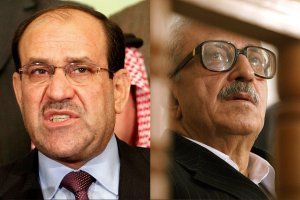 There are few of Saddam Hussein's former aides who have avoided the hangman's noose as long as Tariq Aziz. But after more than seven years in prison, it appears that his luck ran out: Aziz, the eight of spades in the U.S. military's infamous deck of cards of the former Iraqi regime's most-wanted figures, was sentenced to death in an Iraqi court on Tuesday.
Critics of Prime Minister Nuri al-Maliki have questioned the timing of the sentence and asked whether the ruling is politically motivated. Aziz, 74, served as foreign minister and deputy prime minister under Saddam but was rarely viewed in the same light as top war criminals such as Ali Hassan al-Majid, who personally oversaw military operations that included gassing of thousands of Kurdish civilians. Aziz, the sole Christian in Saddam's Sunni-dominated government, has had medical problems for most of the time he's been in custody and was treated for a brain clot earlier this year. U.S. military authorities only handed Aziz over to Iraqi custody three months ago as part of a broader handover of security duties. It was widely expected that he would spend the rest of his life behind bars. "This is just a political decision," Badi Arif, Aziz's lawyer, says from Amman, Jordan. "The last court session was held in a very quick way. In the past, we were informed at least one month in advance."
There does appear to be some substance to the charge. The Washington Post reported that the judge presiding over the sentencing, Mahmoud Salih, is a member of Maliki's State of Law coalition. He ran in the parliamentary elections last March but was unable to win a seat. The sentencing could serve as a welcome boost for Maliki at a politically fraught time. In recent weeks Maliki has been struggling to shore up his support among the National Iraqi Alliance, the main coalition of Shiite parties, to hold on to the prime-minister post. The supporters of the firebrand cleric Moqtada al-Sadr have thrown their support behind Maliki, but a number of other parties within the alliance have not.
The sentencing of Aziz would play well with these conservative Shiite parties, as well as their supporters, much like the controversial de-Baathification push before the elections last March, which had Maliki's strong backing. "Any judge has to be neutral, but this judge is not," says Maysoun Damaluji, a spokesperson for the Iraqiya list, which is competing for the prime-minister post against Maliki. "This is a constitutional breach. I think the death sentence against Tariq Aziz is a political incident to support Mr. Maliki for his campaign to be prime minister."
Maliki has also been struggling to counter the impact of the thousands of Iraq-related documents released by WikiLeaks last week. Some of the most damaging material showed that Iraqi security forces regularly abused detainees while he's been in power. The sentencing of Aziz, Maliki's critics charge, was an attempt to push the WikiLeaks material out of the headlines, particularly in the Iraqi press.
A senior judicial official who spoke to NEWSWEEK on condition of anonymity because of the sensitivity of the case says that Salih is one of five judges who worked on the sentencing in the case, which should minimize the possibility of political bias by any single judge. Still, similar charges also surfaced at the time of Saddam's execution in December 2006. Maliki was accused of pushing to expedite the execution for his own political gain at the time and Saddam was hanged on Eid ul-Adha, an Islamic holy day, which angered many Muslims. A video that surfaced shortly after Saddam's execution didn't help matters. It showed a number of followers of the cleric Sadr taunting Saddam and chanting the cleric's name, which only seemed to prove accusations that the tribunal proceedings were more about revenge than justice.
Aziz, who was known for his fondness of whiskey and cigars, was already sentenced last year to 22 years in prison for two separate cases. There is still some question whether the death sentence will be carried out, though all the top members of the former regime have been hanged, often quickly, after their sentence was handed down. Any appeal would have to be filed within 30 days but Arif, the lawyer, said today that he received a letter from Aziz asking him not to appeal the decision. "He thinks that [the tribunal] will insist on killing him at this time," Arif says. "I also think that appealing the decision will not change it. But as a lawyer I will do whatever I can to defend [Aziz] and commute the decision."
With reporting by Salih Mehdi and Hussam Ali in Baghdad