Push to Rename Cynthia McKinney Parkway after she Tweets Zionists Responsible for 9/11
Former Georgia Congresswoman Cynthia McKinney came under fire Monday after she implied on Twitter that Zionists were responsible for the Sept. 11 terrorist attacks, prompting some to push for the removal of her name from a Georgia roadway.
McKinney's tweet, which has since been removed by the social media platform, showed an image of the 9/11 attack on the World Trade Center as a puzzle. At the bottom of the image are the words "final piece of the puzzle," with one piece of the puzzle to be placed. When that piece, with the word "Zionists" on it, is added to the puzzle, the image then reads: "Zionists did it."
McKinney, who spent 12 years in the 1990s and mid-2000s as a Democrat representing various Georgia districts, faced immediate backlash for the controversial message.
On Tuesday, Georgia Republican State Sen. Butch Miller responded to the tweet by stating that he would introduce a resolution next year to rename the Cynthia McKinney Parkway, located in DeKalb, Ga.
"Cynthia McKinney's comments are indefensible, as well as nuts. Next year, I'll introduce legislation to change the name of the road in DeKalb that's named for her because we refuse to honor those who spew hate," Butch tweeted.
In 2007, several other Georgia Republican lawmakers attempted to rename the roadway at the end of McKinney's controversial Congressional career.
"I, along with many Georgians, find it totally inappropriate for Cynthia McKinney's name to be honored," Georgia Rep. Len Walker, who introduced the failed measure, previously told the Los Angeles Times. "She is an embarrassment to the state of Georgia."
Other lawmakers, including New York Democratic Rep. Jamaal Bowman responded to McKinney's Monday by calling the tweet "hateful, misguided and ignorant."
"At a time when antisemitic hate is increasing nationwide & solidarity has never been more important, this is what we're not going to do. This is antisemitic. It is hateful. It is misguided and ignorant. This post, and posts like it, need to be handled immediately by @Twitter," Bowman tweeted.
The former congresswoman has previously been accused of sharing antisemitic and anti-Israeli content online.
According to the Anti-Defamation League, McKinney participated in a series of anti-Israel campaigns as an active member of Congress and has "a history of using anti-Israel rhetoric, including accusing the pro-Israel lobby of sabotaging her political career and alleging that Israel of committing genocide, apartheid and war crimes."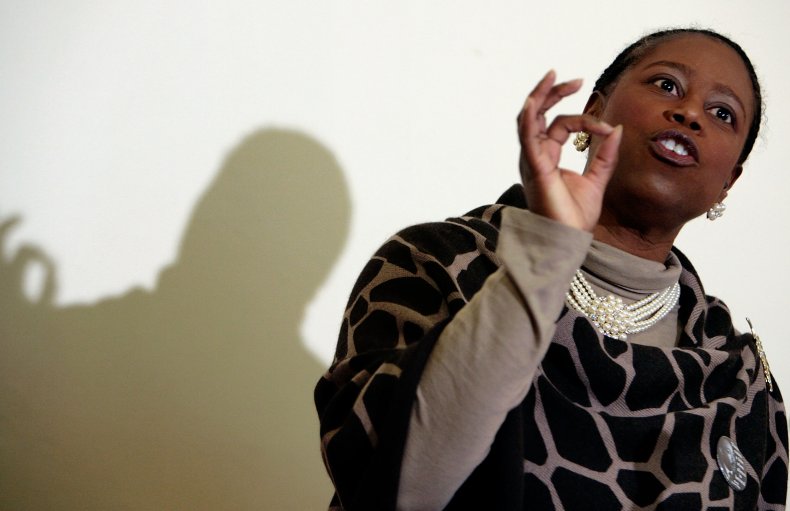 Furthermore, in May 2020, McKinney tweeted a link to an article that questioned the amount of Jews killed in the Holocaust, and stated that "the figure [of Jews killed in the Holocaust] wasn't six million after all," the Jerusalem Post reported.
McKinney has also engaged in other 9/11 related conspiracy theories, including a call to investigate whether former president George W. Bush knew about the attacks ahead of time and allowed them to happen, i24 News reported. As one of her final acts in Congress, McKinney introduced a measure to impeach Bush in 2006.
Newsweek contacted McKinney for additional comment but did not hear back in time for publication.