Pussy Riot Activist Pyotr Verzilov 'May Have Been Poisoned'
A member of Russian protest group Pussy Riot has been hospitalized in critical condition amid fears he may have been poisoned.
The Meduza news website reported that Pyotr Verzilov, who is also one of the publishers of the independent news website Mediazona, started to feel sick after a court hearing on Tuesday.
His partner Veronika Nikulshina told the website that two hours after he had laid down to rest, he woke up complaining that he had started to lose his sight.
"His condition got exponentially worse. First it was his vision, then his ability to speak, and then his ability to walk," she said.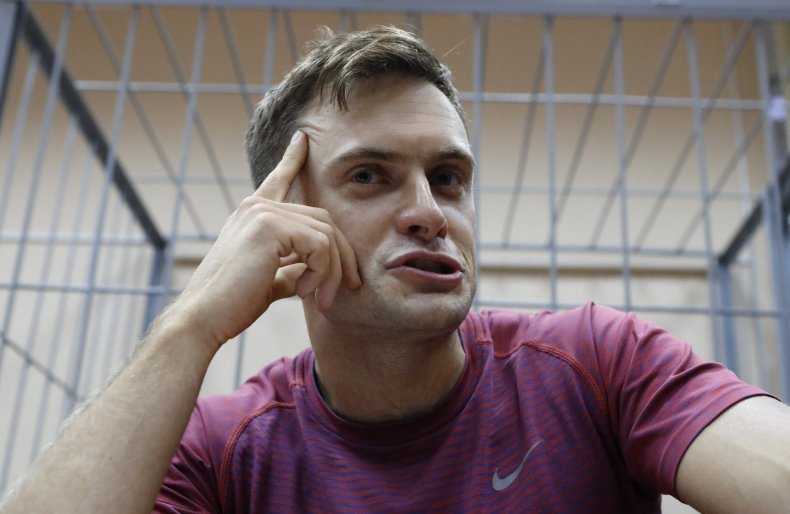 On his way to Moscow's Bakhrushin City Clinical Hospital, he started convulsing and babbling. Several hours later he was moved to a toxicology ward, but staff would not tell her if he'd been diagnosed with "poisoning."
"The doctor only said that his condition was serious, but his behavior was improving and he'd started responding to his own name," Nikulshina said.
Verzilov's friends said that hospital staff would not allow his mother to see him on Wednesday evening.
One friend told Meduza: "They said they don't have the right to disclose any information… They sent her away and were rude. They said they can't admit her. They kept pointing at this sheet of paper, saying that they can't disclose information until the patient signs a release himself, but he's unconscious."
Verzilov was one of the activists who invaded the pitch wearing police uniforms during the World Cup final, along with Nikulshina, Olga Kurachyova and Olga Pakhtusova.
He is married to Nadezhda Tolokonnikova, the Pussy Riot member who was jailed in 2012 for a performance lambasting Vladimir Putin at a Moscow cathedral.
Verzilov also holds Canadian citizenship and was part of the Voina performance art group with Tolokonnikova before it split in 2009, the BBC reported.
He acted as spokesperson for Pussy Riot during the group's 2012 trial, which made headlines globally and focused attention on freedom in Putin's Russia.