Russian punk group Pussy Riot has released a new music video to protest Vladimir Putin's fourth term in office.
The caustic hip-hop track entitled "Elections" was released via YouTube on March 17, a day before Russians headed to the polls in an election Putin won with an expected, sweeping victory.
Putin secured 76.6% of the votes, which amounts to his highest score ever, according to officials. The 65-year-old former KGB agent will become the first Kremlin leader to serve for over twenty years since Joseph Stalin, as his new term lasts until 2024.
But independent election monitoring group Golos reported irregularities during polling day, BBC News reported. Activists, election officials, and monitors working for opposition leader Alexei Navalny — who was excluded from the race — also complained that the elections were rigged, the Guardian reported. However, the head of the Central Electoral Commission said the polls were conducted without serious violations.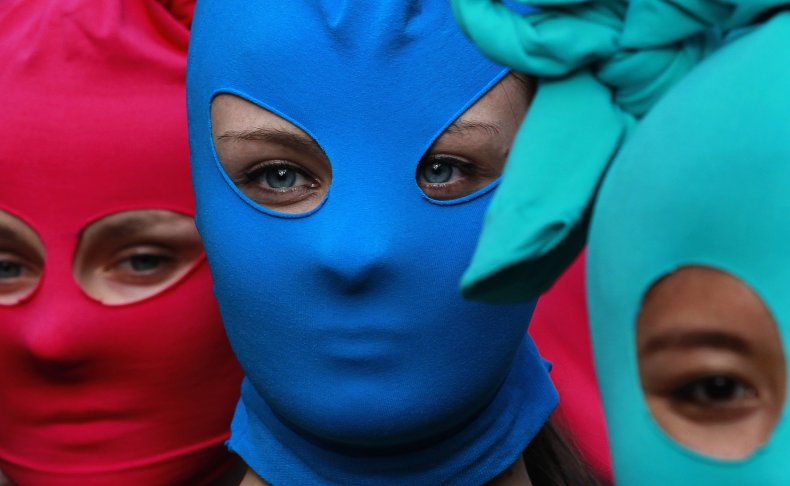 "It's the election day in Russia (guess who'll win??)" Pussy Riot wrote in a sarcastic post on their Facebook on election day.
"You should not be deceived, this event on [the] 18th of March is not elections. Falsifications, eliminations of political opponents, Kremlin-controlled media leave no chance to anybody except Putin," Pussy Riot alleged in a statement released alongside the three-minute-long track.
"What 18 years of Putin's power has brought to us?" the group asked. "Arrests, poisonings, tortures, murders of political activists."
Read more: Why Putin's Election is a Sham
Pussy Riot, which has a rotating cast of members, went on to accuse the Russian government of institutional corruption, causing the "total erosion of democratic institutions" and overseeing economic inequality.
"Censorship everywhere – in media, in education, in internet, in people's heads. Self-censorship, caused by fear," the group said.
"Six years we gonna fight, six years we're not gonna obey, six years I'm gonna start a gang, six years we're not gonna eat slop scraps," Pussy Riot sang in the song.
The track is the latest attack that the group has launched against the Russian president and his government.
The group, and their uniform of colorful balaclavas, rose to international prominence in February 2012 after they performed a protest song at Moscow's largest cathedral, BBC News reported.
In the wake of the protest, band members Maria Alyokhina, Yekaterina Samutsevich and Nadezhda Tolokonnikova were arrested and charged with "hooliganism motivated by religious hatred."
The trio were held without bail until July 2012 and sentenced to two years in prison. The incident saw Pussy Riot become a cause célèbre, sparking the #FreePussyRiot movement.
While Samutsevich was freed on probation in October 2012, Alyokhina and Tolokonnikova each served 21-month jail terms for the protest at the Christ the Saviour cathedral.