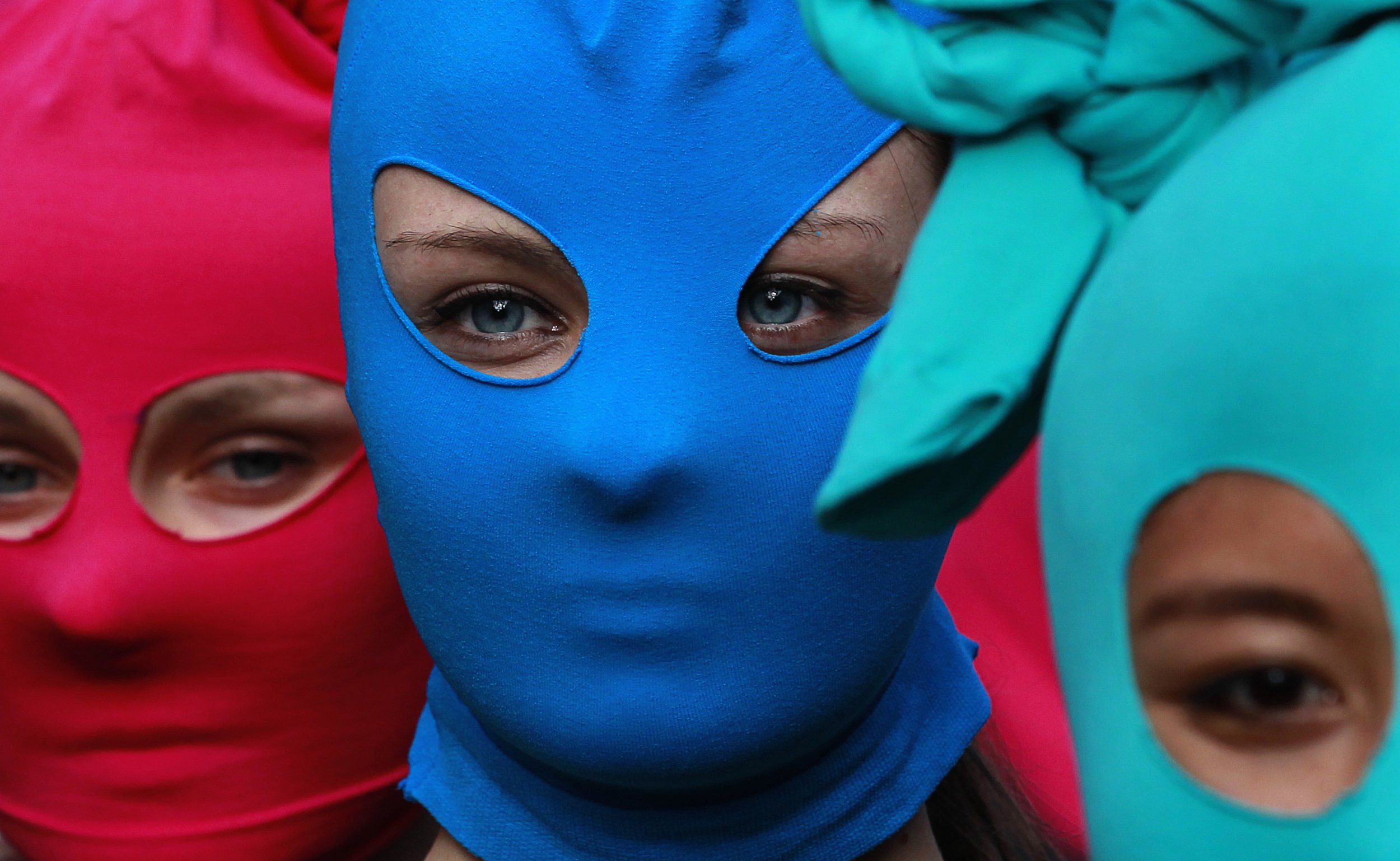 Pussy Riot members Nadya Tolokonnikova and Maria Alyokhina, recently released from Russian prisons, made their first public appearance in the United States last night with Stephen Colbert, the faux-conservative host of the Colbert Report.
With the help of a translator, the Russian punk performers spoke of their gripes with Russian President Vladimir Putin, explaining, "We have different ideas about a bright future, and we don't want a shirtless man on a horse leading us into that bright future."
Colbert, staying in conservative-blowhard character, asked the duo if they've been to an Olive Garden yet ("We haven't had time"), wondered why they would want to go against his "friend" Putin, and asked if they had ever stopped to think that Russia's widely criticized anti-gay legislation might help gay people "make the right decision and stop being gay."
Both women had quick-witted replies and offered insights into their ordeals over the past 18 months. Asked what they did that got them arrested, they replied simply, "We sang a fun song at a church." Asked to elaborate on whether their early release from prison was a PR move by Putin in advance of the Sochi Olympics, they said, "We don't think it improved the image of Russia, so maybe Putin made a mistake and should throw us back in jail."
The group also revealed the reason for their visit to the States: they're touring American prisons and meeting with human rights activists.
But that won't occupy all of their time. Tonight they'll be addressing a concert in their honor at Brooklyn's Barclays Center, with Yoko Ono, The Flaming Lips and Lauryn Hill, among others, as part of Amnesty International's "Bringing Human Rights Home." There's no word on whether Colbert, who was last night declared an honorary Pussy Riot member, will be in attendance -- but Newsweek will be.