Pussy Riot Takes You Inside Putin's Prison, Where the Justice System Is 'Based on Breaking the Human Spirit'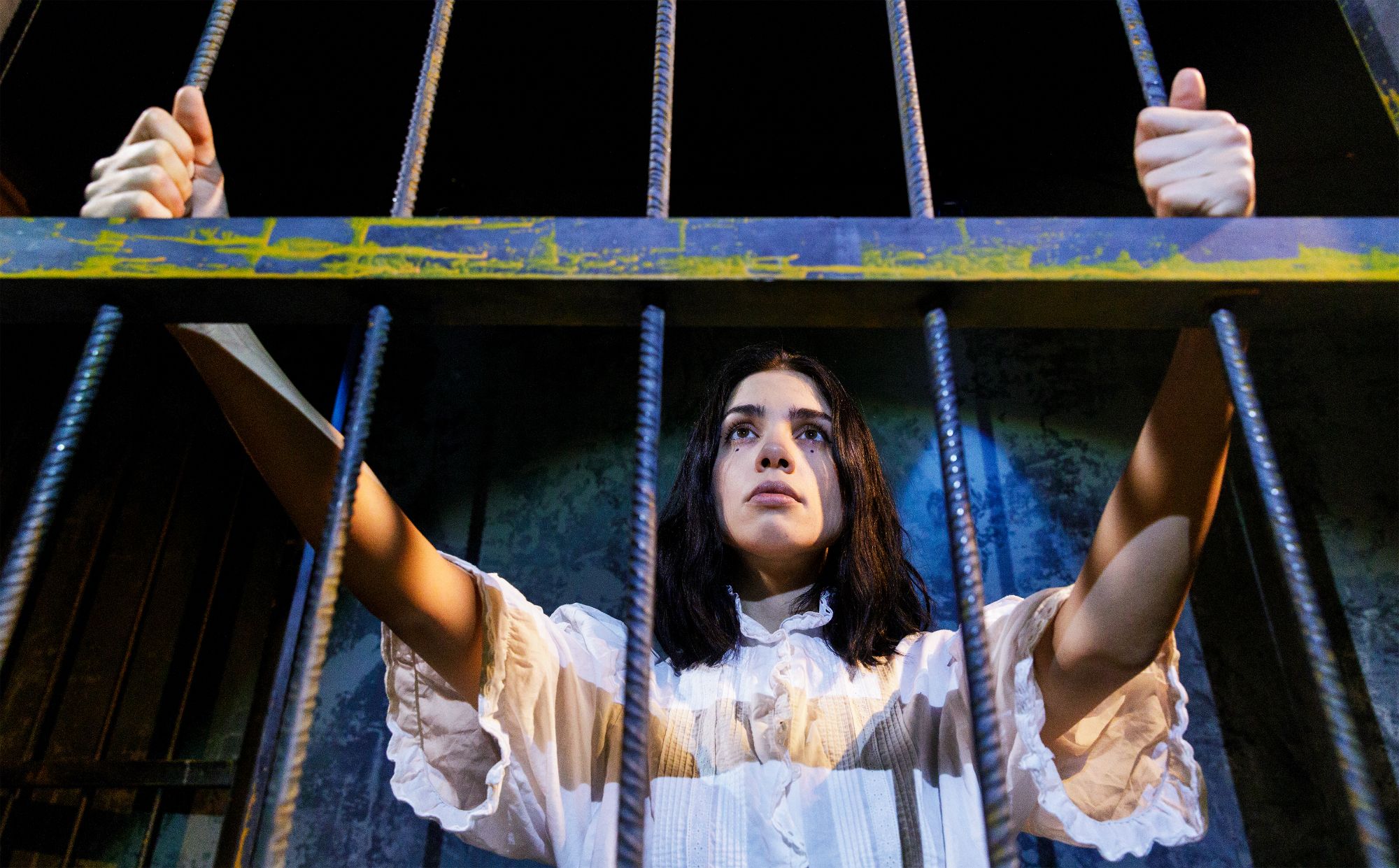 "I want people to know what it's like to be behind bars in Russia, where at any moment your rights can be taken from you," says Pussy Riot's Nadezhda "Nadya" Tolokonnikova during a break from rehearsals for a new immersive theater experience in London.
Tolokonnikova, 28, is one of the founding members of Pussy Riot, the Russian punk protest band whose staunch feminism, liberalism and criticism of Russian president Vladimir Putin has made them revered and reviled globally in equal measure.
Inside Pussy Riot is an interactive exhibition about the punk collective's famous incarceration in Russia in 2012. It is splashing various shades of authoritarianism on the white walls of the Saatchi Gallery from November 14 to December 24. The show plunges the audience into a courtroom, a labour camp and a prison, where they will get a sense of the degrading and humiliating treatment of prisoners, as described by former inmates of this penal colony in Russia's Mordovia, including Tolokonnikova.
"I want to show you what the prosecution of activists and police oppression looks like. And to remind you, on the contrary, what democracy looks like," says Tolokonnikova.
In March 2012, Tolokonnikova and two other members of Pussy Riot—Yekaterina Samutsevich and Maria Alyokhina—were arrested after performing "Punk Prayer" in Moscow's Christ the Savior Cathedral and charged with "hooliganism motivated by religious hatred." Staged shortly after the alleged electoral fraud that saw Putin inaugurated for a third time, a political moment that would mark a draconian crackdown on opposition, the feminist trio's song derides the notion that Russia's leaders exercise divinely ordained power.
The fateful 30-second performance landed Tolokonnikova and Alyokhina in prison for 18 months—approximately one month for every one-and-a-half seconds.
Since their release in December 2013, Pussy Riot has ardently campaigned for reform in the justice system, namely the eradication of forced labor in prison.
"In my prison, we had to produce police uniforms. You aren't given any education. They just put you in front of a sewing machine and expect you to fulfill a quota from day one. The inhumanely large quotas mean you have to work 17 hours a day, " says Tolokonnikova. After a month, you become a lifeless, emotionless slave. This doesn't just happen in Russia. How can we call ourselves civilized people if we still have slaves?"
Russia has the world's third-highest incarceration rate, after the U.S. and China, with 615 prisoners per 100,000 of the population, according to the BBC.
Prisoners are punished for failing to meet their quotas. "You can be deprived of the right to the use the bathroom or speak to your family. But the worst is solitary confinement, where you're left for hours on end in a dark, cold room," says the Pussy Riot member.
For people with poor health who rely on medication, punishment can be fatal. "If a prisoner refuses to plead guilty investigators force prison doctors to stop giving that prisoner their medication. You can die for being honest in court," she claims.
After her release, Tolokonnikova set up ZonaPrava —a project monitoring and reporting human rights abuses in the penal system. "I tracked lots of deaths in prison camps, which could have been prevented.
"The Russian prison system is based on breaking the human spirit. It might make people obedient but it will never make them respect the rule of law."
Prison, however, is not the worst place for an activist to be. In today's Russia, opponents can face far worse treatment if they are incarcerated in psychiatric hospitals, a Soviet-era practice that human rights activists say has resurfaced under Putin.
Following their arrest in 2012, Pussy Riot were forced to undergo a psychiatric examination, which resulted in a "personality disorder diagnosis."
"Well, maybe I do have a personality disorder," Tolokonnikova laughs.
"This practice is very typical in Russia today. Mental health diagnoses can be attributed to anyone who doesn't agree with the current state of affairs."
Although she laughs about it now, Tolokonnikova admits she felt terrified at the time. "I was nervous and shaking. I was much more frightened of being put in a psychiatric hospital than prison. At least in prison I still had my mind and imagination. But if I were to undergo forced psychiatric treatment, I could turn into a vegetable and I would never be the same."
Tolokonnikova adds: "But fortunately, the psychiatrist was a nice, sympathetic guy. He was obviously just told to give the same diagnosis to all of us. It might have looked legitimate if they gave it to just one of us."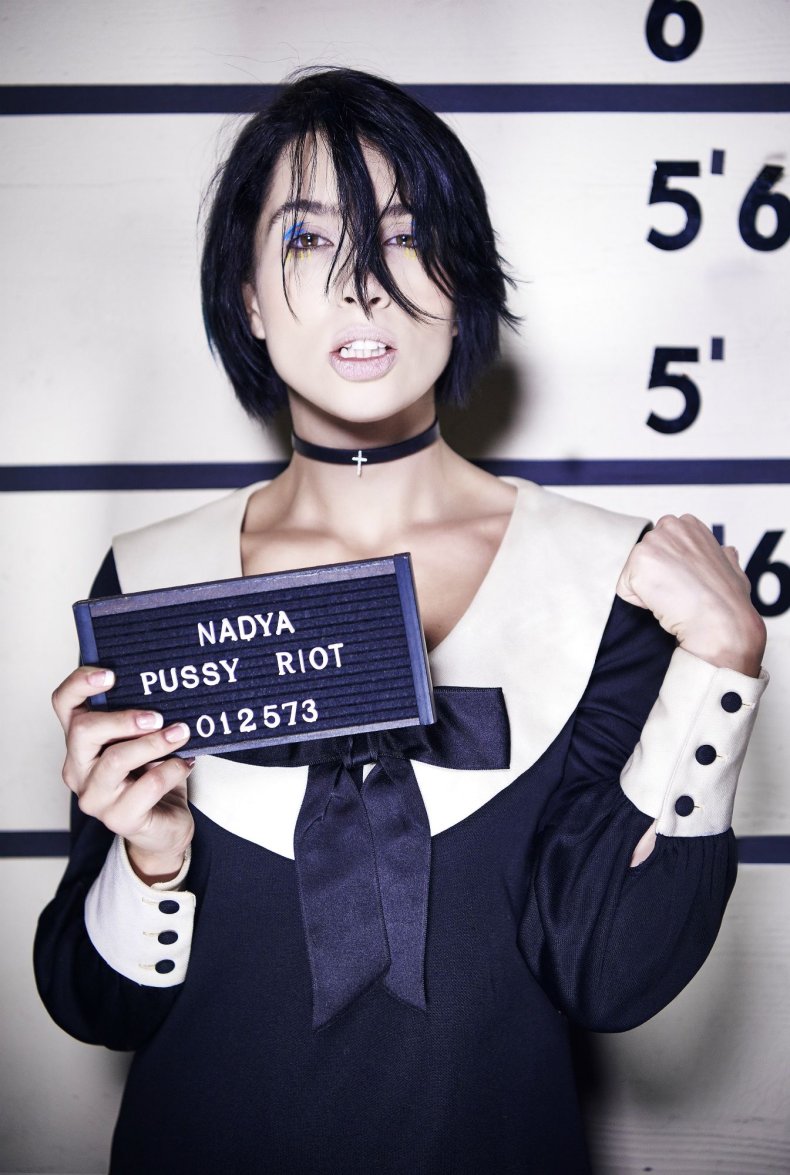 Things could be changing in Russia, however. Russian television personality Ksenia Sobchak will stand as a candidate in the March 2018 presidential election. Her stated political agenda is to go "against the status quo." Despite her ties to Putin, who considered her father Anatoly Sobchak a mentor, the 35-year-old former journalist insists she is not just another Kremlin pawn in the predetermined game of Russian politics, but much-needed legitimate and competitive disruption.
Tolokonnikova, however, is not sold. "I'm not going to vote for Sobchak and I'm not going to encourage anyone else to. I'm just not sure about her political background but I am interested in her as a journalist. [Fellow opposition candidate] Alexei Navalny, in comparison, has been in politics for over 10 years. I can trust him as a voter. He's the only real candidate in Russia." Navalny is currently barred from running for presidential election on account of a suspended sentence for fraud; however, his supporters believe the charges to politically motivated, on account of his popularity and opposition to Putin's government.
While Pussy Riot gained fame in the west as the brazen resistors of autocracy and are romantically hailed as a symbol of the collective anger toward Putin's order, in Russia the group has gained notoriety as radically feminist, and their spectacle is seen more as an act of blasphemy than of political resistance.
You could be forgiven for thinking that Tolokonnikova would want to flee Russia for a peaceful life of exile in the West. She goes about her days with the unnerving knowledge that her communications are monitored. Recently, she said, she discovered that state security agents had installed bugging devices in her local cafe.
But Tolokonnikova has no intention of leaving her motherland. "Of course I'll stay in Russia. That's where my future is. I love Russia."
Inside Pussy Riot, Saatchi Gallery in London, November 14-December 24. For more information, click here.