Pussy Riot's Prison Break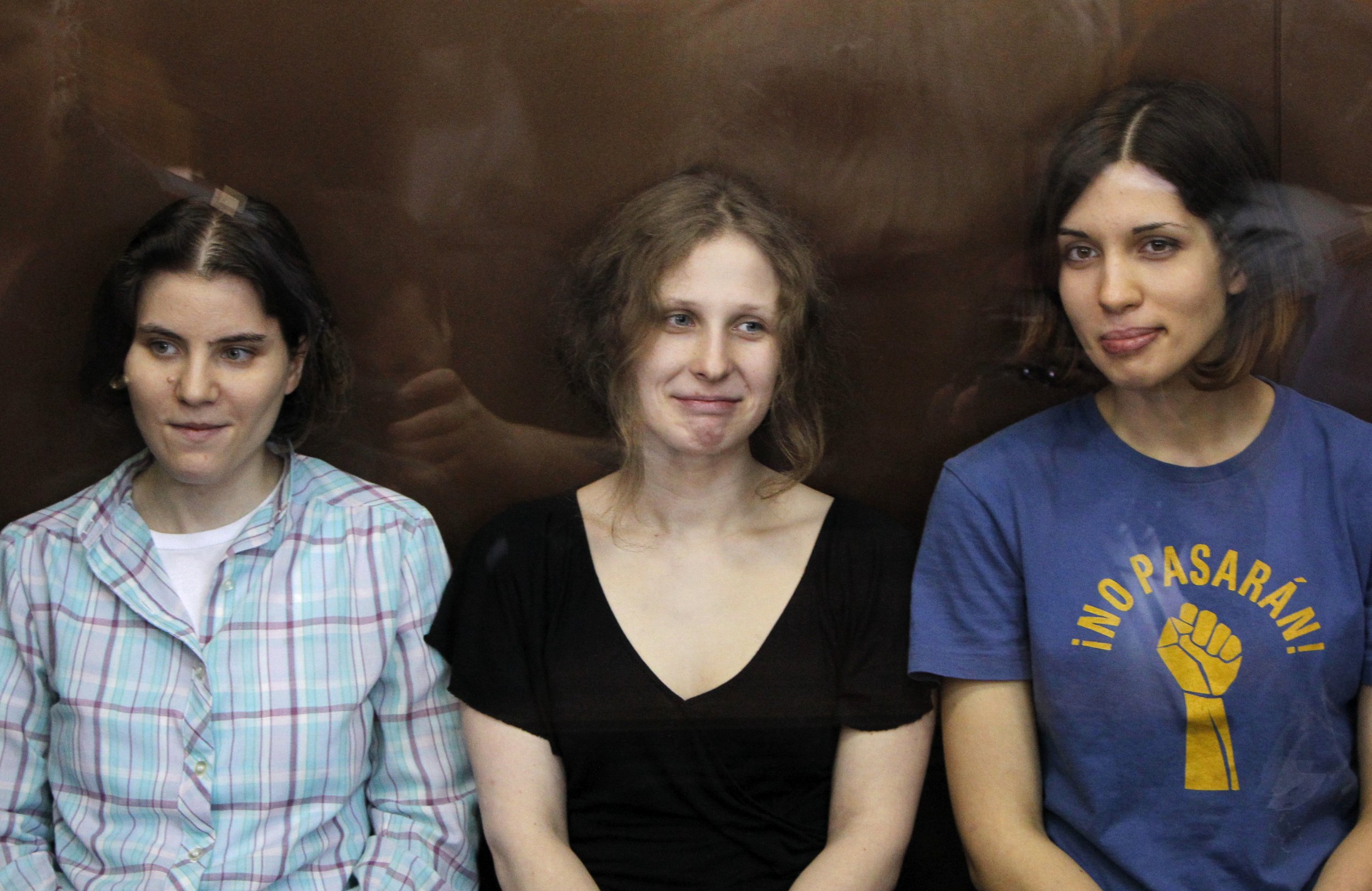 On Wednesday, the State Duma, the lower house of Russia's parliament, unanimously passed an amnesty bill that will free thousands of prisoners, including some of the country's highest-profile detainees. Said to commemorate the 20th anniversary of Russia's post-Soviet constitution—a document that has otherwise been parodied, besmirched and ignored by Russian President Vladimir Putin—the new law will lead to the release of two women of the feminist punk band Pussy Riot. Mikhail Khodorkovsky, once Russia's richest man, has also been given an individual pardoned by Putin.
Both Nadezhda Tolokonnikova and Maria Alyokhina were set to have satisfied their sentences in March 2014, so "amnesty" probably isn't the right word. They've both done two years of very hard time in Soviet-style penal colonies and have hauntingly described their experiences in open letters, making them not just Russia's most famous subversive provocateurs but now also heirs to Solzhenitsyn as witnesses to a still extant gulag archipelago.
You know the first half of the story, if only because of Madonna, Sting and Yoko Ono.
In late February 2012, three members of Pussy Riot entered the Cathedral of Christ the Saviour in Moscow in balaclavas, tights and dresses. Two of them — one was intercepted en route — rushed the gilt-backed altar and, for about 30 seconds, performed a "punk prayer" titled Holy Mother, Chase Putin Away!, which accused the Kremlin and Russia's security services of colluding with the Orthodox Church in a cynical attempt to prevent any form of independent thought or civic action. One of the band's central targets was the Church's current Patriarch, Kirill I, who had recently declared Putin a "miracle of God."
Pussy Riot's performance didn't amuse Russia's top cleric or it's top dog. State media more or less described the women as a trio of satanic sluts.
By mid-March, Tolokonnikova, Alyokhina and Samutsevich were sitting in pretrial detention having been charged with "hooliganism" and "inciting religious hatred." Their much-covered trial, which began in August 2012, was an embarrassing circus even by Russian standards. Out of 17 witnesses called by the defense, the judge allowed just three to testify. The defendants were accused of "trying to devalue centuries of revered and protected dogmas" and "encroaching on the rights and sovereignty of the Russian Orthodox Church." The cathedral's matronly candle-lighter gave vaporous testimony about how the word "feminist" had no business being uttered in a house of worship. Another witness claimed to have been able to identify Aloykhina—whose face had been completely shrouded by a balaclava—"by her calf muscles."
When the two-year sentences were announced, there was mixed reaction even within the upper echelons of the government, itself a prefabricated piece of theatre in a political system that journalist Peter Pomeranzev has termed a "postmodern dictatorship." Russia's former president and current prime minister, Dmitry Medvedev, thought the punishment excessive—not that his opinions ever mattered, even when he was president. And the real boss thought otherwise. "Their arrest was right and their sentence was right," Putin said in October 2012. "One must not erode moral fundamentals and undermine the country."
In their eloquent closing statements (Jesus Christ, Joseph Brodsky, Vladimir Bukovsky, Solzhenitsyn, Pythagoras, Socrates, Dostoevsky and Montaigne were all cited), Tolokonnikova, Alyokhina and Samutsevich claimed they weren't trying to offend the faithful. They were satirizing a co-opted and cynical religious institution with an updated form of yurodstvo, or holy foolishness.
Many true believers, even those offended by Pussy Riot's behavior, rallied to the women's defense, but lost in the global sensationalism of this case was the simple fact that Alyokhina, Samutsevich and Tolokonnikova were quite right about the Orthodox Church.
According to Andrei Soldatov and Irina Borogan, authors of The New Nobility: The Restoration of Russia's Security State and the Enduring Legacy of the KGB, "Russia's brand of orthodoxy is based on the concept that Moscow is 'the Third Rome' (after Rome and Constantinople) and on a belief in Russian uniqueness. Being 'unique,' Russia sees itself as surrounded by numerous enemies that the FSB [the new KGB] must combat… The FSB helps to protect the Orthodox sphere of influence against Western proselytizing, and in return the Church blesses the security service in its struggles with enemies of the state."
The black cowl of the priesthood and the gold stars of the Cheka work in tandem in a special kind of post-Communist nightmare. Kirill, as Samutsevich said in her closing statement, is thought to have been a KGB agent before he became an Orthodox priest. That makes him a former colleague of miracle-of-God Putin. And that made Pussy Riot an enemy of the state.
In October 2012—the same month Samutsevich had her sentence commuted to probation—Alyokhina and Tolokonnikova were shipped off to penal colonies. Rights in these gulags are a risible abstraction.
Having already suffered from serious medical problems and repeated hospitalizations while in prison, Tolokonnikova declared a hunger strike last September. In a long, vivid open letter explaining why, the 24-year-old described "slavery-like conditions" for herself and her fellow prisoners. Inmates at Penal Colony No. 14 worked 16-17 hour days and got "at best" four hours of sleep each night. "Eternally sleep-deprived, overwhelmed by the endless race to fulfill inhumanly large quotas," she wrote, "prisoners are always on the verge of breaking down, screaming at each other, fighting over the smallest things. Just recently, a young woman got stabbed in the head with a pair of scissors because she didn't turn in a pair of pants on time. Another tried to cut her own stomach open with a hacksaw."
Tolokonnikova admitted that her celebrity indemnified her from physical torture, but anyone she befriended, or on whose behalf she petitioned for better treatment, was singled out for abuse.
Tolokonnikova "suspended" her hunger strike after nine days owing to deteriorating health and was transferred to the prison infirmary.
Then she went missing for more than three weeks.
Her lawyers or family weren't even sure if she was still alive until she was spotted being put onto a train in the city of Chelyabinsk, in the Ural Mountain region three days later. Then she vanished completely, only to re-emerge in mid-November, when her husband received a call informing him that his wife was now in a hospital in Krasnoyarsk. She was doing okay and was happy, he said.
Her open letter, which has gone viral, had upended Russia's prison system and evidently led to a freshet of letters from other inmates to various human rights workers and journalists. It also forced authorities to send a monitoring commission to inspect Penal Colony No. 14 and determine for themselves how dire the place really was.
Next it was Alyokhina's turn to publicize how she and her fellow inmates were faring in a reputedly more favorable labor camp. Last month she published a letter in the independent New Times magazine testifying to daily life a facility in Nizhny Novgorod, to which she'd been transferred in July 2013. Geographically closer to Moscow than Siberia, and adjacent to a modern city with a string of handsome new apartment blocks, Corrective Labor Colony No. 2 was still hellish. Lack of medical care, even for inmates with HIV or AIDS, and threats of torture for those who complained, were just as rampant as in Tolokonnikova's labor camp.
"Sewing Shop No. 2," Alyokhina wrote, "is a virtually unventilated space with an exhaust pipe that leads to a pile of manure situated 5-7 meters from it. During the summer, women experience difficulty in the process of sewing due to the abundance of flies, the smell, and the rats darting between their legs. The floor is caving in, the plaster is falling out, several of the machines lack safety guards, and on most, there is a weak grounding of the electrical wires. There is a lack of running water; there is one faucet for 100 people, water doesn't flow from it, and it has to be brought in buckets from the administrative building."
Penal labor, like everything else in Russia, is a racket to ensure maximum work for contracting manufacturing companies in exchange for minimal compensation. She wrote that, "[w]omen who have worked for 3 or 4 years receive a notice upon release that they have a record of only a year or less."
The reason for Putin's sudden magnanimity need hardly be guessed-at. He's seeking favorable PR in advance of the Winter Olympics in Sochi, not only the most expensive Games in history, but also the most corrupt (billions have been poured into the project of creating a winter athletic compound in Russia's most tropical city, and billions have been siphoned off, mainly by Putin's industrialist cronies). The KGB-czar's recent crackdown on gay rights and civil society at home, not to mention his less-than-celebrated support for the mass-murdering regime of Bashar al-Assad and his naked bribery and blackmail to keep Ukraine from closer ties with the European Union, have left him looking like a sorry host for an international sporting competition. Several world leaders, including Presidents Obama and Hollande, have already boycotted the Sochi Games, albeit without calling their announced non-attendance that.
Pussy Riot is good PR. Releasing Nadya and Masha, as Tolokonnikova and Alyokhina have come to be known, is a fine way to change the international tone from one of anger to relief and maybe even cause a few statesmen to reconsider coming to Sochi. Fundamentally, though, the amnesty law is still the self-indictment of a system that three women had the nerve to challenge two years ago. What's the purpose of a constitution, much less a criminal code, investigative committees, courts, cops, lawyers, judges and parole boards when one's freedom is ultimately up to the caprice and convenience of one man? To engage in any kind of political activity isn't just to war with authoritarianism, it's to struggle against the sheer pointlessness of it all.
"Having spent almost half a year in jail," Alyokhin said at her trial, "I have come to understand that prison is just Russia in miniature."
Pussy Riot's Prison Break | World