Pussy Riot's Stars Tossed Out of Pussy Riot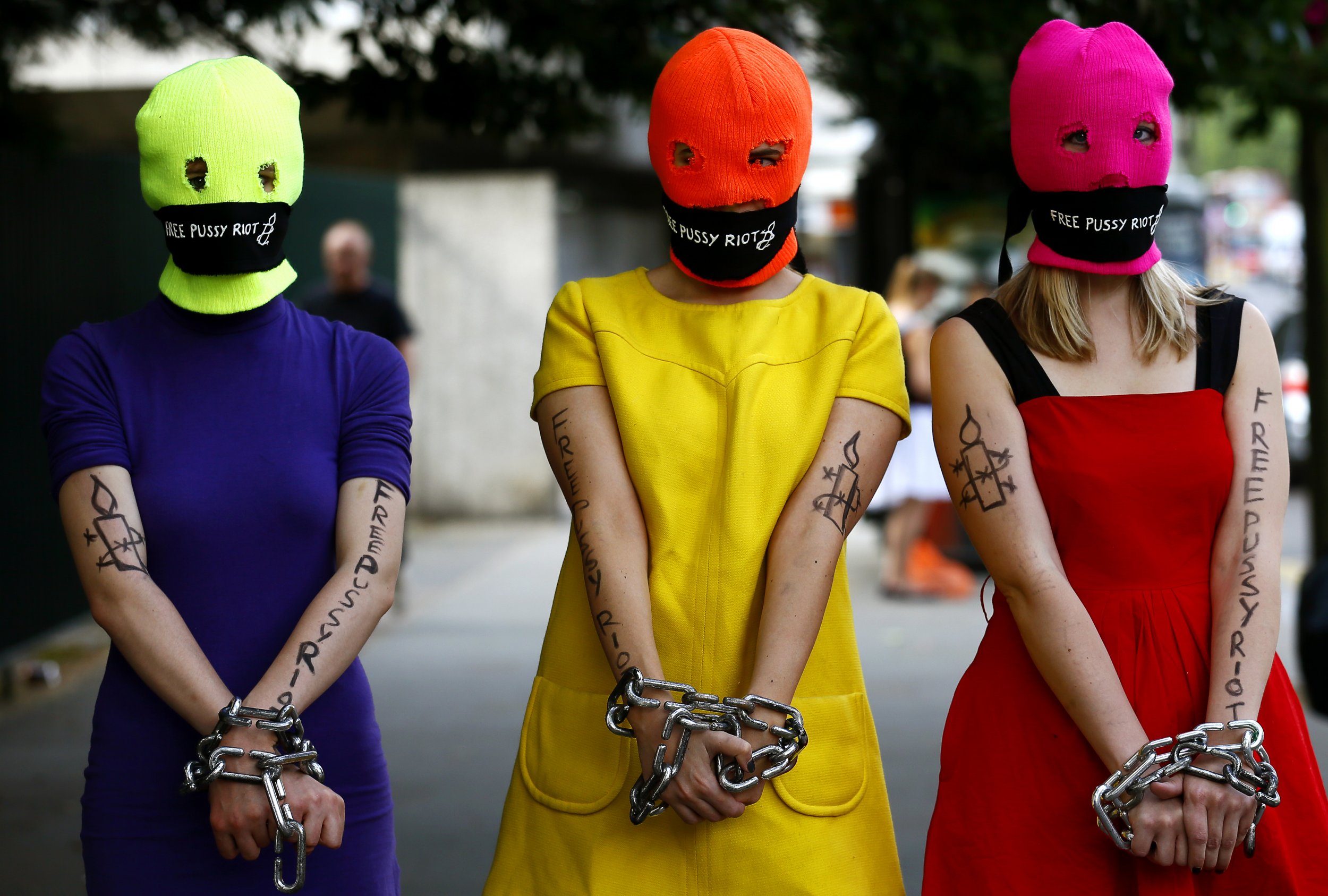 Pussy Riot members Nadya Tolokonnikova and Maria Alyokhina's stateside media tour took a refreshingly doctrinaire twist Thursday when fellow members of the Russian punk group booted them out of the band. It looks like they stand accused of being a little "square."
Tolokonnikova and Alyokhina, who spent more than a year imprisoned in Russia on charges of "hooliganism motivated by religious hatred," said on Tuesday's Colbert Report they had come to the U.S. to meet with human rights activists and tour American prisons. Those admirable and seemingly reasonable goals are, however, far different from the guerrilla performances that brought them fame and landed them in prison.
"They are being so carried away with the problems in Russian prisons that they completely forgot about the aspirations and ideals of our group," explained anonymous Pussy Riot members in a translated open letter that nonetheless praises their perseverance.
Writing in Russian, the members said that Wednesday's Amnesty International concert in the group's honor was a particularly egregious violation of the Pussy Riot ethos. As a rule, the group sticks to illegal performances, "staged only in unpredictable locations and public places," coupled with the "free and unrestricted" channelling of its videos. And the show's male headliners — including the Flaming Lips and Imagine Dragons — are a blatant flouting of the group's separatist feminist philosophy.
"The mixing of the rebel feminist punk image with the image of institutionalised defenders of prisoners' rights is harmful for us as collective," the letter states.
Though their climb to prominence was anything but ordinary, Tolokonnikova and Alyokhina now find themselves in an entirely familiar punk position: courting adoring new admirers while disappointing their earliest followers by going mainstream. Among the duo's new fans are The New York Times' editorial board and, according to Capital New York, Mayor De Blasio. Nuf sed.
Pussy Riot's Stars Tossed Out of Pussy Riot | World