MSNBC Host: We'll Need to 'Put Mitch McConnell on a Milk Carton' Because He's Missing During Shutdown
While President Donald Trump and Democratic leaders continue to blame one another for the government shutdown, Senate Majority Leader Mitch McConnell has been relatively quiet.
MSNBC host Andrea Mitchell noted McConnell's absence on Tuesday.
"The House has acted [to end the shutdown]," Mitchell said while speaking with West Virginia Senator Joe Manchin. "We're going to have to put Mitch McConnell on a milk carton soon because nobody has seen the Senate majority leader. Why won't he bring anything to the floor?"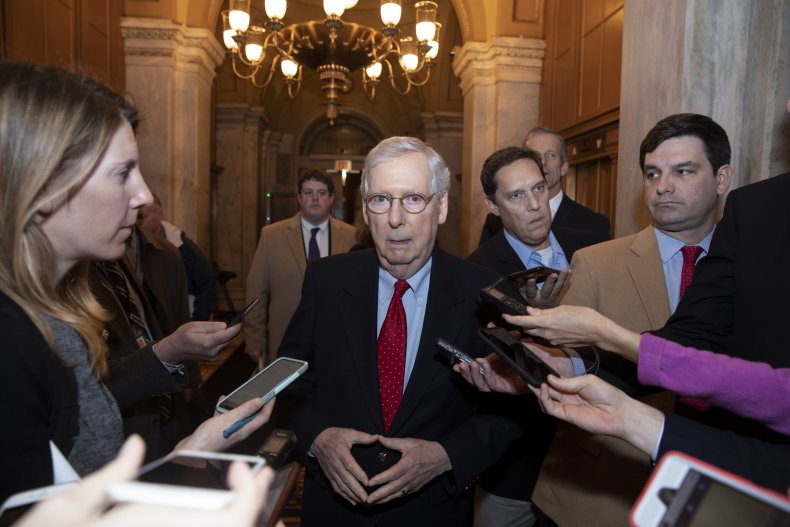 "I have no idea," Manchin, a Democrat, said. "Over many years we've abdicated, Congress has abdicated its responsibilities of what it's supposed to do under the Constitution. And we basically [give] more powers and more powers to executives, not just to President Trump but I mean to many executives before him."
Senate Minority Leader Chuck Schumer has tried to pressure McConnell to act. "The power to end the shutdown is in two people's hands: Donald Trump and Mitch McConnell," Schumer said last week, The New York Times reported.
McConnell has said that Democratic leaders and Trump must reconcile their opposing stances on the president's proposed border wall. Trump has demanded $5.7 billion in funding, but Democratic leaders say they won't pass a bill that pays for his wall.
"I haven't been sidelined," he said last week, according to CNN. "It's just that there's no particular role for me when you have this setup," noting that he had a different role in the government shutdown that took place when Obama was in office.
The Kentucky legislator said last week that the Senate would not discuss any bill to end the shutdown that Trump would not sign.
"The Senate will not take up any proposal that does not have a real chance of passing this chamber and getting a presidential signature," he said. "Let's not waste the time. Let's not get off on the wrong foot, with House Democrats using their new platform to produce political statements rather than serious solutions."
Some Democratic senators have responded to the Senate's inaction by saying they will stop discussion of bills that don't relate to funding the government. Senators Chris Van Hollen, Ben Cardin, Bernie Sanders and Cory Booker have endorsed the idea, according to The Washington Post.
McConnell has largely avoided public statements as the stalemate continues. He was not present at the president's press conference on Friday, but spokesman Don Stewart said that the Kentucky Republican did not know about the event, according to CNN.
"McConnell, leaving the floor, declines to answer for the second time today whether it's a good idea for Trump to declare a national emergency for the border wall," CNN Senior Congressional Correspondent Manu Raju tweeted on Tuesday.
A Gallup poll conducted from December 3 - 12 -- before the shutdown -- and released earlier this month showed that both McConnell and Pelosi were viewed unfavorably by pluralities of the public. Thirty percent of Americans favorably viewed McConnell and 38 percent had a favorable view of Pelosi. Both officials were viewed unfavorably by 48 percent of the Americans.