Putin Accuses Ukraine of 'Deliberately Aggravating' Border Situation to France's Macron
Russian President Vladimir Putin accused Ukraine of "deliberately aggravating the situation" in the long-warring eastern section of Ukraine while speaking with French President Emmanuel Macron Tuesday. His comments came amid fears in the West of a possible Russian invasion into Ukraine after reports emerged of a Russian troop buildup near its border with the ex-Soviet nation.
The eastern edge of Ukraine for years has been the site of a pro-Russian separatist insurgency that has left more than 14,000 people dead. Moscow has lent its support to the separatists while Ukrainian forces have battled them since 2014 when Russia also annexed Ukraine's Crimean Peninsula.
Putin told Macron during their call that Ukrainian authorities were "deliberately aggravating the situation on the line of contact" in the east. He also said that they were supported by "a number of Western countries," according to the Kremlin's readout of their talks.
Putin also said that Ukraine "is being pumped up with modern weapons, which poses a direct threat to Russia's security."
The Russian leader's talks with both Macron and Finnish President Sauli Niinistö on Tuesday revolved around the heightened Ukraine tensions. While the West worries about potential Russian aggression in Ukraine, Putin has sought assurances that NATO will not expand eastward or deploy weapons there.
"The Russian president emphasized the importance of immediately launching international negotiations to develop legally fixed guarantees that would prevent any further NATO expansion to the east and the deployment of weapons to neighboring states, primarily in Ukraine, that threaten Russia," the Kremlin said in a statement.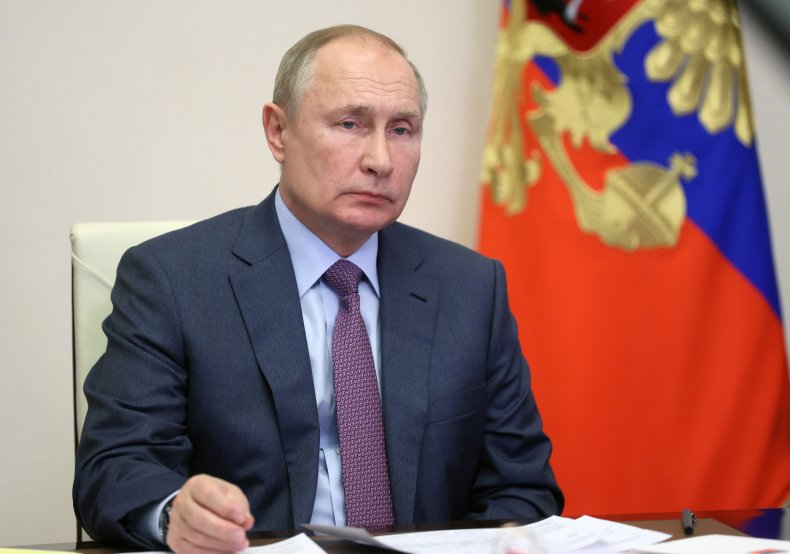 U.S. President Joe Biden last week told Putin that Moscow would face "severe consequences" if it attacks its ex-Soviet neighbor.
Moscow has denied plans to attack Ukraine and in turn blamed Ukraine for its own military buildup in the east of the country, where Ukrainian forces have been fighting with Russia-backed separatists since 2014.
Russian officials alleged that Kyiv might try to reclaim the areas controlled by the rebels by force, and Putin has pressed the West to provide legally binding guarantees that NATO will not expand to Ukraine or deploy its forces there.
According to the Kremlin's readout, in his call with Niinistö, Putin lamented that Kyiv is "increasingly relying on forceful methods, including the use of heavy weapons and unmanned attack vehicles" in the war-torn east of Ukraine, and "reiterated the need to immediately launch negotiations with the United States and NATO" on the security guarantees Moscow is seeking.
Niinistö, in turn, "expressed the grave concern on the tense situation and stressed the need to find a diplomatic resolution to it," his office said.
Moscow has bristled at NATO's joint drills with Ukrainian forces and warned that the alliance's expansion to Ukraine would represent a "red line" for Russia.
The Associated Press contributed to this report.