Putin Ally Appears to Fall Asleep at Speech, Photo Shows
Former Russian President Dmitry Medvedev appeared to fall asleep during Vladimir Putin's delayed state-of-the-nation address on Tuesday.
Photos of Medvedev, an ally of Putin, circulated on social media as the Russian president addressed an audience of lawmakers, state officials and soldiers who have fought in Ukraine, during his Address to the Federal Assembly in Moscow.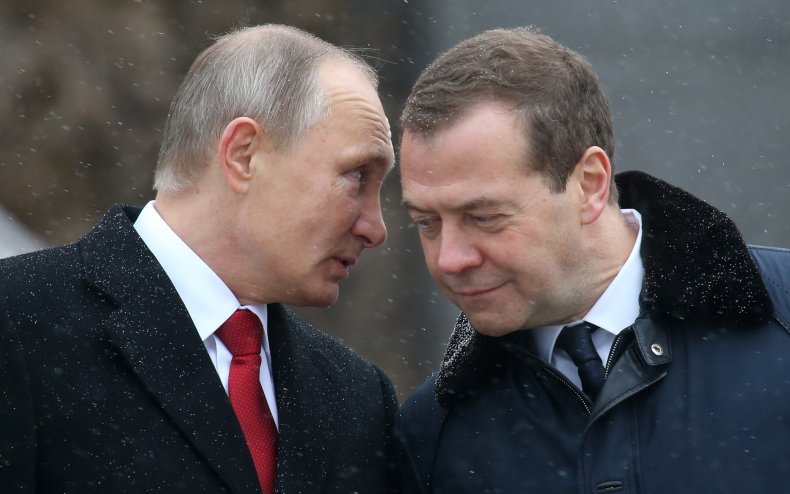 "Dmitry Medvedev, the Putin flunky and ex-Russian president who six weeks ago predicted war between Germany and France, and @elonmusk becoming president of the US, has fallen asleep during Putin's big speech this morning," Keith Olbermann, an American sports and political commentator, tweeted.
Francis Scarr, a BBC journalist who specializes in tracking Russian state-run media, also shared a photo on Twitter of Medvedev from the event, writing: "Dmitry Medvedev's already struggling and Putin hasn't even turned up yet."
In his speech, which was supposed to take place last year, Putin took a swipe at the West, but failed to mention a single Russian victory in the nearly year-long war.
"It's they [the West] who have started the war. And we are using force to end it," Putin said.
Medvedev has fallen asleep multiple times during major speeches delivered by Putin—so much so, that it is something observers seem to look out for.
"Looks like Medvedev did indeed go to sleep. Everything is normal," Max Seddon, Moscow bureau chief for The Financial Times, tweeted in December 2016 during another set-piece speech by Putin.
Putin broke from constitutional requirements amid a failing campaign in Ukraine when he canceled his crucial parliamentary address last year.
Kremlin spokesman Dmitry Peskov announced in December that Putin's 2022 State of the Nation address to the Federal Assembly would not be taking place. Per the country's constitution, the Russian president must give an address to the legislature every year.
His last parliamentary address before Tuesday's speech was in April 2021.
Peskov said Putin had not consulted with Russia's Constitutional Court about not holding his address in 2022.
Putin appeared to be avoiding speaking to the public amid a string of humiliating military defeats in his war in Ukraine, and as public support for the conflict continued to falter.
Two months on, and Russia is still to secure its first major gain in Ukraine since the summer of 2022.
The West acknowledges that "it is impossible to defeat Russia on the battlefield," and so launches "aggressive information attacks," Putin told parliament. "We are defending people's lives, our home. And the West is striving for an unlimited domination."
Do you have a tip on a world news story that Newsweek should be covering? Do you have a question about the Russia-Ukraine war? Let us know via worldnews@newsweek.com.
Update, 2/21/23, 7:25 a.m. ET: This story was updated with additional background and quotes.