Putin-Ally Gives Thumbs Up to Trump as His Choice for President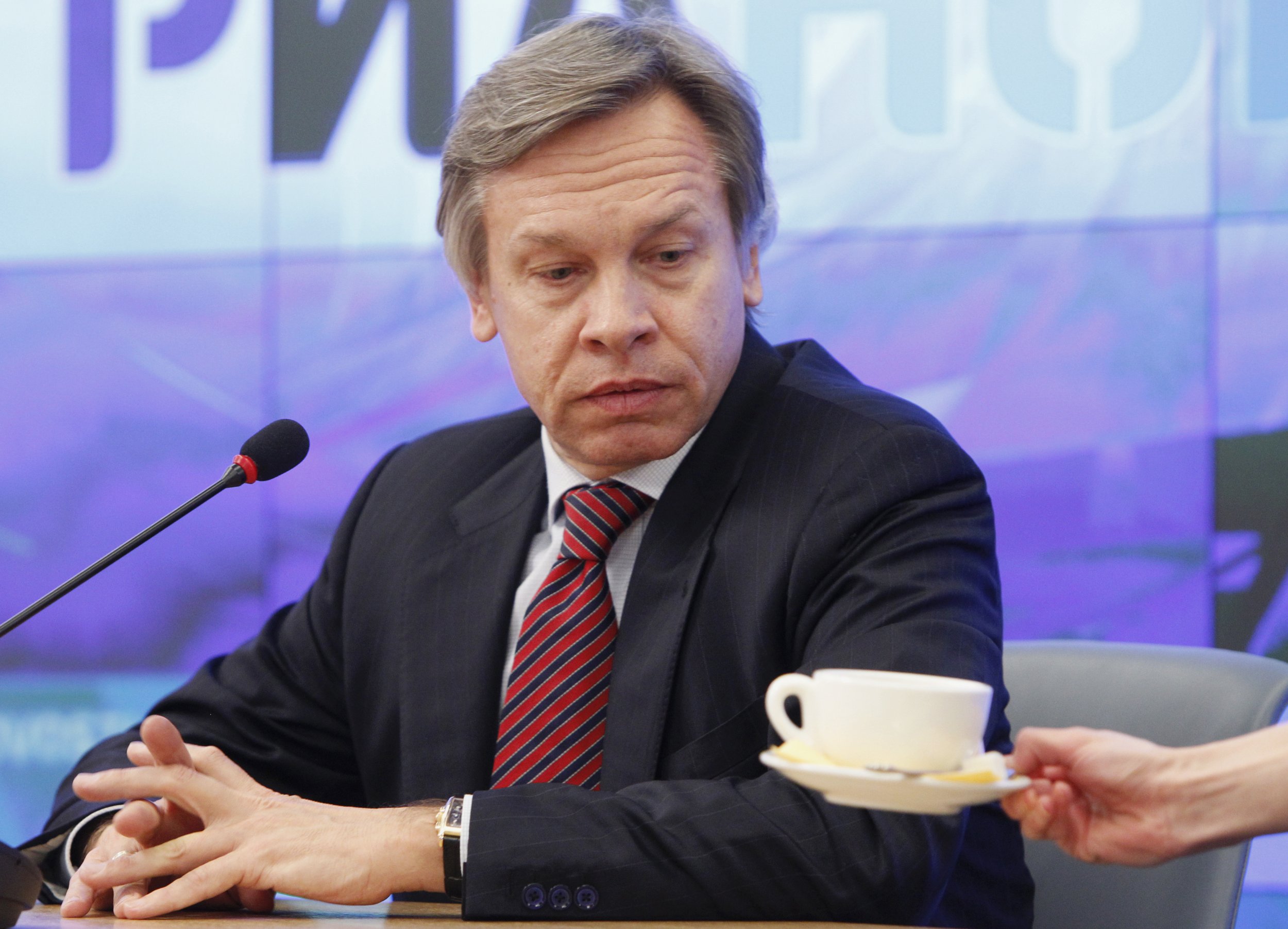 Putin-ally and Russian lawmaker Alexei Pushkov has called ex-U.S. Secretary of State Hillary Clinton "deluded" and tipped Donald Trump as the best choice for the U.S. presidency.
Speaking to Russian daily newspaper Izvestia, Pushkov, who heads the Russian parliament's International Relations Committee and is an outspoken member of Russia's ruling United Russia party, shared his thoughts on U.S. politics. When asked which frontrunner would form an administration to "normalize" U.S.-Russian relations, Democrat Clinton or Republican Trump, Pushkov was resolute.
"Today, in the context of the election campaign, the more pragmatic one appears to be Donald Trump," Pushkov said. "He expresses a readiness to negotiate with the Russian president and not to be in conflict with us, the way the current administration is."
According to the Russian politician, Trump is the exception to all the other presidential hopefuls, apart from Democrat Bernie Sanders possibly, in not "taking a hard line against Russia."
In Pushkov's eyes, anti-Russian rhetoric has become commonplace among the "Washington elite."
Pushkov did not only rate Trump ahead of his rivals in this campaign, but also praised him in contrast to current the U.S. president, Barack Obama, and his predecessor George W. Bush.
"As a whole, Trump looks less ideologically burdened than Obama. He's a businessman and he looks at everything like another deal," Pushkov said. "That is not the worst approach if we compare it with the purely ideological fundamentalism of the Bush and Obama administrations, who, in the name of liberal pseudo-values, have ruined lives, regions and people."
Trump boasted of being "stablemates" with Putin on the night he and the Russian leader featured on separate segments of the U.S. news show 60 Minutes. He has also criticised Obama for his administration's policy to Putin and candidly accepted the Kremlin's compliments.
Pushkov noted that "it is a different question" if Trump retains this attitude toward Russia should he become president but but praised the real-estate mogul's "respectful" and "positive" rhetoric to Putin and Russia so far.
Pushkov's assessment of Hillary Clinton was much more searing, pointing to her role as secretary of state during the U.S. intervention in Libya. Clinton and Obama have both been critical of Russian ally Bashar al-Assad, whose government in Syria received a huge boost from Moscow's decision to back him with airstrikes in September 2015.
"Now Hillary Clinton says that the U.S. were obliged to restore order [in Libya]. What order did she bring? The country is ruined, there are three governments and 6,000 Islamic State fighters. It seems she still does not quite understand what she is talking about.
"Naturally we would rather work with someone else, someone who thinks realistically, not someone who looks for the right people who will help 'establish democracy' in Libya or Syria, only to then pave the way to bloody chaos and radical Islamists," Pushkov added.
"Clinton believes that everything hinges on the will of the United States. She is deluded," Pushkov said. "Four years ago, Obama said that Assad's days were numbered, but if we also count Obama's [remaining] days in politics, since we know he will have to leave the White House by January 20, 2017, Assad may stay on as president until well after. So not everything depends on the United States."
Several notable critics of Putin have drawn parallels between Putin and Trump, warning U.S. citizens against voting for the Republican frontrunner. Russian chess legend Garry Kasparov has warned Trump would be a Western "lapdog" to Putin if elected president. Meanwhile, the anti-Putin punk group Pussy Riot has compared Putin and Trump to "dangerous clowns."
A YouGov poll published earlier in April showed that Trump is the most popular U.S. presidential hopeful in Russia, while Clinton was more popular in every of the other top 20 economies in the world.