Putin Ally Kadyrov Says He's More of a Democrat Than Western Leaders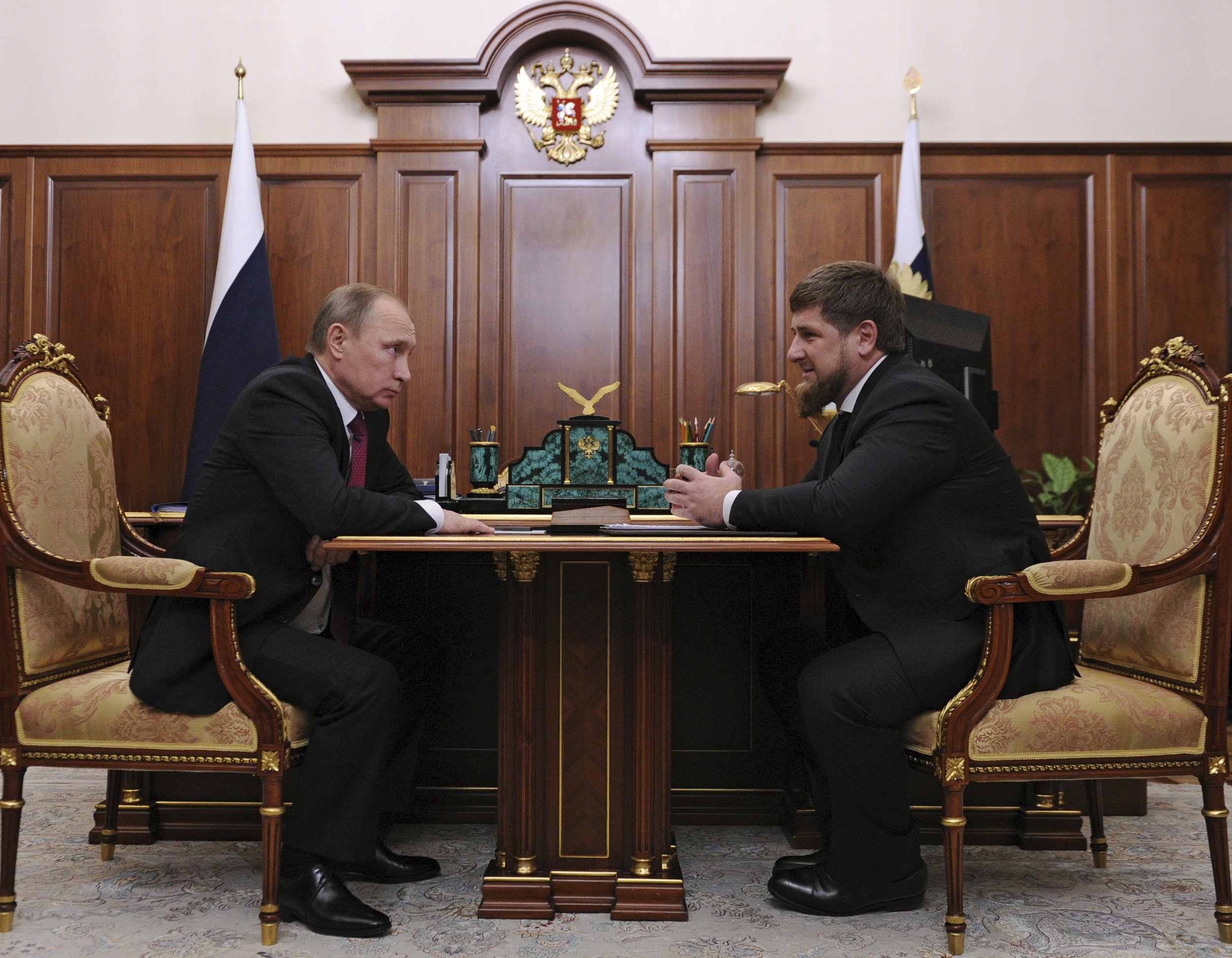 Chechen leader and Kremlin ally Ramzan Kadyrov has dismissed claims that he is undemocratic and declared himself more worthy of awards than Western leaders.
In a long interview with Russian radio station RSN, Kadyrov gave his thoughts on his mentor President Vladimir Putin, the Russian opposition, and current affairs from around the world.
When asked about his thoughts on democracy and if he considered himself a democrat, Kadyrov said he had "been interested in the matter for a long time."
"You have to ask the people about democracy," he said. "I know what my people want and I cannot understand these people who violate peace."
Kadyrov took swipes at "the democrats that receive Nobel prizes" but also "kill millions of people." In an apparent swipe at the U.S., Kadyrov accused Western politicians of hypocrisy. "Remember Syria, Libya, Egypt, Ukraine, Georgia. They ruin entire countries and then lie audaciously," Kadyrov added.
"They say 'Kadyrov is not a democrat.' When all of the awards that they get should have been brought and given to me a long time ago, as I am more of a democrat by a billion percent."
Kadyrov also took on the Russian opposition, claiming that those who criticize him actually "respect [him] more than they respect themselves."
The Chechen leader has been vocal in his dislike of the Russian opposition of late, recently equating them to enemies of state. He even posted an Instagram video of opposition Parnas party leader, Mikhail Kasyanov, in the crosshairs of a sniper.
"If they did not respect me, they would not connect themselves with my name," Kadyrov said, specifically referring to Kasyanov's fellow party member Ilya Yashin as "it."
"I do not understand them. They are not opposition, not the systematic and not the unsystematic opposition—they are enemies. I understand oppositionaries who want something, who stand by something. But, for example, Parnas—I don't even understand their name. They are resentful schizophrenics.
"Kasyanov is a former prime minister, how is he not ashamed of himself? The former chairman of the government now sells our state, his people. To whom? Our enemies." Ladyrov has repeatedly accused opposition figures and Kasyanov particularly of serving foreign interests and receiving funding from the West.
"If he has a wife at home she should spit in his face every hour, every second and say, 'You're an embarrassment to Russia, you lowly devil, how are you not ashamed?'" Kadyrov said.
Earlier this month, Kadyrov was amused by a video of Kasyanov being violently hit in the face with a cake by strangers. Kasyanov himself saw the incident in a less humorous light, saying he was threatened and insulted by the men and linking them to Kadyrov. In his radio interview, however, Kadyrov gave a different story, saying that it was the opposition politician's own fault for hitting the cake and for not being able to defend himself.
"They wanted to give Kasyanov a cake and he got up, got frightened and it ended up on his head," Kadyrov said. "If Kasyanov cannot defend himself, how can he defend the rights of the state of the people?
"We have a rich history [in Russia]. We ought to pass down the history of our country and Kasyanov, Yashin and the lot should never be mentioned by anyone."
In other parts of the interview Kadyrov said he felt he had the Russian people behind him and described himself as "a servant of Allah and a soldier for Putin." Speaking about Putin, Kadyrov hailed him as "the strongest president and commander-in-chief" whose politics are "amazing" and "wonderful."