Putin Ally Viktor Orbán, Praised by Tucker Carlson, Bashes Mixing of Races
Hungarian Prime Minister Viktor Orbán, who is often praised by conservative Fox News host Tucker Carlson, expressed on Saturday his opposition to Hungarians mixing with other races.
"We move, we work elsewhere, we mix within Europe, but we don't want to be a mixed race," he said during a speech at the Baile Tusnad Summer University in Romania, Radio Free Europe reported, adding that he is against the idea of a "multiethnic" group mixing with "non-Europeans."
During his speech, he said that the "West is split in two," with one half where European countries are mixing with non-Europeans, the Daily News Hungary reported. "Those countries are no longer nations," he added.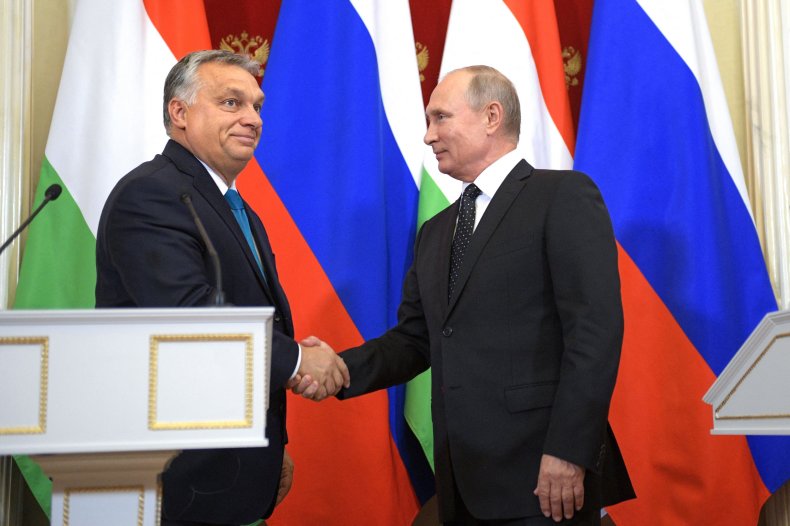 The conservative Hungarian leader has restricted the right to seek asylum and built up barriers at the borders of his country as he targeted migrants coming from Africa and the Middle East, according to Radio Free Europe, which drew condemnation from the European Court of Justice several times. He also targeted non-governmental organizations (NGO) that support migrants.
Orbán's speech was meant to address the local Hungarian minority in Romania, according to Jonathan Eyal, an associate director at the Royal United Services Institute (RUSI) for Defence and Security Studies.
"Hungary's Viktor Orban each year goes to Romania's Transylvania to deliver nationalist speeches designed to galvanise the considerable local ethnic Hungarian minority. Few governments would allow such an open appeal to irredentism, but the Romanians have tolerated this," he tweeted Sunday.
The Hungarian prime minister in 2018 called refugees "Muslim invaders" as he expressed his refusal to take part of the European Union's resettlement program, The Guardian reported. In another instance that year, he said: "We must defend Hungary as it is now. We must state that we do not want to be diverse and do not want to be mixed: we do not want our own colour, traditions and national culture to be mixed with those of others."
Still, Carlson has long praised Orbán for his anti-immigration sentiments among other conservative ideas. Last August, Carlson said that he visited the Hungarian border and saw "order and clarity," claiming that the country's wall "works" in fighting illegal immigration, and that it was "embarrassing to be an American," according to The Guardian.
Additionally, he expressed his admiration for Hungary, saying it is a "small country with a lot of lessons for the rest of us," The New York Times reported last year.
Orbán, who was endorsed by former President Donald Trump before being reelected for a fourth term in April, has been an avid supporter of Russian President Vladimir Putin as he opposed European sanctions against the country.
In May, he accused the EU of dropping "an atomic bomb" on Hungary's economy by trying to ban Russian oil imports in response to the war in Ukraine. Hungary heavily relies on Russian natural gas as it gets about 85 percent of its need from Russia's Gazprom company, according to Radio Free Europe.
Orbán also dismissed Ukraine's determination to keep on fighting during his speech on Saturday, saying that "the Ukrainians will not come out victorious," according to Radio Free Europe, adding that Russia's military has "asymmetrical dominance."
The Hungarian leader, whose direction aligns with some Republicans' ideas, is scheduled to attend the Conservative Political Action Conference (CPAC) on August 4 in Dallas, the prime minister's press secretary, Bertalan Havasi, announced earlier this month.
Newsweek reached out to the Hungarian foreign ministry for comment.