Putin Ally Wants Programs Like Tucker Carlson's Broadcast '24/7'
Hungarian Prime Minister Viktor Orban, a longtime ally of Russian President Vladimir Putin, on Thursday said shows like Tucker Carlson's should be broadcast "24/7."
Orban made the comment during a meeting of the U.S.-based Conservative Political Action Conference (CPAC) in Budapest, Hungary. According to The Guardian, he also railed against liberals and "neo-Marxists" who are "dazed by the woke dream."
Orban, who won a fourth term as prime minister in Hungary's April elections, has maintained close ties with Putin during his time in office. In February, the two appeared at a joint news conference during which they discussed their countries' economic relationship. Hungary was the first country in the European Union (EU) to buy Russia's Sputnik V COVID-19 vaccine, even though it hadn't been approved by European regulators.
However, Orban's bond with Putin has been tested since the beginning of Russia's war in Ukraine. While Orban has publicly criticized Ukrainian President Volodymyr Zelensky, his country supports Ukraine's membership application to the EU. Orban has also said that even though he doesn't support the EU's sanctions on Russia, he will not block them.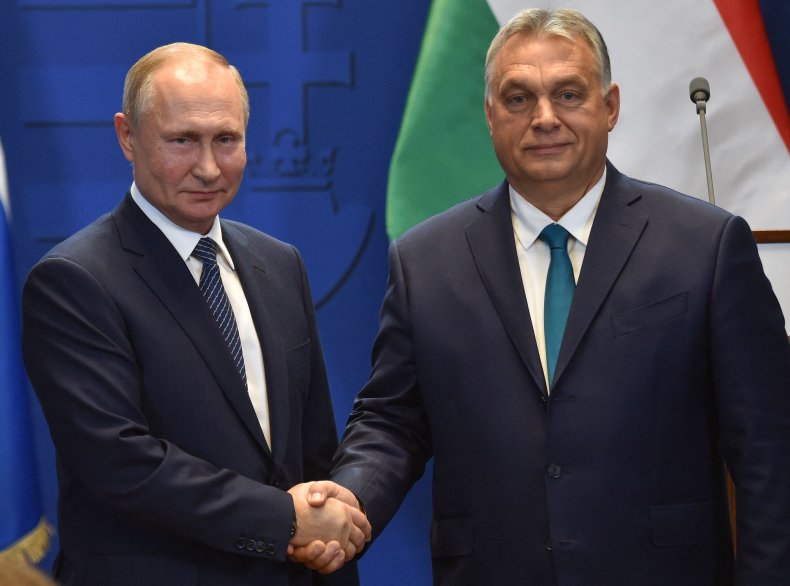 Addressing the CPAC crowd, Orban spoke of the importance of media and denounced what he called Western media's "leftist viewpoint" before bringing up Fox News' Carlson.
"Of course, the GOP has its media allies but they can't compete with the mainstream liberal media," Orban told the CPAC crowd, The Guardian reported. "My friend, Tucker Carlson is the only one who puts himself out there. His show is the most popular. What does it mean? It means programs like his should be broadcasted day and night. Or as you say 24/7."
Carlson was not at the CPAC gathering, but he sent a video message that praised the conference's host city and country.
"I can't believe that you're in Budapest and I am not," Carlson said in the video. "What a wonderful country. And you know why you can tell it's a wonderful country? Because the people who turned our country into a much less good place are hysterical when you point it out.
"The last thing they want is any kind of signpost to a better way, and Hungary certainly provides that. A free and decent and beautiful country that cares about its people, their families, and the physical landscape. Great place."
Orban criticized outlets such as CNN and The New York Times during his speech, according to The Guardian.
"Have your own media. It's the only way to point out the insanity of the progressive left," Organ told the crowd, according to the London-based newspaper. "The problem is that the Western media is adjusted to the leftist viewpoint. Those who taught reporters in universities already had progressive leftist principles."
Newsweek reached out to Orban and Fox News for comment.