Vladimir Putin and Recep Tayyip Erdogan Try To Reignite Their 'Bromance'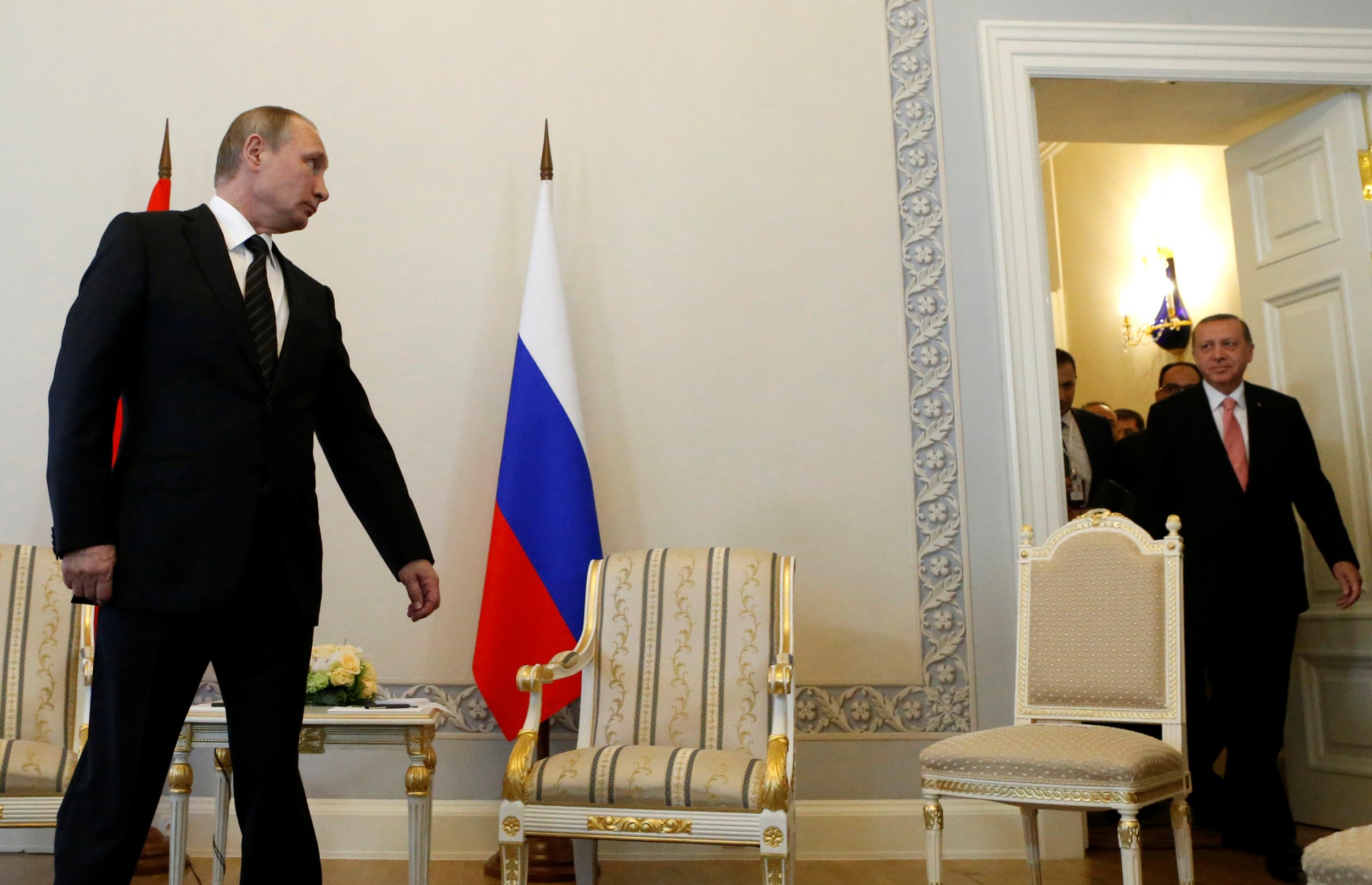 Russian President Vladimir Putin and Turkish President Recep Tayyip Erdogan ended their nearly year-long spat with a two-hour chat in St Petersburg on Tuesday, Russian state news agency RIA Novosti reported.
While their countries are far from allies, Putin and Erdogan's relationship has often been described as a political "bromance." But the personal power they wield and the public personas they cultivate has drawn many parallels. Not to mention that both espouse conservative values, favor censorship and are developing joint energy projects.
Despite November 2015's collapse in relations after Turkey downed a Russian fighter jet near Syria, Tuesday's meeting intended to signal that Moscow and Ankara will return to the same level of closeness as before. While it remains to be seen what common ground the leaders will find on topics including clashing military operations in Syria, the drop in tourism traffic to Turkey and the faltering construction of Russia's Turkish Stream pipeline and Russian-backed Turkish nuclear plant, at least rhetorically the Russo-Turkish bromance is back on.
Putin Appreciates Erdogan's Visit
While Putin was not shy to accuse Erdogan of a "stab in the back" in November, he told journalists Tuesday that Erdogan's decision to meet with him on his first foreign visit since the attempted coup in Turkey was much appreciated by Moscow.
"Your visit today, which comes despite the complex geopolitical situation in your country, speaks volumes for the fact that we all want a renewal of our dialogue and the repair of relations in the interests of the Turkish and Russian people," Putin said, according to the Kremlin. Putin reiterated his thanks in a press conference after the meeting.
Erdogan Appreciates Putin's Invite
Russia is preparing for parliamentary elections next month and is still at odds with western neighbors due to its intervention in Ukraine. Erdogan, whose country boasts the second largest army in NATO, behind the U.S., was thankful that Putin made time to see him.
"More than anything, I would like to thank you that in this delicate period you found time, made time for us and accepted us as guests," Erdogan told his Russian counterpart. "We planned, as you remember, to meet at the G20 summit [in September]... Once again, I'd like to thank you for the opportunity to meet with you."
Putin Called to Back Erdogan
Less than two weeks after Putin and Erdogan's dialogue resumed, Turkey suffered an attempted military coup. Putin was among the first to call Erdogan and express his hope that the situation would normalize. On Tuesday, Putin said he thought Erdogan was the man to bring stability to Turkey.
"I know that I was among the first to call you to voice support during the internal political crisis, prompted by the attempted government coup," Putin said. "I would like to say once again that our fundamental position is that we will always be against any attempted counter-constitutional actions. In connection to that, I would like to express my hope that under your government the Turkish people will resolve these problems and order and the rule of the constitutional will be restored."
Erdogan Was Happy That Putin Called
"Truly, your call immediately after the attempted coup made me personally, my colleagues and our people very happy," Erdogan candidly said before the meeting and later repeated his gratitude for the phone call at a press conference.
It was not only Erdogan's phone manner that was personal, but also his writing. During the visit, Erdogan's spokesman told Turkish newspaper Hurriyet that he had sent the letter apologizing for the downed jet, expressing his apology in Russian, using the phrase "pardon" (Izvinite). Although Russian state news services had previously confirmed the letter of apology, its details had not been made public by the Turkish government.
As a whole, the rhetoric of the visit was a far cry from Putin's accusation in November that the Turkish government was full of "accomplices to terrorism," instead referring to Erdogan's delegation as "our Turkish friends." Meanwhile, Erdogan called Putin his "friend Vladimir" and referred to him as "my friend" several times Monday.