Putin and Trump Are 'Dangerous Clowns,' Says Pussy Riot Member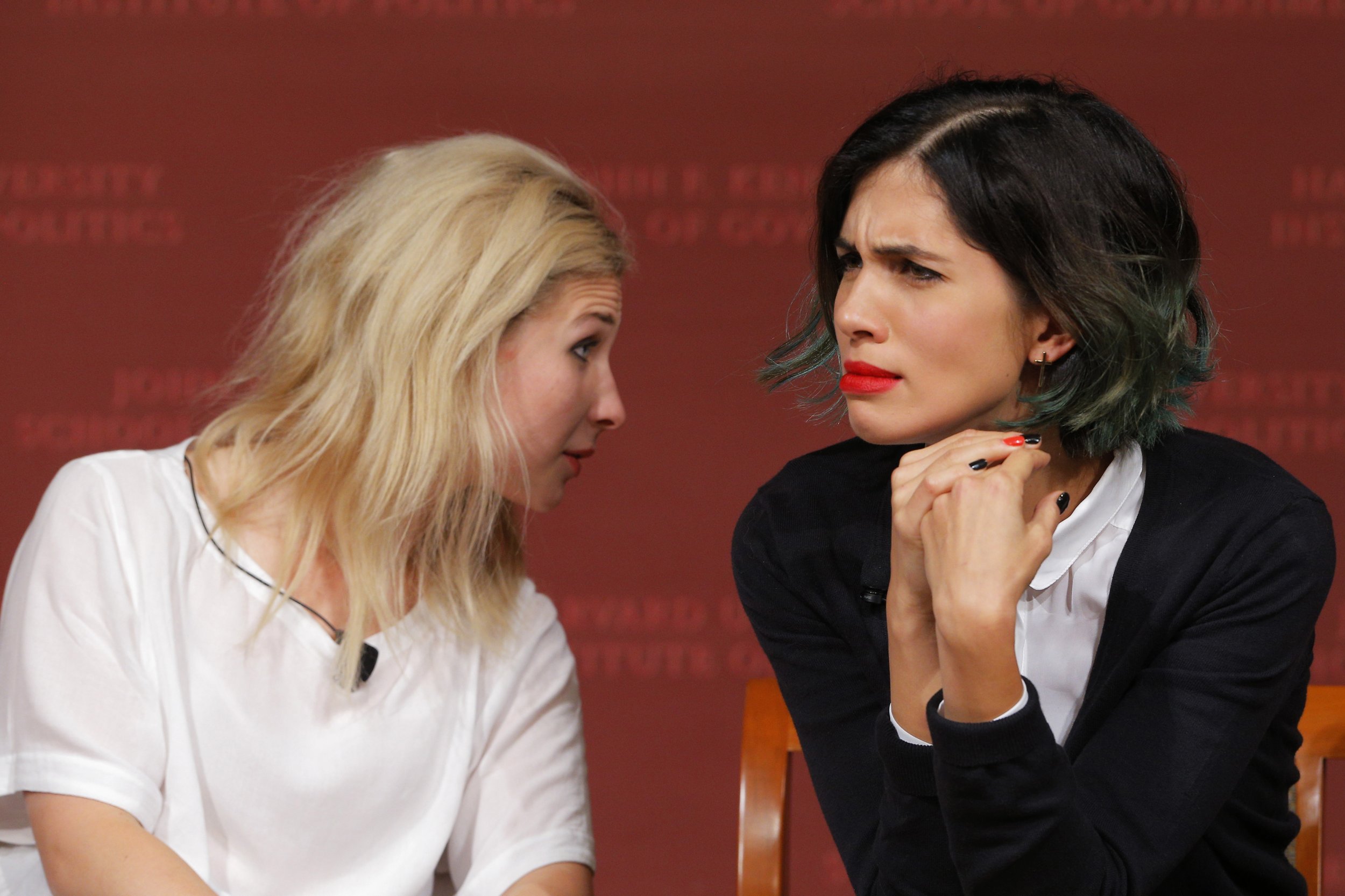 Pussy Riot's Nadya Tolokonnikova has branded Russian President Vladimir Putin and aspiring U.S. presidential candidate Donald Trump "dangerous clowns" who have much in common.
Putin first became president over 15 years ago, with relatively little experience in politics, having mainly worked for Moscow's security services prior to the USSR's collapse. Trump, who is now the frontrunner to become the Republican candidate in the next U.S. presidential election has never held public office and is instead fueled by charisma and controversy.
Tolokonnikova, who has been detained by Russian police multiple times for her anti-Putin activism, told Rolling Stone that she believed both Putin and Trump "both like to provoke the audience."
But, she said, it shouldn't be a president's job to entertain an audience. "Artists and punks and musicians should provoke the audience, and politicians should serve the public interest," she said. "It's not their role to express their individuality, to do crazy gestures like Trump and Putin are doing."
Followers of Tolokonnikova on Twitter will be aware that she and her cats have backed Democrat candidate Bernie Sanders, who she is writing a song about. She is, however, far less excited about the prospect of a Trump administration, which would "cause a lot of social problems."
"I think it will be a disaster if Trump will win the election," she said, calling Trump's idea to ban Muslims from entering the U.S. "disgusting." "I will try to do what I can to prevent it," she added.
Trump and Putin have both sung one another's praises, after appearing on the same edition of U.S. broadcaster CBS's 60 Minutes in 2015. Although the pair did not appear on screen together, Trump claimed he'd had a positive exchange with Putin behind the scenes. "I got to know him very well because we were both on 60 Minutes, we were stablemates," he said. "We did well that night." Fact-checkers later revealed that Trump and Putin never shared a studio, as the business mogul's interview was filmed in the U.S., while Putin's was recorded in Russia. This did not stop Putin from praising Trump as a "very bright and talented man."
Tolokonnikova feels both men do not need to hold official office to become better acquainted. "If they want to just fire themselves from the presidency and go to Hawaii and have a good time, I would love to support them," she said. "Yes, go for it. But I don't want to see two dangerous clowns as presidents of big countries."
In 2015, Tolokonnikova's bandmate Maria Alekhina voiced a similar comparison between Putin and Trump. She told the Huffington Post that the U.S. should vote for Trump if it wanted its "own Putin."
"When Putin came to his first term or second term, nobody [in Russia] actually thought that this is serious. Everybody was joking about it," Alekhina said. "And nobody could imagine that after five, six years, we would have a war in Ukraine, annexation of Crimea, and these problems in Syria.
"Everybody [is] joking about Donald Trump now, but it's a very short way from joke to sad reality when you have a really crazy president speaking about breaking every moral and logic norm. So I hope that he will not be president. That's very simple."