Are Russia and NATO Launching a New Cold War–Style Arms Race?
Russia and NATO are escalating a war of words that could quickly devolve into an international arms race.
A day after Russian President Vladimir Putin gave a bellicose speech boasting that his country has weapons that would render international missile defense systems "completely useless," North Atlantic Treaty Organization (NATO) officials shot back, calling the speech "unacceptable and counterproductive."
"We do not want a new Cold War or a new arms race," NATO spokesperson Oana Lungescu said in a statement. "All allies support arms control agreements which build trust and confidence, for everyone's benefit."
International arms agreements, such as the Intermediate-Range Nuclear Forces Treaty, have aimed to reduce U.S. and Russian nuclear weapons stockpiles and the risk of nuclear proliferation—or even armed conflict. Moscow, however, continues to lash out at the U.S. and accuse the country of violating arms agreements. Russia is particularly defensive when it comes to U.S.-built missile defense systems in Europe and neighboring countries like Japan, claiming that these defense systems have the ability to shoot weapons. Countries like Poland and Romania, both NATO allies, boast of such missile defense systems.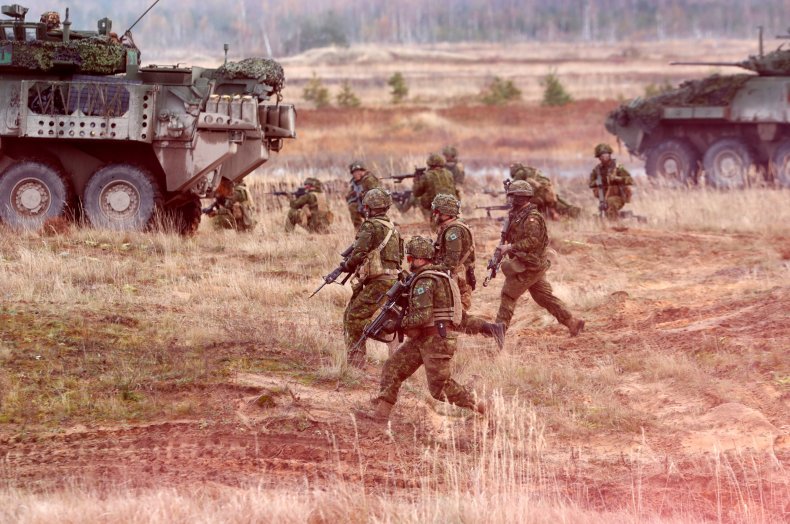 Putin's speech, aimed to showcase Russia's ability to strike back at NATO allies and even reach outer space, demonstrates that Moscow's relationship with NATO is at one of its lowest points since the end of the Cold War, experts say.
"I think Putin's speech clarifies and publicizes what's already been a fact, that NATO relations with Russia are at a low point, I wouldn't say an all-time low, but tensions have risen," Mark Simakovsky, a NATO analyst, told Newsweek. "Russians claim American violations [of arms treaties] are the reason for nuclear development. The U.S. says Russia's nuclear development is the reason it maintains its nuclear arsenal… We're in a bit of a death spiral that is very concerning."
Under President Donald Trump, the government has launched plans to develop two new types of nuclear weapons and reassess the U.S. nuclear arsenal. The Pentagon's 2018 Nuclear Posture Review also said that nuclear weapons could be used for "extreme circumstances," which could include non-nuclear attacks.
In an interview with NBC News on Friday, Putin also suggested that Russia would be willing to use nuclear weapons in response to non-nuclear attack if there is "a threat to the very existence of the Russian state."
But experts say there is no way Russia can win an arms race against NATO.
"Clearly Putin is threatening the United States and NATO with an arms race that Russia cannot win. The GDP of the U.S. and NATO members combined is close to $40 trillion….Russia's GDP is around 1.3 trillion. The Russian industrial personnel is aging and many of the IT and computer experts with marketable skills have left the country," Ariel Cohen, a senior fellow at the Atlantic Council, told Newsweek.
"On the other hand, Putin is not Kim Jong Un—so why is he engaging in this Dr. Evil rhetoric?" Cohen said.