Putin 'Willing To Do Anything' To Avoid Defeat in Ukraine
Russian President Vladimir Putin is "willing to do anything" to avoid defeat in his war against Ukraine, including targeting civilians, a Russia expert has said, as Moscow launched a fresh wave of strikes in multiple regions of the country.
A day after targeted strikes in Kyiv killed at least four people on Monday morning, Russia conducted massive airstrikes on residential areas and energy infrastructure in many regions of Ukraine, including the capital city, Kharkiv, Dnipro, Kryvyi Rih, Mykolaiv, Zaporizhzhia, and Zhytomyr.
An air alert was declared throughout Ukraine on Tuesday morning.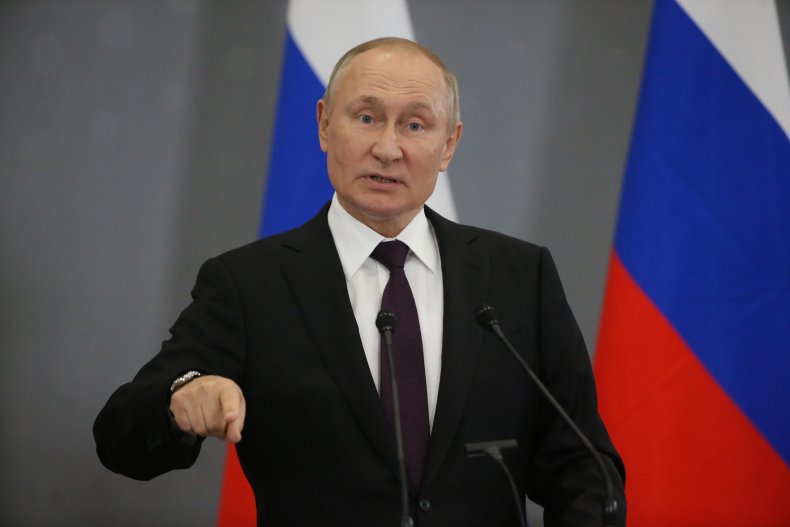 Kyiv mayor Vitali Klitschko said on Tuesday morning that a critical infrastructure facility in the city's Desnyansky district was hit, while Kyrylo Tymoshenko, the deputy head of Ukrainian President Volodymyr Zelensky's office, said three explosions rocked an energy supply facility.
In Kharkiv, mayor Ihor Terekhov said two strikes hit a neighborhood surrounding an industrial facility.
Meanwhile, Ukraine's defense forces said it shot down eight more Iranian-made Shahed-136 "kamikaze" drones on Monday evening.
Ukraine has said Russia used the so-called "kamikaze drones" in targeted attacks on Monday, and on October 10. Last week's attacks killed at least 19 people and wounded more than 100 others.
Krista Viksnins, program assistant at the Center for European Policy Analysis' (CEPA) Transatlantic Defense and Security Program, told Newsweek that the latest strikes against Ukraine demonstrate Russia's "desperate efforts to remain relevant in this unprovoked war" that Putin started in Ukraine in February.
"Putin clearly miscalculated his military capabilities when he invaded Ukraine," she said. "It is clear Russia is losing the war so they are grasping at straws and willing to do anything now, including targeting Ukrainian civilians."
Viksnins said the fact that the Russian military is now attacking civilian infrastructure, along with critical infrastructure such as power sources, demonstrates Russia's last attempts at remaining a party to this war.
"Their efforts are failing though it is only a matter of time before Russia will have to concede," she assessed.
Putin now "appears willing to do anything," although "the logical thing would be to withdraw his troops and concede," said Viksnins.
"Morale is low in the Russian army and this war has cost them many more lives than Putin likely anticipated," she said.
Joel Hickman, the deputy director of the Transatlantic Defense and Security program at CEPA, agreed, suggesting that Putin is now attempting to terrorize the civilian population into accepting a negotiated peace settlement on his terms.
"Russia's latest use of 'kamikaze' drones in Kyiv can be seen a metaphor for Putin's general approach to this conflict—reckless and ultimately self-defeating," he said.
Hickman also suggested that the bombardment of Russian strikes in Ukraine could be a way for Putin to stall Kyiv's counteroffensive efforts and train up reserves that were drafted as part of his September 21 partial mobilization order.
"Really this is a desperate attempt to buy time to train and equip his newly mobilized conscripts and replenish vulnerable supply lines into Ukraine," he said. "It's important that Ukraine therefore does not let up at this crucial stage as we head into a bitter winter conflict in which the Russians are poorly prepared."
Newsweek has contacted Russia's foreign ministry for comment.