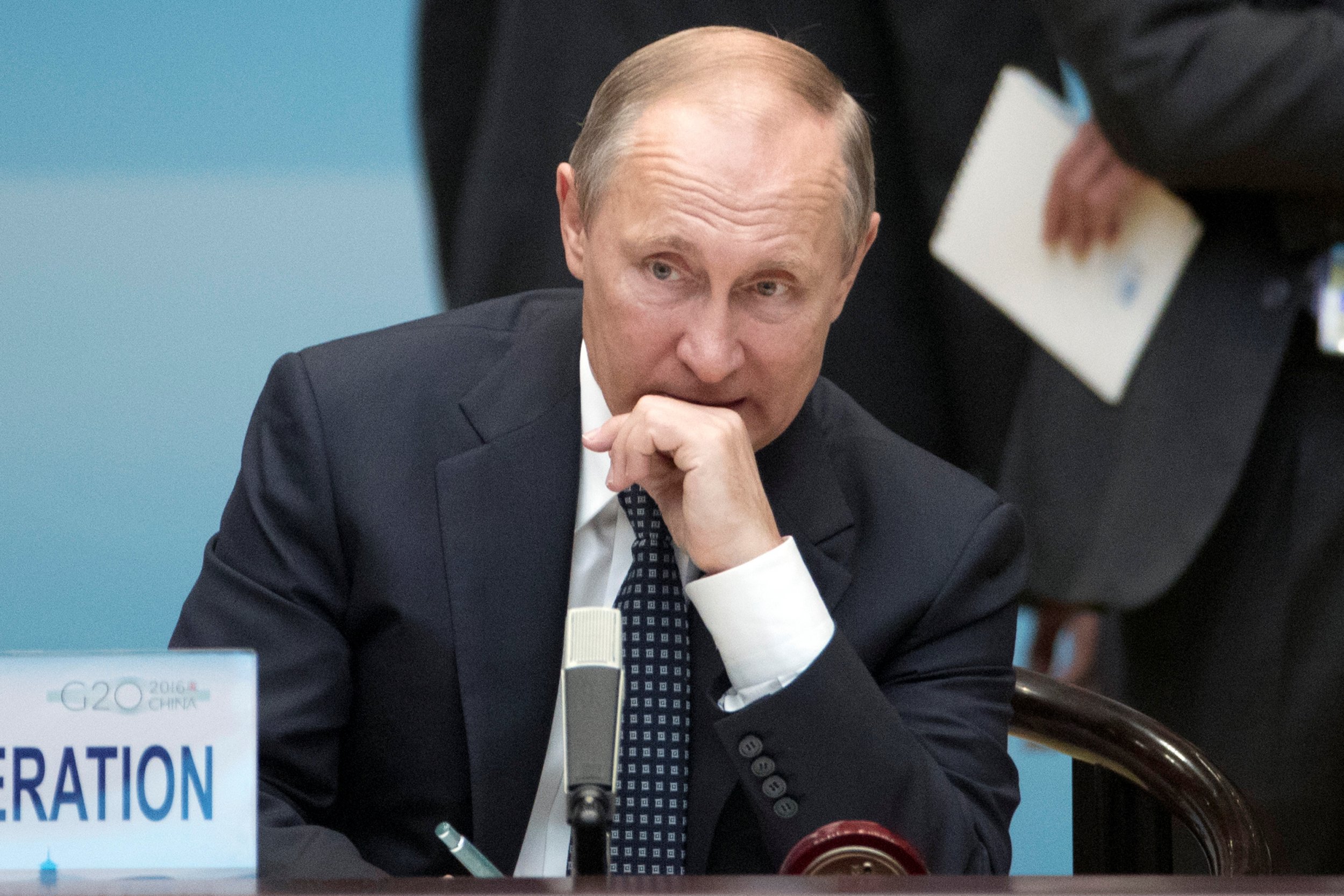 Russian President Vladimir Putin said Monday that he will likely "have to meet" again with Ukraine's president for peace talks, despite pulling out of "senseless" negotiations last month.
Putin said he and the leaders of France and Germany—Francois Hollande and Angela Merkel—discussed Ukraine over the weekend, when he was urged to return to negotiations with the Ukraine government, brokered by them.
The three met in China at the G20 summit, where they were also due to meet with Ukraine President Petro Poroshenko, until Putin refused to hold the meeting last month after contentious reports of clashes between Russian and Ukrainian forces.
During the summit, Putin met no fewer than ten leaders—after catching up with the leaders of South Korea and Japan en route—bearing personal gifts and free ice cream for the summit's host country.
Despite his apparent charm offensive, Putin's meeting with Ukraine's Western allies yielded little headway for Moscow.
Speaking to journalists Monday, Putin said he was resigned to return to four-way talks on Ukraine "whether they are good or bad, there are still no other initiatives to regulate the conflict."
The four-way negotiations between Ukraine, Russia, Germany and France has led to the current ceasefire. However, the major difference between Kiev and Moscow is the issue of Russian support for the militant separatists, which Ukraine is fighting in its eastern regions. Russia denies supporting them, while Ukraine claims Russian armed forces are effectively occupying its Donbas regions.
"For that reason, Russia will of course support this format," Putin added. When asked if he will communicate with Poroshenko again, Putin said: "Probably, we will have to."
"But, like I said to the German chancellor and the French president, it is not a question of whether to meet or not," Putin added. "The point is that these meetings lead to some positive movement forward in settling the conflict. I believe that it is pointless simply meet for the sake of it."
"I got the impression that nobody else wanted to meet for the sake of meetings. Maybe, with the exception of Poroshenko," Putin said, in an apparent swipe to his Ukrainian counterpart. "I do not know, I have not spoken with him for a long time."
Alexander Kokcharov, Russia defense analyst at IHS Jane's 360, tells Newsweek: "Putin did not achieve a key goal of his charm offensive at G20 in Hangzhou."
According to Kokcharov, Putin likely hoped to improve Russia's negotiating hand in Ukraine by pushing for peace talks to go ahead without the Kiev government. Russia's logic in doing so is tethered to the fact that Moscow does not view itself as a military force involved in the conflict.
"He did not succeed to tie solving the crises in Syria and Ukraine into a single issue," Kokcharov says, referring to Russia's ongoing operation in Syria. "Putin appeared to be willing to offer certain compromises on Syria expecting the West to reciprocate on Ukraine, decreasing their support to the Kiev government.
"Hollande and Merkel refused to strike any deals with Putin on Ukraine in the absence of the Ukrainians. Moreover, this morning, Hollande announced the necessity for another 'Normandy 4' meeting 'in the coming weeks.' This means that Paris and Berlin want Moscow to talk to Kiev in any discussions on the future of Donbas.
"So, Putin is still where he was two months ago, before the recent re-escalation in east Ukraine and military buildup in Crimea."
According to Lauren Goodrich, Russia and Eurasia analyst at private intelligence firm Stratfor, Putin may have not been successful in charming some EU leaders, but his efforts were partly successful at the G20 in trying to show Russia as connected to the international community. Specifically, his meetings with Japan, South Korea and China's leadership were meant to show up Europe and the U.S.'s reluctance to trade with Russia because of the Ukraine crisis.
"After two years of G20 meetings in which Russia and Putin were treated like the pariah at the table, Putin wanted to prove that Russia is part of the global system, and had to be dealt with," she says, referring to international condemnation of Russia's involvement in Ukraine. "This is why Putin flitted between myriad meetings on dozens of topics. There wasn't just one focus for Russia, but to show Moscow was a part of all the discussions.
"Russia also went into the G20 weekend following its Eastern Economic Forum, drumming up hundreds of business deals from partners in East Asia, continuing to show Russia's swing from a Western-reliant economy to a more balanced global integration."