Cash, Jails, 'Stealth': Putin's Bid to Bolster Russian Forces in Ukraine
As Russia continues to suffer losses six months into its invasion of Ukraine, commanders are resorting to providing cash incentives to encourage troops to fight, U.K. defense officials said.
In an update on Monday, the British Ministry of Defence said Russia is "likely increasingly struggling to motivate the auxiliary forces it is using to augment its regular troops" in the Donbas region of Ukraine.
"Commanders are probably resorting to direct financial incentives, while some combat units are deemed unreliable for offensive operations," the ministry said.
A "consistent contributing factor" to Russia's struggle to replenish troops is its "classification of the war as a 'special military operation' which limits the state's powers of legal coercion," the ministry said.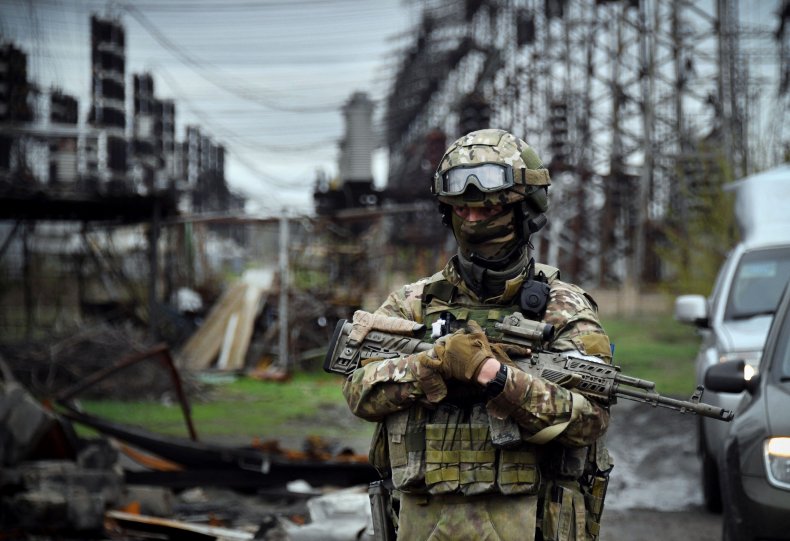 Russian President Vladimir Putin has resisted announcing a full-blown mobilization that would allow a national draft.
But with losses mounting and reports that many Russian soldiers are refusing to fight, Russian authorities have reportedly been using a series of covert tactics to bring in new recruits.
The Russian Defense Ministry has denied that any "mobilization activities" are taking place, it was reported earlier in August. Newsweek has contacted the ministry for comment.
Analysts have described the Russian campaign to recruit more men to replenish units fighting in Ukraine as a "stealth mobilization," The New York Times reported.
Those efforts have been documented in news reports in recent months, including the use of prisoners and mercenaries.
It was recently reported that prisoners in St. Petersburg were being offered their freedom and cash if they agreed to fight in Ukraine.
That effort was reportedly led by mercenaries of Russia's notorious Wagner Group. The group has "almost certainly" played a central role in the fighting in Ukraine, the U.K.'s defense ministry said in July.
"Wagner are lowering recruitment standards, hiring convicts and formerly blacklisted individuals," the ministry said. "Very limited training is made available to new recruits."
Meanwhile, local media reported that Russians were being promised a monthly salary of 200,000 rubles ($3,400)—about three times the national average salary—to bolster recruitment efforts.
Enlistment offices have reportedly been calling reservists to offer contracts to join the fight in Ukraine, while others are being urged to join volunteer battalions.
Newsweek reported in July that Russians were reporting on social media that they were receiving calls from military recruiters urging them to sign up. Those accounts were not independently verified.
According to the BBC, loudspeakers in a town near St. Petersburg have started blaring messages urging men aged between 18 and 60 to join.
In July NHL player Ivan Fedotov was detained in Russia on suspicion of evading the compulsory military service required of Russian men.
And earlier this year, a Pentagon official said Russia was trying to recruit Syrians to fight in Ukraine, according to The Guardian.
Russia has not announced how many of its troops have been killed in Ukraine since late March, when it put the number at 1,351. Ukraine provides a daily update, with the latest estimate on Monday putting the total at around 45,000.
Colin Kahl, the U.S. under secretary of defense for policy, has estimated that Russia has "probably taken 70 or 80,000 casualties in less than six months," referring to those killed and injured.
"That number might be a little lower, a little higher, but I think that's kind of in the ballpark, which is pretty remarkable considering that the Russians have achieved none of Vladimir Putin's objectives at the beginning of the war," Kahl said on August 8.