Putin Bombs Odesa Hours After Laying Flowers to the 'Hero City'
On the morning of May 9, as part of the Moscow Victory Day festivities, Vladimir Putin placed flowers on the monument to World War II "hero city" Odessa. Later that night, a Russian attack that included the use of hypersonic "Kinzhal" air-to-surface missiles struck civilian targets in the Ukrainian port city of Odesa. At least one person was killed in the attack.
The strike coincided with the visit of European Council president Charles Michel to the Ukrainian port city. According to Ukrainian presidential adviser Oleksiy Arestovych, a total of seven rockets were fired in the attack, which utilized both the Soviet-era X-22 and the modern Kinzhal varieties.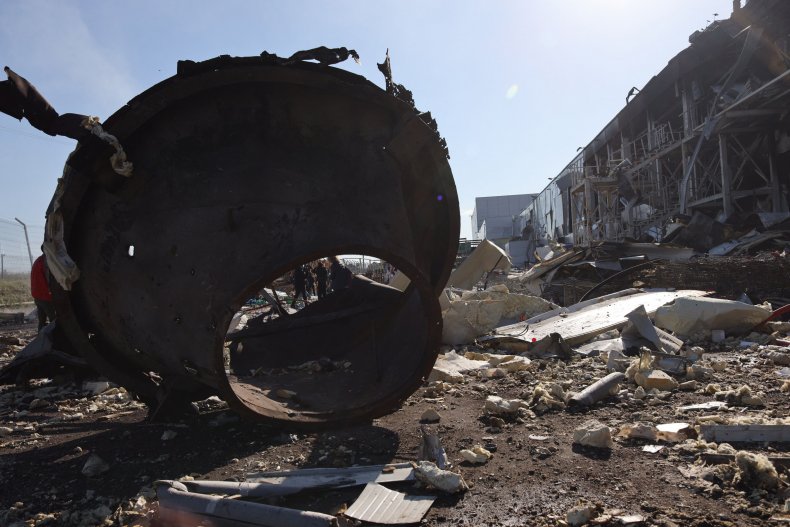 Russian forces had previously used Kinzhal missiles to hit an underground storage facility in the western region of Ivano-Frankivsk and as part of a strike on a fuel storage facility in the south near Mykolaiv. It was not immediately clear why the advanced Russian weapon was deployed in Sunday night's attack on targets that included a shopping mall and a hotel.
"Putin could not capture Odesa, and so he has started to destroy its infrastructure," Ukrainian Rada Deputy and Odesa native Oleksiy Honcharnko told Newsweek.
"Local residents are amazed at the cynicism," Honcharenko added. "Yesterday, with one hand, Putin placed flowers on the pedestal of the hero city Odessa, and with the other hand he thrust the dagger into the back of Odesa."
The Russian spelling for the port city is Odessa, while the Ukrainian spelling is Odesa.
The Russian word "kinzhal," for which the hypersonic missile is named, means "dagger."
"These strikes did not achieve any military aim," Honcharenko added. "Maybe it will scare off some of the citizens who were planning to return to their homes, but strategically speaking, it changes nothing."
Rather than scaring the local population, the Russian strikes seem to be alienating it.
"If before the war Odesa was around 40% pro-Russian, now it's 90% pro-Ukrainian," Sergey Steblina, a local designer, told Newsweek. "I'm not going anywhere, and most of the people I know who evacuated in March are still planning to come back."
During his morning briefing on May 10, Russian Ministry of Defense official spokesman Igor Konashenkov did not make note of the strike, saying only that "Russian air defenses overnight destroyed three Ukrainian unmanned aerial attack vehicles," including one "near the city of Odessa."