Putin Cajoles Trump by Sharing Grievances About 'Fake News' and the 'Deep State': Report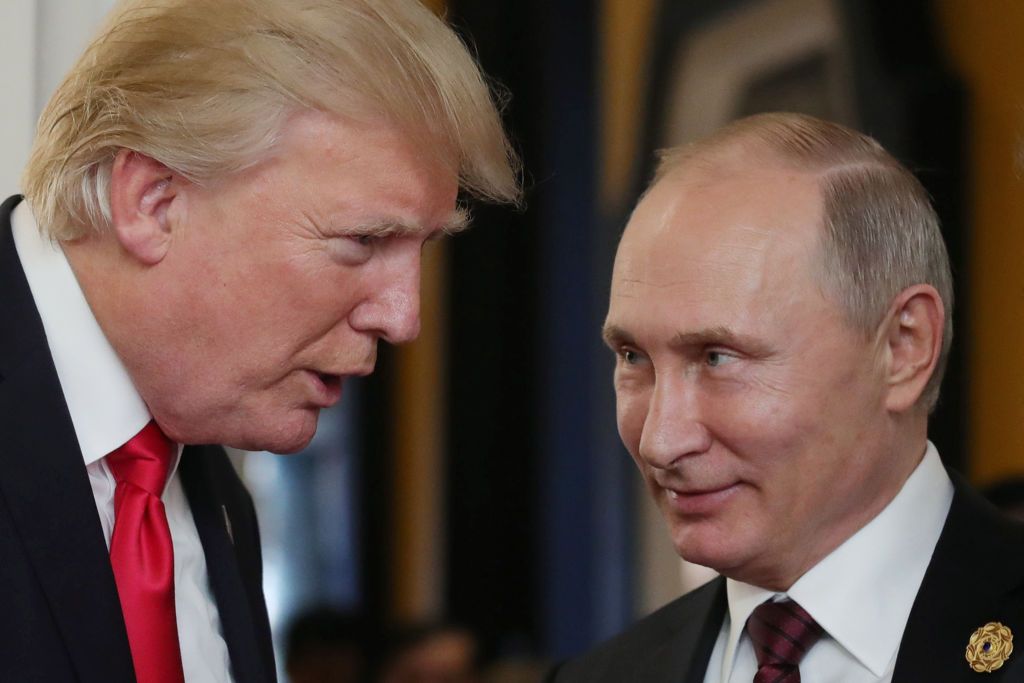 President Vladimir Putin of Russia reportedly seeks to gain President Donald Trump's trust by echoing his grievances about "fake news" and the "deep state."
White House officials told the Washington Post that in calls to the president, Putin echoes Trump's complaints that the news media and hostile officials in the U.S. security apparatus (dubbed the "deep state" by Trump officials) are trying to poison their relationship.
The officials expressed concerns that in the calls Putin—a former KGB operative—is playing on Trump's inexperience, lack of detailed knowledge about issues, and favorite complaints.
"It's not us," Putin has told Trump, one official summarized. "It's the subordinates fighting against our friendship."
A U.S. official added that the president rarely reads a briefing book of key issues prepared by aides ahead of meetings, and relies more on his conviction that he can achieve results through establishing rapport with world leaders.
Officials voiced the concerns with Trump scheduled to meet Putin for the first one-on-one meeting between the leaders in Helsinki, Finland, on July 16. The meeting will immediately follow a NATO summit in Brussels, and European officials fear that Russia could use the meeting to drive deeper divisions between the U.S. and Europe.
Trump has in recent weeks accused the EU of unfair trade practices and NATO allies of failing to meet their spending commitments. At a Montana rally Thursday, Trump again voiced the complaints, and described Putin as "fine."
"I might even end up having a good relationship [with Mr Putin], but they're going 'well, president Trump, be prepared, president Putin is KGB', this and that," he told the rally.
"Do you know what? Putin's fine, he's fine, we're all fine, we're people. Will I be prepared? Totally prepared – I have been preparing for this stuff my whole life, they don't say that."
Trump has repeatedly expressed a desire for better relations between the U.S. and Russia, amid escalating tensions over Russia's alleged meddling in the 2016 presidential election, the annexation of Crimea, and Russia's military campaign in Syria.
Trump's tete-a-tete with Putin will be followed by an extended bilateral meeting and then a working lunch with senior U.S. and Russian officials, U.S. ambassador to Moscow Jon Huntsman told reporters Friday.
The presidents met last year on the fringes of the G20 meeting in Germany, and in October at an economics summit in Vietnam.