Western sanctions on Russia were intended to cripple the economy, isolate its most-powerful oligarchs and bring unbearable levels of domestic unrest to Moscow.
Instead, it is the West that is reeling.
The Ukraine war and the sanctions related to it have created a host of problems for the West, including stubborn inflation, soaring gas prices at the pump, and uncertainty over the availability of natural gas supplies for the heating season, now just a few months away. Political uncertainty is appearing in Europe, most recently evidenced by the resignation of Prime Minister Boris Johnson in the U.K., one of the staunchest European supporters of Ukraine, and in discord in the Italian government.
These problems raise questions about the strength and durability of public support for the Ukraine side in its war with Russia, a country that remains the main supplier of crude oil, natural gas and solid fossil fuels to the EU, according to the European Commission.
"Everyone I have talked to is wary about what is likely to happen in the next few months," said Bruce Stokes, visiting senior fellow at the German Marshall Fund of the United States, "with high energy prices, the trajectories of the various economies, and whether the public will become less supportive of the strong stance that we've jointly taken on Russia and the war in Ukraine."
The uncertainties created by the Ukraine war and related sanctions could actually be benefiting Vladimir Putin.
"To some degree, chaos serves Putin's interest," said William J. Burns, former U.S. deputy secretary of state and current director of the Central Intelligence Agency, in an interview with The Atlantic.
He argues that when domestic uncertainty is high and citizens are losing trust in traditional institutions in democratic states, authoritarian adversaries like Russia benefit.
"Those all serve Russia's and Putin's interests," he added, "the more chaotic and divisive the picture in the West, the more space he thinks he has, and the less effective Western pushback against Russian aggression is likely to be."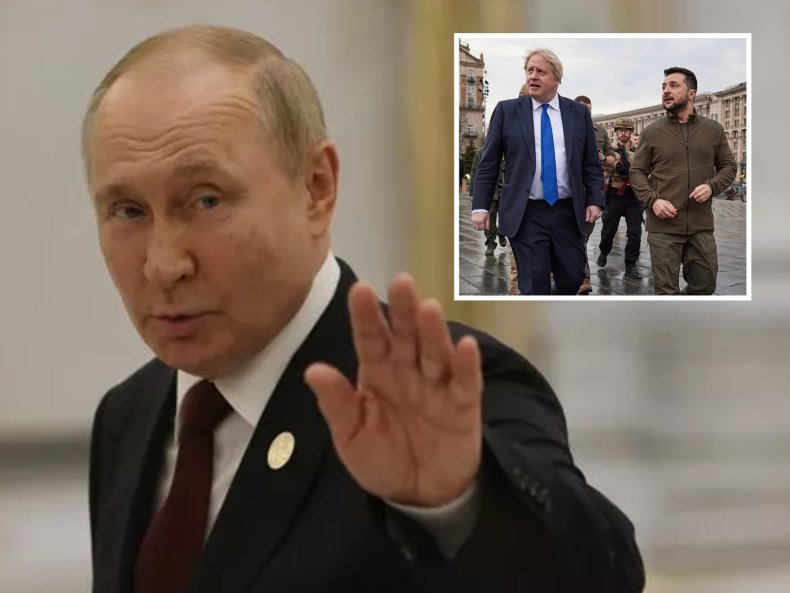 Since Russia's full-scale invasion of Ukraine began on February 24, the West has passed a variety of sanctions to punish the Kremlin for its unbridled aggression. These include freezing Russian assets in foreign countries, restricting imports of Russian oil, removing some major Russian banks from the SWIFT payment clearing network, and cutting off key exports.
In addition to these government-targeted sanctions, the White House estimates that over 1,000 U.S. and multinational businesses decided to end or suspend operations in the country since February, taking thousands of workers and millions of dollars in productivity with them.
When they were first imposed, policymakers in NATO expected the impact of sanctions to "wipe out the last 15 years of economic gains in Russia." Their aim was to "cause the collapse of the Russian economy," said French Finance Minister Bruno Le Maire in March.
And since the sanctions began, the Russian economy has been negatively affected.
Foreign trade has plummeted and poverty rates have risen. Inflation has skyrocketed to nearly 14.5%, with goods and materials in increasingly short supply, as national GDP is expected to shrink by 7.1% this year, according to a poll from Reuters.
But while sanctions have negatively affected select sectors of Russia's economy, the jury is still out on their overall impact.
When asked whether Western sanctions have been successful, Russian political scientist Ilya Matveev told NPR that it depends on by the criteria applied. To the extent that these sanctions have deterred Putin from military action, she said they have been unsuccessful.
"Putin is very determined to wage this war and he is prepared in his mental space for a prolonged conflict," she said. "Sanctions as such cannot change his calculation."
Matveev added that sanctions have not led to an immediate economic collapse like some experts initially projected.
After falling to an all-time low in February following the first round of sanctions, the Russian ruble rebounded to a seven-year high in June. It is the world's best-performing currency this year, according to Bloomberg.
And despite facing a major decline in foreign export volume, revenues from oil and gas, Russia's biggest trade asset, are up nearly 80% this year, according to the Center for Strategic and International Studies.
At a hearing of the U.S. Senate Subcommittee on Europe and Regional Security Cooperation in June, Senior Advisor Amos Hochstein was asked if Moscow was making more money now off its crude oil and gas sales than a couple of months before the war started.
"I can't deny that," he told lawmakers.
"It was not anticipated that the Russian current account surplus would actually go up because they would earn so much money from the sale of oil," he added.
These revenue streams, paired with low foreign debt obligations, have allowed Russia to avoid the worst effects of international sanctions for the time being, said Michael Alexeev, an economist at Indiana University Bloomington.
"They will not starve. There will be no famine," he told NPR. "It is just that stuff that they are able to make and consume will become simpler and simpler."
Alexeev said the effectiveness of the sanctions is a function of time in place.
"If the goal is a quick and complete collapse of the Russian economy, then no, sanctions are not working because the Russian economy is still functioning," he said. "But if the goal is to weaken Russia economically over time, then sanctions are 100% working."
Unfortunately, supporters of sanctions may be running out of time.
In an interview with Newsweek, Anatoly Antonov, Moscow's ambassador to Washington warned that these Western sanctions will backfire.
"The plans to strangle our country with sanctions do not work," he said. "The thoughtless imposition of restrictions only aggravates the situation in the U.S. economy."
"Thus, it turns out that in an anti-Russian fever," he added, "Washington is ready to shoot itself in the leg and dance simultaneously. It looks absurd."
While President Biden has vowed to stand with Ukraine for "as long as it takes," recent polls suggest that rising food and energy prices in the U.S. — up nearly 9% and 7.5% on the year respectively — are diminishing popular support for Russian sanctions.
"There was certainly a widespread, unspoken presumption by a lot of people that the war would be over very fast," Stokes said.
But as the Ukraine war enters its fifth month, the annual inflation rate for the U.S. for the 12 months ending June 2022 is 9.1%, according to usinflationcalculator.com — the highest it has been since 1981 (10.33%), the first year of the Ronald Reagan presidency, according to macrotrends.net.
Survey data from the Morning Consult show that fewer than half of American voters (47%) support Russian sanctions if they cause the price of goods to rise at home, down from 56% in April. Even fewer Americans, just 44% of voters, believe it is their country's responsibility to defend Ukraine.
Senator Chris Coons, a member of the U.S. Senate Foreign Relations Committee, who attended the NATO summit meeting in Madrid last month, sees this change in sentiment as a major concern.
"I worry about the fatigue factor of the public in a wide range of countries because of the economic costs and because there are other pressing concerns," Coons told The New York Times.
Stokes of the German Marshall Fund of the United States agreed that it is a question of time.
"Now that [Russia] has adopted a grinding military strategy, we really have to be into these economic sanctions for the long haul in the hope that over time, we can undermine their strategy," he said.
"But as one European politician said to me," Stokes added, "'I'm in favor of all these sanctions, but my voters have to heat their homes too.'"