Putin Congratulates Russian Special Forces on Crimea Anniversary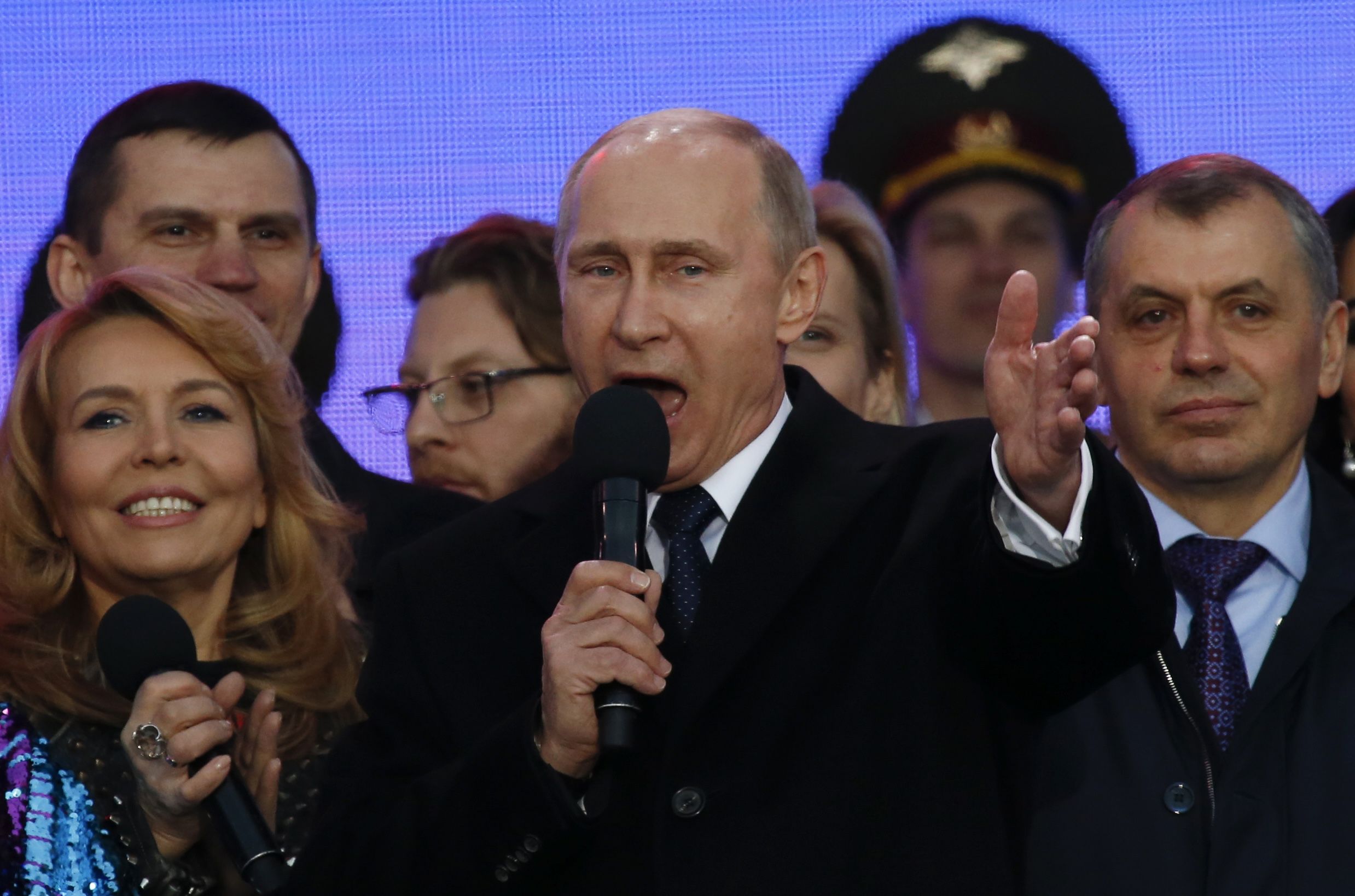 Russian President Vladimir Putin has congratulated Russian servicemen on the nation's Special Forces Day—a holiday marked on the anniversary of when mysterious pro-Russian troops took control of Crimea in 2014.
In a matter of weeks the troops—which Russia denies backing directly—helped hold a snap referendum on the peninsula, which resulted in Russia taking full control of the territory. The entire process was rejected by a majority of states in the U.N., however, this has not stopped Russia from establishing de facto control and Putin's troops from celebrating.
"We are going to further increase the potential of the special operations forces," Putin said in a Kremlin video telegram on Monday, referring generally to the rapid response unit created in 2009. "Their creation was an important step in the efficient development of the Russian Armed Forces, to improve their mobility and combat readiness."
On the surface, the date of the commemoration is not particularly conspicuous. Many units, not just the special forces, have an annual holiday. The controversy of the day marked on February 27, however, goes back to its inception in 2015 when Putin created it by presidential decree.
The initial date chosen marked exactly one year after mysterious, well equipped, pro-Russian troops—or "little green men"—seized public buildings across Ukraine's Crimean peninsula in 2014, shortly after the collapse of a pro-Russian government in Ukraine following mass, pro-EU protests. Russia vehemently denied that it had ordered its special forces to carry out the covert operation, an act tantamount to an invasion.
The link between the day of the incursion and the holiday has only ever been implicit on the part of the Russian government, which maintains it did not invade Ukraine but instead supported local forces in maintaining order. On Monday, Putin made no mention of Crimea, but hailed the special operations troops as modern heirs to the feared Soviet special forces (Spetsnaz), saying that they have already proven their strength under difficult circumstances.
"Having absorbed the glorious, legendary tradition of Russian Spetsnaz, a rich experience of many generations, the special operations forces immediately showed their best side," he said. "Through the hardest and most difficult and unusual situations, you have proved that you are able to act boldly, decisively and professionally."
Alexander Kokcharov, Russian defense and policy analyst at London-based think tank IHS Markit says the holiday is intended as a celebration for Putin's supporters at home and in other former Soviet territories like Crimea, where there may be Russian speaking communities.
"The significance of this holiday is that it supports the narrative of Russian foreign policy and military assertiveness. It reinforces the image of a 'strong and resurgent Russia' both domestically and internationally," Kokcharov says. "It helps the Kremlin consolidate core constituencies at home in Russia or abroad, among the Russian-speakers in the former Soviet Union."