Putin to Continue Ukraine Attacks Despite Massive Cost
New attacks by Russia on Ukrainian cities may be a sign of continued impending strikes and a shift in military strategy, no matter the cost.
The barrage of missile warfare Monday morning successfully hit the suburbs of Kyiv, Dnipro, Zaporizhzhia, Kirovohrad and other regions, aimed at energy infrastructure and water supplies.
Ukrainian Prime Minister Denys Shmyhal called Russians "terrorists" for aggression that led to approximately 80 percent of Kyiv households having no water earlier today.
The attacks consisted of Kh-101 and Kh-555 missiles, 44 of which were shot down by Ukrainian military personnel according to reports.
One Ukraine-based Twitter account estimated that the attacks cost Russia $400 to $600 million––a figure that is disputed by arms and policy experts who spoke to Newsweek.
Ian Williams, fellow in the International Security Program at the Center for Strategic and International Studies and deputy director of the Missile Defense Project, told Newsweek those numbers seem a bit inflated.
Forbes previously estimated that the Russian cost of launching 84 cruise missiles and 24 drones over Ukraine on October 10 resulted in an average total value of between $400 and $700 million. The missiles include Kh-101, Kh-555, Caliber, Iskander, S-300 and Tornado-S.
Those numbers were calculated based on the type of attack, involving "highly accurate" tactical-range arms. The Kalibr was estimated to cost $6.5 million each, which Williams said is in reference to a 2006 export sale to India.
He said he's unsure about where Forbes' approximate $13 million estimate for the Kh-101 comes from. Export sales come at a premium and typically include other services, he added, while Russia's domestic price tag is lower.
A report from Russian newspaper Nezavisimaya Gazeta in 2016 estimated the cost of one Kalibr cruise missile at about $1 million.
"Russia has never exported Kh-101, so there's no public point of reference on its cost as far as I'm aware," Williams said. "It's also not apparent why a Kh-101 would cost so much more than a Kalibr.
"The two missiles are very similar in terms of guidance systems and range. Kh-101 is supposed to have some 'stealthy' qualities which will add costs, but based on how many Ukraine appears to be shooting down, it doesn't look like the Kh-101's 'stealthiness' is working out so well."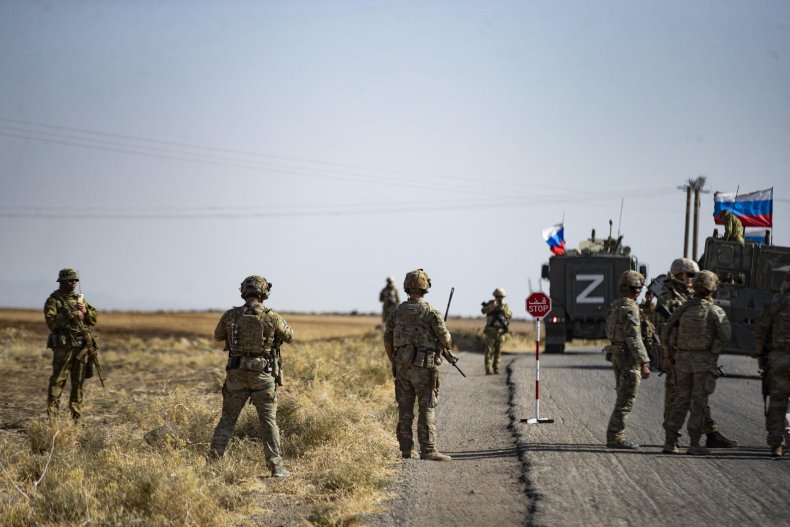 Jordan Cohen, a policy analyst at the CATO Institute, told Newsweek that Russia's defense budget "is not really the metric" he would use to determine whether or not the country can keep fighting.
"The question, in my mind, is what these recent attacks signal vis-a-vis Russia's current strategic goals," Cohen said. "In my estimation, they are primarily going after civilian targets and also attempting to raise the cost of involvement for countries in Europe."
He mentioned Putin's targeting of food, water and heat in Ukraine, in addition to Russia's stopping of participation in the Black Sea Grain Initiative potentially putting food security at risk.
"Overall, this signals to me that Putin still has room for escalation measures and is moving towards imposing even greater costs to the civilian population," Cohen said.
Ukraine's military estimates that Russia began the conflict with about 1,850 cruise missiles of all types, Sean Spoonts, a U.S. Navy veteran and editor-in-chief of Special Operations Forces Report (SOFREP), told Newsweek.
Those figures include 900 Iskanders, 500 sea-launched Kalibres, and 444 of the aforementioned Kh-101/555 missiles.
"They believe those stocks are now depleted to about 620 of all types," Spoonts said. "Ukraine has attacked facilities in Crimea that may have contained some of these missiles as well."
Sanctions and chip sets are also playing an important role, he added, due to the United States, Germany, China and Hong Kong primarily sourcing the technology before the war. Only China is still supplying chips but the production capabilities remain unknown.
It has also led Russia to make deals with Iran.
"It seems like Russia has 'clay feet,'" he said. "It can develop pretty high-tech weaponry, but can't afford to carry much of it in inventory or replace it quickly when it is expended. ... As to the costs, one guess is as good as another, really."
In May, Spoonts told Newsweek that he didn't think Russia could sustain its burn rate of $900 million a day for more than three months. He was ultimately off on his prediction by about 16 days, when Ukraine launched its counter-offensive.
Eric Gomez, a senior fellow at the Cato Institute, told Newsweek the best way to assess the use of long-range precision-guided missiles (PGM) is to look at the strategic effects.
Russian PGM strikes primarily targeted military or defense industrial targets, such as air bases, command and control, and railyards, in Ukraine.
"However, this has clearly not stopped the Ukrainian air force from contesting the air, nor has it knocked Ukraine out of the fight," Gomez said. "The recent PGM attacks on civilian infrastructure marks a change in approach by Russia, and it is difficult to say what the strategic effectiveness will be."
One of the signals on Russia's behalf could be a shift in strategy, from one borne out of nuclear threats to more deliberate and consistent attacks on infrastructure-based targets.
While reducing the risk of a nuclear attack, it escalates the conflict in Ukraine in a different manner.
"A large-scale PGM campaign against civilian infrastructure demonstrates that Russia can increase pain against Ukraine in a new way without reaching for nuclear weapons," he said.