Putin Cracks Down as Nationalists Criticize War Effort
Russian President Vladimir Putin is moving to crack down on internal dissent and opposition voices as key figures are growing increasingly critical of his war effort in Ukraine, according to the Institute for the Study of War (ISW).
The ISW, a think tank based in Washington, wrote in its latest assessment of the conflict that both Yevgeny Prigozhin, founder of the Wagner Group, and former Russian commander Igor Ivanovich Strelkov, also known as Igor Girkin, are becoming disgruntled with Putin's perceived failures in Ukraine.
The pair are likely "competing for influence and patronage among pro-war politicians disillusioned with the progress of the war."
A public spat took place place between Prigozhin and Girkin, as the Wagner Group, a paramilitary unit founded in 2014, failed to make significant advances in Ukraine's eastern region, the ISW noted.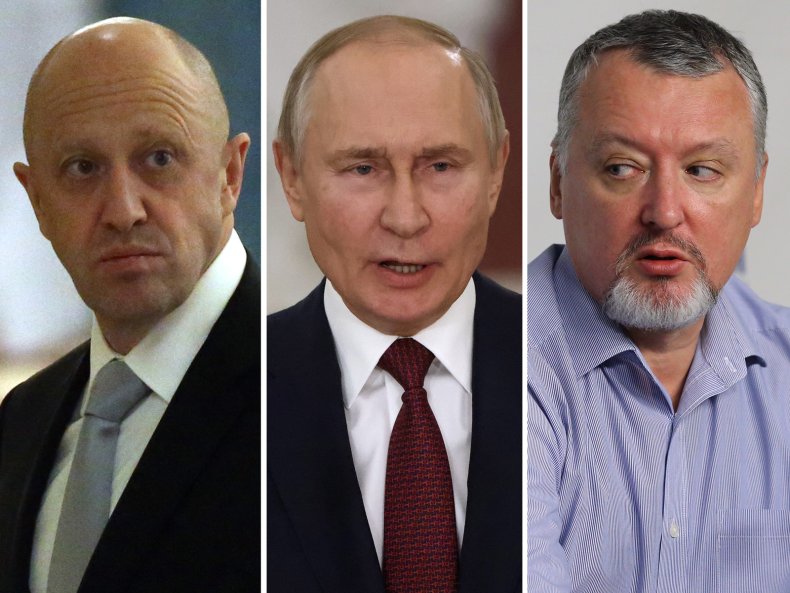 The Wagner Group has been accused of doing Russia's dirty work in regions including Syria, Libya, the Central African Republic, Sudan, Mozambique, and eastern Ukraine and its contractors have been accused of committing human rights violations while doing so.
The group, which provides soldiers for hire, has been leading Russian forces in offensives in eastern Ukraine.
On Wednesday, Girkin accused Prigozhin of "deliberately misconstruing" his criticism of Prigozhin's political aspirations as an attack on the Wagner Group's fighters. The former Russian commander also accused Prigozhin of continuing to commit his forces to support operations in Syria and African countries instead of to the ongoing conflict in Ukraine.
Prigozhin in response shut down claims that he has political ambitions in Russia and claimed that he cannot withdraw his forces from Africa because he "made a promise to several presidents" that he will "defend them."
This "altercation" highlights "competition among Russian nationalist groups for political influence in Russia," the ISW said.
Amid this ramped up criticism of the handling of the war in Ukraine from Prigozhin and Girkin, Putin this week continued his campaign against critical and opposition voices by cracking down on several major opposition media outlets, analysts with the think tank said on Thursday.
On Wednesday, Putin signed into law legislation designating several major Russian language media and investigative outlets, including Meduza, Important Stories, Bellingcat, The Bell and The Insider as "undesirable organizations" within the country. The move outlaws the publications and their distribution, and prohibits financial support of the organizations and their publications, the ISW said.
In recent weeks, experts have noted the growing divide between Prigozhin and Putin after the former criticized Russia's progress in the invasion of Ukraine.
Girkin has also regularly been critical of Russia's war effort. On January 18, he took to Telegram, saying that Russia needs to build up several armies and conduct a mass retraining of its troops as soon as possible in order to avoid an almost inevitable defeat.
He said he believes General Valery Gerasimov and Russia's defense minister, Sergei Shoigu, are both incapable of "fulfilling any duties assumed."
The ISW previously assessed that key Russian figures, including Prigozhin and Girkin, are increasingly vocalizing their discontent with the Russian leader "without fear of retribution."
Newsweek has contacted Russia's foreign ministry for comment.
Do you have a tip on a world news story that Newsweek should be covering? Do you have a question about the Russia-Ukraine war? Let us know via worldnews@newsweek.com.