Putin Critic Navalny Arrested After Leafleting for Protest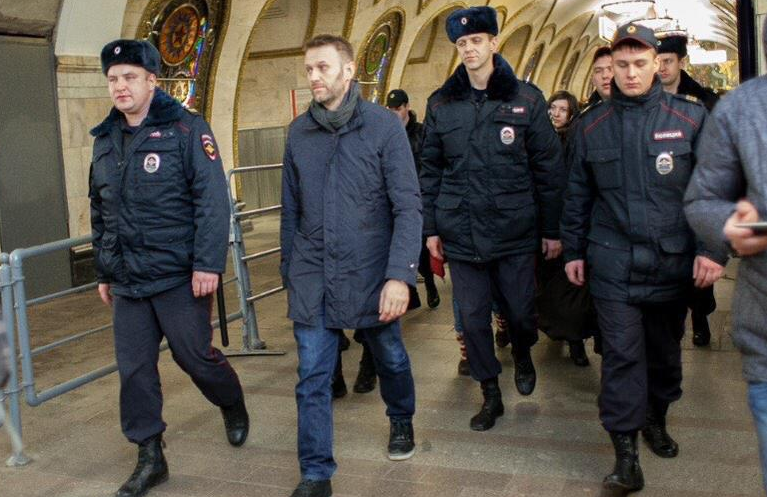 Kremlin-critic Alexei Navalny was once again detained by police in Moscow alongside fellow opposition campaigner Nikolay Lyashkin, yesterday afternoon. The two men had been handing out leaflets on the Moscow underground promoting their upcoming anti-government protest, planned for 1st March.
Navalny, who was convicted of embezzlement in December alongside his brother, in a trial the EU has since condemned as "politically motivated", was detained by 15 police officers yesterday and released in the early hours of this morning.
According to his press secretary, Kira Yarmysh, the police gave no clear explanation for Navalny's detention, and they refused to tell her when he would be released. His campaigning has often been disrupted by similar interceptions, with the police continually declining to explain the reasons for detaining him.
Last month, he was arrested outside the offices of Echo of Moscow radio station after criticising president Vladimir Putin while on air, and he was also detained in December, after he took to the streets of Moscow on the same night he was found guilty of embezzlement. Both times Navalny was released within hours.
The opposition figure continued tweeting candid images of himself being escorted to the police station last night. One of his selfies shows several of the officers seemingly cracking a smile, as they escort the grinning oppositionary down the underground escalators, with one Twitter user commenting: "Navalny with a group of his volunteers".
Another photo posted by Lyashkin was taken inside the police station where Navalny was held, showing a few of the officers taking the opportunity to have their picture taken with Navalny.
Navalny has since written on his blog, saying that he did not want yesterday's events to overshadow the protest, which he hopes 100,000 people will attend.
Meanwhile, in what seems to be be another move to derail the planned protest, Moscow authorities announced today they had received nine different applications for events on the same day as Navalny's planned protest, but would not comment on what kind of organisations had also applied.
Navalny had written to the mayor of Moscow earlier this month to inform him of his plans to protest on Moscow's Tverskaya street, in a bid to secure the date and give local authorities enough time to prepare. According to him the minimum notice period required for staging a public manifestation is 15 days prior to the date.
Navalny is currently in the process of appealing his suspended three and a half year sentence, but has been sentenced to house arrest in the meantime - a situation he has publicly branded illegal. His brother Oleg is currently serving the same amount of time in prison, a move which Navalny has compared to the establishment holding his sibling 'hostage'.