Putin Criticizes U.S. Leaving Afghanistan, Says Fallout May Present Problems for Russia
Russian President Vladimir Putin criticized the United States and its allies for leaving Afghanistan, saying the withdrawal may present problems for Russia and its allies.
"There is a danger that terrorists and different groups that found a refuge in Afghanistan will use the chaos left by our Western colleagues and try to launch an expansion into neighboring countries," Putin said. "That will pose a direct threat to our country and its allies."
Putin noted that Russia had fought a 10-year Soviet war in Afghanistan, which ended when troops pulled out of the country in 1989. He said Moscow had learned its lesson from the conflict, and would not interfere in Afghanistan.
"We have drawn the necessary lessons," Putin said. "We don't have any intention to interfere in Afghanistan's internal affairs and, moreover, let our military forces be drawn into the all-against-all conflict."
He also said that a possible rise in drug trafficking and issues related to migration could pose threats to Russia, while also noting militants could use the turmoil to destabilize the ex-Soviet countries in Central Asia.
For more reporting from the Associated Press, see below.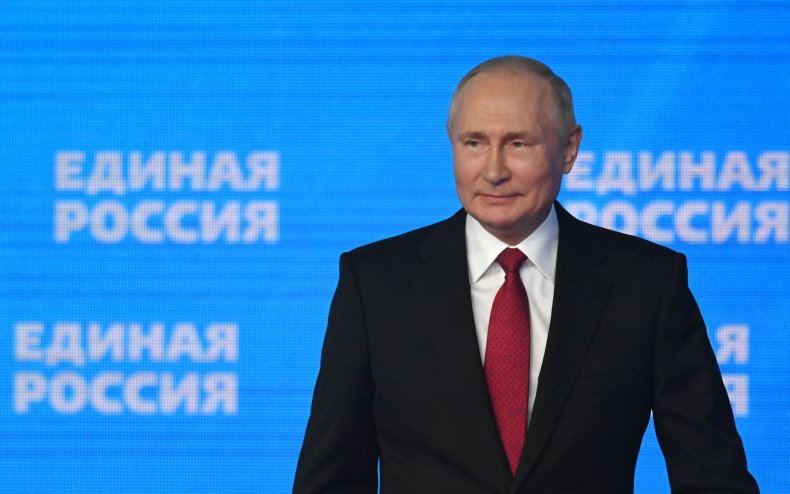 Russia Concerned About Taliban Weapons Seizures
Russia's defense minister has voiced concern about the Taliban seizing a large number of weapons, including air defense missile systems, after sweeping over Afghanistan.
Sergei Shoigu said Tuesday the Taliban has captured hundreds of combat vehicles along with a number of warplanes and helicopters.
He expressed a particular worry about the Taliban obtaining more than 100 man-portable air defense missile systems.
Shoigu noted that Afghanistan's refugee problem is a cause for grave concern.
The Russian defense chief voiced hope that the Taliban would move to form an inclusive government that would include all groups in the country.
Russia Against U.S. Presence in Afghanistan's Neighboring Countries
Russian Foreign Minister Sergey Lavrov says Moscow is strongly against any U.S. troops presence in the ex-Soviet Central Asian nations and also opposes American attempts to persuade them to host Afghan refugees.
Speaking during Tuesday's visit to Hungary, Lavrov noted that Russia and some of the Central Asian countries are members of a security pact stipulating that any foreign military presence in the region requires their common agreement.
He added that the presence of U.S. troops in any of the region's countries would expose it to a potential retaliatory blow.
"Hosting troops from the U.S. which has openly declared an intention to keep Afghanistan in cross hairs and launch strikes if necessary means immediately turning itself into a target," Lavrov said. "I strongly doubt that any country, in Central Asia or elsewhere, would be willing to become a target to help the Americans pursue their initiatives."
Russia's top diplomat predicted that Washington's efforts to persuade Central Asian nations to host the Afghans who worked with the U.S. and its NATO allies would prove equally futile.
Lavrov charged that the U.S. has asked the countries of the region to host the Afghans for a couple of months before it gives them them American visas, the offer he scathingly criticized.