Vladimir Putin Doesn't Respect Donald Trump Very Much, Majority of Americans Think: Poll
A fair number of Americans don't think Russia's President Vladimir Putin has much respect for his U.S. counterpart, Donald Trump. That's according to a new poll released this week by The Economist/YouGov.
This survey's release, of course, comes on the heels of the high-profile summit between the two leaders held in Helsinki this week.
The survey asked, "In general, do you think Vladimir Putin has respect for Donald Trump or not?"
Respondents could choose "a great deal of respect," "a fair amount of respect," "not much respect" or "no respect."
Twenty-four percent responded "no respect." Thirty-three percent of respondents said "not much respect." So in total a majority—about 57 percent—said Putin has, at best, little respect for Trump.
Nine percent, meanwhile, said Putin had a "great deal" of respect for Trump, while 35 percent said he had a "fair amount."
The poll from The Economist/YouGov surveyed 1,500 U.S. adults from July 15 through July 17. It had a margin of error of plus or minus 3.2 percentage points.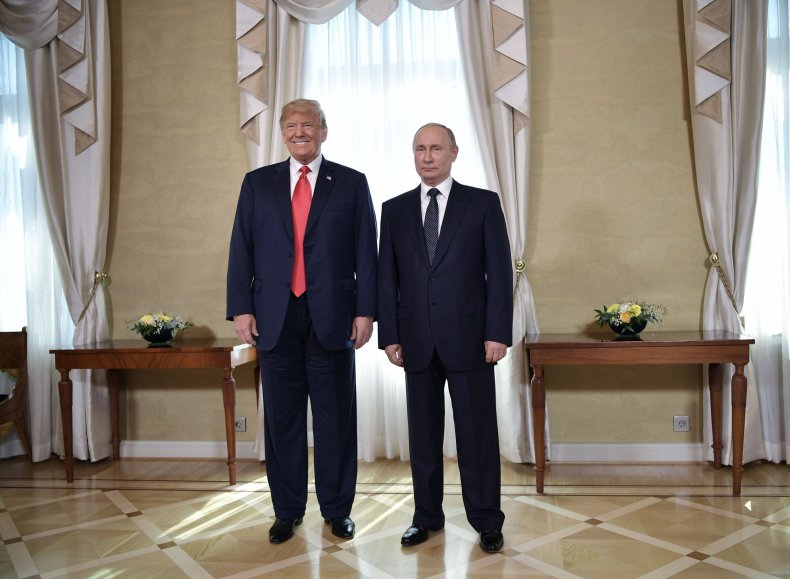 The summit between Putin and Trump has led to a week of tumult in the White House. At the summit on Monday, Trump—predictably—spoke about the intelligence community's assessment that Russia had, in fact, meddled in the 2016 election that saw him elected president. He said, "I don't see any reason why it would be Russia." Later, he walked that back, claiming he misspoke and said the exact opposite of what he meant.
"I thought it would be obvious, but I would like to clarify just in case it wasn't. In a key sentence in my remarks, I said the word would instead of wouldn't," Trump said on Tuesday. "The sentence should have been: 'I don't see any reason why I wouldn't, or why it wouldn't be Russia,' sort of a double negative."
Putin said Thursday that the summit was a success and criticized unnamed "forces" that were working against it. "We will see how events develop further, moreover, as certain forces are trying to disavow the results of the meeting in Helsinki," Putin said, according to ABC News. "We see that in the United States there are forces that are ready to easily sacrifice Russian-American relations to their ambitions."
Trump also argued Thursday that the summit was a big success and—as he is wont to do—attacked journalists. He posted in a series of tweets: "The Summit with Russia was a great success, except with the real enemy of the people, the Fake News Media. I look forward to our second meeting so that we can start implementing some of the many things discussed, including stopping terrorism, security for Israel, nuclear proliferation, cyber attacks, trade, Ukraine, Middle East peace, North Korea and more. There are many answers, some easy and some hard, to these problems...but they can ALL be solved!"